Moncada wins one for Bolivia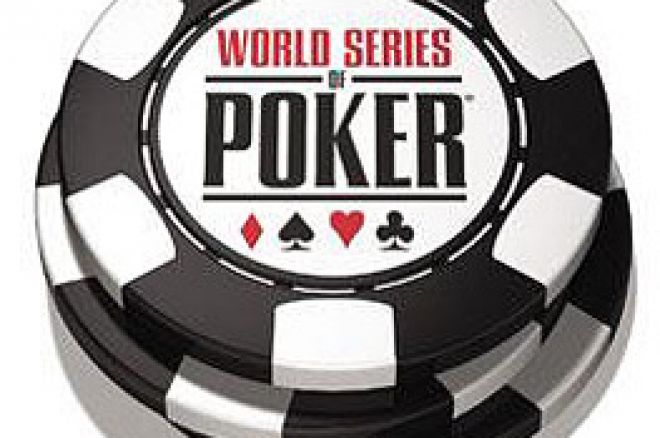 In the story about the $2,000 No Limit event won by Erik Seidel, I talked about the fact that the concern that very few top pros were going to be in the final table of these events because of the sizes of the fields was proving to be an unfounded concern. For the final table of the $2,000 buy in pot limit event, the concerns did prove to be valid.
Sure, we had Freddy Deeb, and Marco Trianello (Jennifer Harman's hubby). Freddy has got some camera time over the past couple years, and people in the poker community know Marco really well, but this final table was not exactly filled with household names.
On Sunday, 540 players put up $2,000 each to comprise one of the smallest fields we have had so far. Notable players who made the money included TJ Cloutier, Phil Gordon, Berry Johnson (notable because this cash put him back ahead of Phil Hellmuth for most cashes in the history of the WSOP). We had a very notable final table bubble boy, as WPT host Mike Sexton went out 10th, and missed out on a little camera time on something other than the Travel Channel.
The final table was set, and cars were in the air about 2pm PST time at the Rio.
SEAT 1: Steven Hudak $125,000.00
SEAT 2: Edward Moncada $125,000.00
SEAT 3: Yoshitaka Oku $50,000.00
SEAT 4: Elia Ahmadian $74,000.00
SEAT 5: Marco Traniello $104,000.00
SEAT 6: Freddy Deeb $127,000.00
SEAT 7: Shah Ajay $207,000.00
SEAT 8: Sharbel Koumi $102,000.00
SEAT 9: David Cossio $166,000.00
The action started right away, as on the second hand Edward Moncada made a button move with A 8. Yoshitaka Oku moved in for all his chips with KK. The flop came 8 8 3, and Yoshitaka had to say 'Sayonara', and head back to Tokyo. Yoshitaka Oku - 9th place - $19,870.
We had exactly one hour to the next elimination. On the second hand of the second level we played, Elia "TV Time" Ahmadian opened for 21,000, and was immediately re-raised all in by David Cossio. Elia took his time to call, while chatting with David to try to get information. Finally, Elia did call, and turned over pocket sevens. David Cossio turned over two Kings, and there was no help for Elia. Elia Ahmadian - 8th place - $29,810.
Down to seven handed, Deeb had begun to show his experience in bigger events. The chip counts were.
Freddy Deeb 239,000 in chips
Steven Hudak 204,000
Shah Ajay 202,000
David Cossio 201,000
Marco Traniello 90,000
Edward Moncada 75,000
Sharbel Koumi 69,000
Immediately after we went seven handed, Deeb doubled up Sharbel when Sharbel's eights held up against Deeb's K Q. About three hands later, we had our bad beat of the day award.
Marco Trianello made a button raise, and Freddy Deeb re-raised enough to put Marco all in. Marco called and turned over A 10. Deeb had pocket fives, and was in bad shape after the flop came A K 2. The turn was a blank, but the river had internet players everywhere yelling 'Presto!', as the river was a 5, and Marco Traniello was out on a brutal two outer. His wife Jennifer Harman sprung out of the crowd, and gave Marco a big hug, and everything seemed suddenly OK for Marco. Marco Traniello - 7th place - $39,745
The bad beats kept coming, as Sharbel Koumi was the next victim. After seeing a flop with K 10, Shar check raised Shah Ajay all in when the flop came K 3 3 with two spades. Shah Ajay was getting almost 10 to 1, so he chose to call with A 9. The turn, and river both brought Spades, and Sharbel Koumi took his money, and went home. Sharbel Koumi, 6th place - $49,680.
Now down to five handed, the chip counts were:
Shah Ajay 332,000 in chips
Steven Hudak 328,000
Freddy Deeb 215,000
Edward Moncada 117,000
David Cossio 92,000
Nearly one full hour had passed since our last elimination, when all of a sudden, we got some fireworks. On a flop of Q 6 5, Freddy Deeb felt pretty good about moving in with his Q K. Unfortunately, David Cossio had flopped a set of sixes, and Freddy and his lucky shirt had to go. Freddy Deeb - 5th - 59,615.
After nearly an hour of chips shifting all over the table, we were down to four, and someone was going to win their first WSOP bracelet. The table had turned upside down after an hour of raising, re-raising, and double ups. The chip counts four handed were.
David Cossio 386,000 in chips
Shah Ajay 312,000
Edward Moncada 288,000
Steven Hudak 94,000
Right after the dinner break, the mover was Steven Hudak. Steven doubled up once, and nearly again when he won a coin flip that sent Shah Ajay to the showers. Steven had two jacks, Shah had A Q of hearts, and the board was completely heartless, not to mention Ace, and Queen free. Shah Ajay - 4th place - $69,550.
Now down to three, the chip counts looked like this.
Edward Moncada 476,000 in chips
Steven Hudak 448,000
David Cossio 156,000
After hours of non activity, within 5 hands of Ajay's elimination, David Cossio decided to leave. On a board of 5 2 4, David Cossio moved in. Steve Hudek called holding 3 4, which gave him third pair, and an open ended straight draw. The turn was a blank, and the river was the f.u. Ace, and Hudek made his straight, and Cossio headed straight for the door to collect his earnings. David Cossio - 2nd place - $79,490.
When we got to heads up, the chip counts were.
Steven Hudak 608,000 in chips
Edward Moncada 472,000
On the third hand of heads up play, the players got all the money in the center on the following hand. Steve raised from the button, and was called by Ed. The flop came J 8 5, and Ed bet out. Steve raised, and Ed came back over the top for all his chips. Steve went into the tank, and after a long think, called with pocket nines. Ed showed J 5 for two pair. The turn was a Queen of diamonds, putting three diamonds on the board, and meaning that Steve Hudek could catch a nine, 10, or any diamond to become a world champion. A four of hearts gave Edward Moncada a huge chip lead, and control of the match.
On the next hand, they got all the money in again...this time preflop, with Steve holding K 10, and Ed holding J 7 of hearts. The flop brought a 10, but also two hearts, Steve had to sweat a heart, or a jack, but neither came. This put the chip counts back to a 272,000 to 808,000 count, with Moncada still holding a big lead.
About three hands later, it was all over. Ed Moncada got his money in with pocket eights, and Steve Hudek called with A 8. No help at all for Hudek, and Ed 'Bolivia' Moncada is our latest WSOP Champion.
Steve Hudek - 2nd place - $ 159,970
Edward Moncada - Champion - $ 298,070
Ed Note: Poker Stars have our highest rated tournaments, find out why