Phil Ivey dominates to win his fifth WSOP title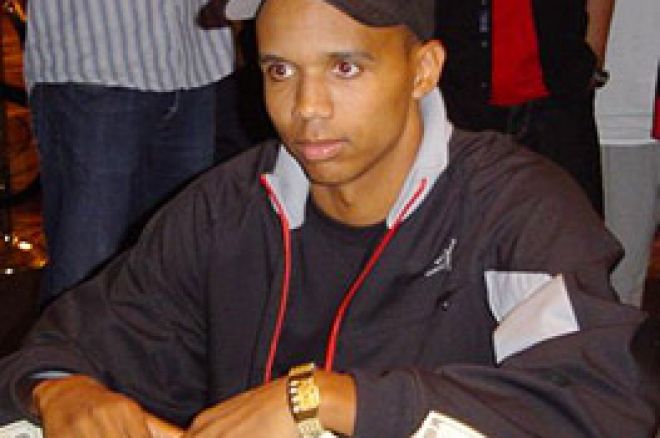 Star studded. That is how you could describe the final table of the Pot Limit Omaha $5,000 with rebuys final table. This came as no surprise really, as only the cream of the crop could afford to pony up the $5,000 plus the multiple $5,000 rebuys needed to be competitive in this event.
The 20 or so tables that began the event were like watching a who's who of poker. At each table, you would recognize more than half the faces at the table, and you knew there probably wasn't a person in the field who didn't have significant tournament experience.
This was yet another ESPN three day event, as ESPN knew the star power would be sufficient to make for a great final table. Star Power we had, and we had a lot of it. In an interesting last minute switch, ESPN decided to suspend play ten handed, and play the final table ten handed, even though only the final nine got paid (ninth place was actually a healthy $52,965). Rumor had it that this decision to play ten handed was at least partially made in the event that Phil Hellmuth bubbled out, and threw a very ESPN friendly tantrum.
Down to ten we were, however, and we were going to watch the bubble person flame out, as well as the champion crowned all in the same day. When cards were in the air, the chips counts were:
SEAT 1: Claude Cohen $110,000
SEAT 2: Robert Williamson III $153,000
SEAT 3: Allen Cunningham $202,000
SEAT 4: Davood Mehrman $125,000
SEAT 5: Surinder Sunar $96,000
SEAT 6: Phil Ivey $494,000
SEAT 7: Phil Hellmuth $114,000
SEAT 8: Eddy Scharf $150,000
SEAT 9: Richard St Peter $162,000
SEAT 10: Sigi Stockinger $213,000
As one might expect, action was pretty tight early on, as only Phil Ivey, and occasionally Phil Hellmuth were playing pots. It was pretty apparent early that Ivey was definitely trying to take control of the table, and use his 2 ½ to one chip advantage over the table to create the action.
After about an hour of tight play, Richard St Peter was the first to go. Richard is from Sault Ste Marie, Michigan, a US/Canadian border town known mostly for producing the most professional hockey players per capita of any town in North America. Richard might as well have been playing hockey, as he had zero luck today, and was down to the felt quite quickly. Richard put his money in with A A 7 3, on a flop of J 5 6, and was called by Phil Ivey, who had top pair, and some draws with J Q 8 9. One of Phil's draws (the two pair draw) got there when the turn card was a Queen. The river was no help to Richard, and he could go back to Sault Ste Marie, with a bubble story to tell. Richard St Peter - 10th place - $ 0
Now the remaining nine players could breathe a sigh of relief, knowing that St Peter's elimination meant that the worst anyone could do was $52,965.
The play loosened up significantly, and many of the players were a little more willing to mix it up. The next elimination was fairly quick, as Frenchman Claude Cohen found his hand to make his stand with. Claude put his money in on a flop of J 6 9, with top pair, and a draw or two. Davood Mehrman had an over pair with Aces, and felt it was good enough to give it a go. The board bricked out from that point on, and Claude Cohen bid Au Revoir! Claude Cohen, 9th place - $52,965.
The next exit was nine time bracelet winner Phil Hellmuth. The TV crew was perched for a meltdown when Phil said 'All In', and Robert Williamson said 'call'. Phil had gotten clipped set over set on a flop of K Q 7. Phil held Q Q K A, and Robert held K K 5 5. The turn left Phil with one out in the deck, and although the river Jack was close, it was not the queen Phil needed, and Phil Hellmuth was out. It should be noted that Phil was the picture of class upon his exit, and hugged his Dad, and gave a quick interview for ESPN before his exit from the TV stage. Phil Hellmuth - 8th place - $70,625.
The next hand was one that would shape the final table, and would be talked about for a while. We had two eliminations in one drama filled hand. The scenario was as follows.
On a flop of Q 2 8 with two spades, Phil Ivey led at the pot with a bet. Eddie Scharf moved over the top for all his chips, and Sigi Stockinger also chose to put all his chips in. Robert Williamson folded, with a big smile on his face, and it turned out to be a good fold, as Robert folded a set of eights. Phil Ivey went ahead and called about a third of his stack, and the hands were exposed. Eddie had flopped a set of deuces, Sigi had flopped the nuts, a set of Queens, and Phil Ivey had called them both with a flush draw. The flush draw got there on the turn, and Phil was a card away from eliminating two players. The river was a blank, and Phil Ivey had reclaimed complete dominance at the table, and was in position to add some more hardware to his collection. Eddie Scharf - 7th place - $88,290, Sigi Stockinger - 6th place - $105,935.
Now down to five, the chip counts looked like this.
Phil Ivey - 935,000 in chips
Robert Williamson III - 414,000
Davood Mehrman - 352,000
Allen Cunningham - 107,000
Surinder Sunar - 30,000
As you might imagine, the next person to go was Surinder Sunar. The member of the European Poker Hall of Fame chose a very specific tactic to rise up the pay scale of this final table....Folding. Surinder, to my recollection did not play one hand all night, until his final hand came up. Surinder raised the pot, and was put all in by Allen Cunningham from the big blind. Surinder showed A K 10 5, and Allen showed K 8 7 2. Allen flopped a straight, and Surinder was dead to a queen. No queen came, and Surinder was free to go back to the UK, and look for the Queen. Surinder Sunar - 5th place - $122,635.
Next to go was Allen Cunningham. Allen lost a decent sized pot a few hands before to Robert Williamson III, and felt it was time to put it all in when he flopped top set on a flop of Q 10 4. The bad news was all three cards were diamonds, and Phil Ivey had flopped a King high flush. The board would not pair, and the current leader in the WSOP player of the year race was out in 4th place. Allen Cunningham - 4th place - $140,150
Now down to three handed, the chip counts were.
Phil Ivey - 1,066,000 in chips
Robert Williamson - 390,000
Davood Merhman - 363,000
We played nearly four and a half hours three handed. Throughout this four and a half hour odyssey all three players had the chip lead on more than one occasion, and it really was a three way battle.
All good battles must come to an end, however, and the end came for Davood Merhman. Davood raised Phil Ivey's opening bet on a flop of 10 3 4. Phil came back over the top, and eventually, all the money went in. Davood turned over A 4 5 6, for middle pair, and an open ended straight draw. Ivey turned over top pair, and none of the draw cards fell for Davood. Dahvood Merhman - 3rd place - $192,710.
Now down to heads up, we had Phil Ivey, who many consider to be the best poker player on the planet, against Robert Williamson III, who many consider to be the top Pot Limit Omaha player in the world. Indeed Williamson was making his third straight appearance in the final three of a WSOP Omaha event. Robert won an Omaha event two years ago, and came in second to Chau Giang last year.
The chip counts heads up were:
Phil Ivey: 1,394,000 in chips
Robert Williamson: 425,000
After getting clipped for nearly all his chips the hand before, Robert Williamson had no choice but to put his remaining chips in on a flop of 4 7 8. Robert had top pair, but Phil had flopped the nuts. The board blanked out from there, and for the second straight year, Robert had finished second in the Omaha with Rebuys event.
More interestingly, Phil Ivey had won his fifth WSOP bracelet, while still in his twenties. Congrats to Phil, and a word to Doyle, Johnny Chan, and Phil Hellmuth - look out, here he comes.
Robert Williamson III - 2nd place - $353,115
Phil Ivey - Champion - $630,685.
Ed Note: Phil Ivey, and his 5 bracelets play at Full Tilt shouldn't you?.