Poker Book - "The Making Of A Poker Player"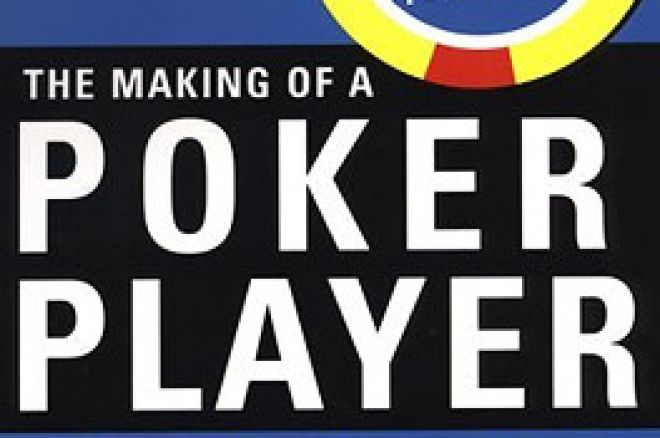 While many people never remember who finishes second in many major sporting events, those that are poker aficionados usually can tell you who did what in the major events. So the name Matt Matros will be familiar to most as the young man who was able to battle his way through the field in the 2004 World Poker Tour Championship, ultimately finishing in third place (behind Martin deKnijff and Hasan Habib) and taking down nearly three quarters of a million dollars.
Those of you who wondered 'How the heck can he do that?' can now read all about it in his new book "The Making Of A Poker Player" ($14.95 US, $20.95 Canadian). What many would find to be a little bit of grandstanding by a young man who had "only" finished third in a major championship would be amiss not to pick this up and have it on their poker shelves!
Matros is an excellent writer, without a doubt. He has created a very workable book that does not bore you, even as he traces his "baby steps" in the home games of his high school youth. It is obvious that he has, in many ways, been writing this book in his mind, possibly since he started playing the game of poker. It is with his success in the game, by using the rules that he learns and expounds in the book, that make the book a unqualified success.
Matros covers many a subject throughout the tome, basically creating an autobiography that leads the reader through his young life. He shows how he began looking at the game, as a new player, ready to mix it up and not caring about his financial gains or losses. It shows the growth when he at last realizes that there is more to poker than just playing "any two" that land in front of him.
He traces his journey into the casinos of Foxwoods and Mohegan Sun, through the home games of Washington, DC (his adopted home for his graduate schooling) and trips to Atlantic City, his battles in the online world and his first steps onto the World Poker Tour trail. During the trip, we also learn the important rules that it takes many players (and some that never do) decades to learn: when to play and when NOT to play, bankroll management and how to attack games.
One of the things that I liked the most about the book is that, while he does focus on Texas Hold 'Em (especially his work in Limit, which he considers his best game), Matros also throws in some extra work for players in other games, such as Pot Limit, Omaha and Seven Card. Most books only focus on one game alone (more often than not just No-Limit Texas Hold 'Em), but Matros is not afraid to offer up his theories and playing styles on the other games. While some may consider it very audacious of the Yale graduate to do this, it gives the reader some excellent background to consider if and when they step outside the Texas world.
While he is an admitted "math geek", Matros doesn't overburden the reader with complicated mathematical computations. He keeps it simple for the players, even when he delves into the dizzying world of game theory. While he isn't at the level of Chris Ferguson, for example, he still presents the ideas of game theory very well. He is also quick to identify those things that have contributed to his success, from the books he has read to the online analyzers and poker rooms that he still prowls today.
The problem that I have, now, is explaining how everything finishes. There is a good shock that you get by the time that you reach the end of the book, and that is where I will leave you. Let it be said that you will have a great deal of respect for Matt Matros as a poker player once you reach the end of it all.
The book is a surprisingly well done and an excellent primer for a poker player, not just new ones but experienced players as well. It is proof that, in this online world, a young person can compile the information that it took the "road gamblers" of old decades to pick up, whereas Matros has seemingly amassed it in a very short time. Don't look at Matros as a snot-nosed kid; his "The Making Of A Poker Player" is a must read and must have for your poker library, as it will definitely improve your game, not only at the tables but in your mind overall
Ed Note: Still time to get in to the WSOP. Satellites running daily at Party Poker