Poker Lightning Strikes Twice For Seif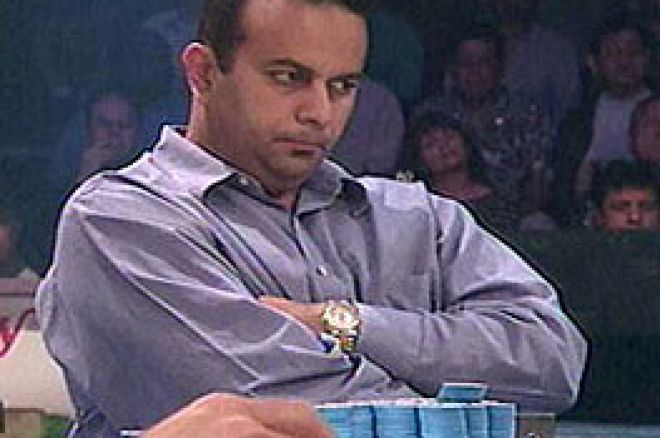 There were plenty of chips on the table and plenty of talent behind them as well in the final table of the $1,500 No-Limit championship, the 23rd event of this year's World Series. It was the third largest tournament in history with 2013 players, falling only behind last year's Main Event and this year's Event #2. Nine players came to the felt to battle it out for the gold and diamond WSOP bracelet and the $611,145 top prize. The final table shaped up like this:
Seat 1: Double bracelet holder Minh "PokerHost" Nguyen, 378K
Seat 2: Bracelet holder David "DevilFish" Ulliot, 338K
Seat 3: Steve Rassi, 325K
Seat 4: Webber Kang, 166K and the short stack
Seat 5: Steve Carter, 263K
Seat 6: Bill Gazes, 181K
Seat 7: Peter Lee, 461K
Seat 8: Defending World Champion Greg "Fossilman" Raymer, 613K and the chip leader
Seat 9: 2005 WSOP Bracelet winner Mark Seif, 305K
With such large stacks and the blinds and antes at a relatively low 8/16K and 2K, respectively, the action in the early going was quite slow. In fact, for the first twelve hands, there were no flops seen. This prompted Tournament Director Ken Lambert to dryly state, "there is this game that three cards come down, called the flop...". This drew a laugh from the large crowd and the final table players themselves.
The action would soon heat up, however. On Hand 21, "DevilFish" set the betting to 76K from the small blind after taking a severe chop to his stack from Mark Seif a couple of hands earlier. Under the gun after raising the pot initially, Webber Kang was more than happy to push his short stack (but still larger than David's) into the center of the table with Big Slick. Ulliot, apparently believing that Kang was on a steal, called him and turned up a thoroughly dominated A-7. With a King on the flop and no help from the rest of the board, we said goodnight to David "DevilFish" Ulliot in ninth place.
Ten hands later, Steve Rassi found pocket eights to his liking and pushed his stack in against Mark Seif. When Webber Kang called the all-in, Seif stepped out of the way and Kang showed the classic race when he turned up A-K. The flop was good for Rassi (6-6-5), but a King on the turn ended his tournament in eight place.
We took a break from the action and raised the blinds to 10/20K with a 3K ante. While the early action had been slow, the chip lead swapped hands three times within four hands from the break. On Hand 49, Steve Carter pushed his final 59K in from the button, only to have Bill Gazes call him from the big blind. Gazes' 10-6 was less than impressive, but Carter could only show his bluff of an 8-3. A six came on the flop and a three came on the turn, but nothing else could save Carter and he was going home in seventh place.
Mark Seif seized the chip lead on Hand 53 when he was involved in a betting battle with then chip leader Peter Lee. 400,000 chips switched hands when Seif, with pocket deuces, hit a third deuce on the turn and make a boat (K-K-5-2-A). Lee could only muck his cards and watch the chip lead change hands.
On Hand 55, Bill Gazes decided to take a stand. Going against him was only the current World Champion, Greg Raymer. Gazes tried to make A-K work for him and Raymer had the best of it preflop with pocket sevens. Everything went the 2004 WSOP Main Event champion's way...until a King came on the river, doubling up Bill and depleting Greg's stack to around 140K in chips.
The very next hand, Raymer found another hand to his liking and pushed all in. Only Webber Kang called him, and he was behind when he showed his A-J against Raymer's pocket threes. It was over for the champion when the Jack hit on the river and neither one of the other threes came, and Greg Raymer was out in sixth place.
"I was facing the blinds next hand, which would have left me with less than 100,000, and six handed I figured that the threes were good," Greg said to me soon after being eliminated. "I was expecting Mark or Minh to call me, so I was surprised when they didn't and Webber did. He took a huge chance, but he hit it."
Seif continued to attack the table, and his chip lead grew wider and wider over the field. On Hand 63, Peter Lee thrust 390K in chips into the pot, which Seif reraised to 890K. The two took a flop of 4-6-7, when Mark declared himself all in. Peter was happy to call and turn up his top pair, top kicker of A-7. Seif would need some help as he turned over 9-8 for an open ended straight draw. The help came on the turn in the form of a nine. The rich, in this case Mark Seif, got richer and Peter Lee was leaving the Rio in fifth place.
As we bumped the levels up again to 12/24K with 4K antes, the chip count looked like this:
Nguyen 677K
Kang 470K
Gazes 427K
Seif 1.522M
Over the next ninety minutes, things were uneventful as the players jockeyed for position. In fact, we went to dinner, came back and colored up chips to the 15/30K blind level (5K ante) with little changed from the previous break. It wasn't until Hand 143 that the fireworks went off.
On Hand 143, probably the greatest hand of the tournament took place. Many among the audience had never seen what was about to happen, and it happens very rarely in the world of high stakes poker. Minh Nguyen went all in from under the gun and Webber Kang came along for the ride. Minh had Webber covered, but now Bill Gazes was thinking hard about what he should do. When he declared that he, too, was all-in, Minh now had to face the end of his tournament life, as Bill had him covered on chips by about 50K. Mark Seif got out of the way and Minh called. The three turned up the following:
Nguyen J-J
Kang 10-10
Gazes A-K
The audience gasped at the three big time poker moves and waited in breathless anticipation of the flop. The assembled throng erupted when the board came down J-2-10, giving Minh a set of Jacks, Webber a set of tens and Bill a gutshot straight draw. There was almost no worst flop that Gazes could have seen; his Big Slick was negated and now he was looking to hit one of four outs, the Queens in the deck. When a four came on the turn and a nine on the river, we had eliminated Webber Kang in fourth place and Bill Gazes was on life support. This might be one of the hands you'll see when ESPN broadcasts the tournament on its World Series coverage (you think?)!
Gazes left the match on the very next hand, as he pushed his remaining 50K in against Nguyen and Seif. A board of K-2-2-9-A was no help for his hand and when Minh showed his King, Seif said it was good and Gazes was eliminated in third place.
Heads up play began with the two players nearly dead even:
Nguyen 1.34M
Seif 1.69M
On Hand 153, after furious betting by both players into a board of 9-9-8-9-2, Nguyen started the river action with a bet of 100K. Seif continued the fight by putting up 300K, to which Minh responded by coming back with 500K more. Mark smelled something not right and decided to get out of the action, mucking his hand. Minh responded, "Good move," and turned up the case nine for quads.
Another break came, and the levels went up to 20/40K (5K antes). On Hand 168, Nguyen took another big pot and the two players were once again dead even. It only took five hands, though, for Seif to take back a 2-1 chip lead and, two hands later, the last hand played out.
Seif raised to 100K, sparking a reraise from Nguyen of 200K. Mark never hesitated, calling "all-in" quickly and, just as quick, Minh called him. Mark turned up pocket Kings and Minh turned up A-10 for another race situation. Mark's lead became nearly invincible when a King fell on the flop, sending another roar from the crowd and a roar from Seif as well. When rags came the rest of the way, Mark Seif had captured the crown!
With the win, Mark became the first person at this year's World Series to take home two bracelets. He also became part of an elite crowd as he had taken the two championships in less than a week. Research by the assembled staff and media could only think of a few other occasions when that had happened, most recently by Scott Fischman last year. Seif seems to be on a roll and may very well be a threat when the Main Event starts!
FINAL STANDINGS
1. Mark Seif, Incline Village, NV $611,145
2. Minh Nguyen, Lake Elsinore $329,975
3. Bill Gazes, Miami, FL $202,790
4. Webber Kang, Dallas, TX $175,010
5. Peter Lee, Queens, NY $147,230
6. Greg Raymer, Stonington, CT $119,450
7. Steve Carter, Frisco, TX $91,670
8. Steve Rassi, Morton, IL $63,895
9. David "DevilFish" Ulliot, Hull, U.K. $47,225
10. Farzad Rouhani, Germantown, MD $30,555
Ed Note: Lots of new players playing at London Poker Club Join the club today.