Poker Son: Todd Brunson Takes WSOP Gold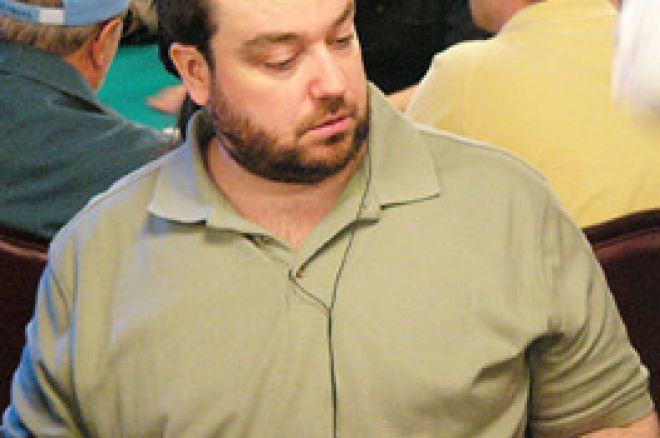 Omaha Hold 'Em Eights or Better (Hi-Lo) is sometimes a drawn out affair. With all the cards in play, the chopping of pots is nearly expected. The ability to take down an entire pot, or "scoop", is what separates the players from the champions.
Thursday night's combatants came to the felt at the $2,500 buy in event, #21 at this year's World Series of Poker, with the dream of the top prize of $255,945 and the gold and diamond WSOP bracelet on their minds. It was a formidable table that lined up like this:
Seat 1: Larry Reynolds, chip leader at 247K
Seat 2: Nat Koe, 27K and the short stack
Seat 3: Ben Lang, 56K
Seat 4: Professional Allen Kessler, 68K
Seat 5: Todd Brunson, 177K
Seat 6: 1993 WSOP Main Event runner up Glenn Cozen, 68K
Seat 7: Double WSOP bracelet holder (from the 80's) Tom Fischer, 86K
Seat 8: Allyn Jaffrey Shulman, 76K
Seat 9: Manelic Minaya, 94K
We started with the blinds at 3/6K and the limits at 6/12 with around eighty minutes remaining in the round.
Action is not something that you normally see in a Omaha 8/b tournament, but this one was unique from the start. Only ten hands in, Nat Koe decided to move his short stack to the center of the table against Todd Brunson. Koe had a respectable hand to take a shot with A-10-Q-7, and all Brunson could counter with was a pair of threes among his four cards. When the flop hit with 3-4-K, Koe was in deep trouble. He could only split the pot, but needed some cooperation from the board. A ten on the turn and a four on the river eliminated any low possibility and Koe was out of the tournament in ninth place.
Todd Brunson was the major force of the tournament, which Ben Lang learned on Hand 19. He decided it was his turn to take a shot at Doyle Brunson's son, turning up A-K-5-5. Todd had called with his growing mountain of chips and a less than awe inspiring A-Q-7-2. The flop of A-8-6 had things looking like we would chop the pot, and a four on the turn made Brunson's hand the best low. The only thing that he could hit to take the high was to pair his Queen, which is what exactly happened on the river and Lang took the bad beat and left in eighth place.
On Hand 33, Todd Brunson had surged to the chip lead. Meanwhile, Allyn Jaffrey Shulman was battling a streak of cold cards. She was all in on Hand 43, but survived her all in against Manelic Minaya and Glenn Cozen, tripling her up with the break one hand away.
"I haven't caught a decent hand all night," Allyn said to me during the break. "There isn't even anything I can bluff with. But, I'm still alive! Another double up and I am in good shape," she smiled and said.
Glenn Cozen would not make it to that break, however. The very next hand, Cozen, who had been crippled on the previous hand, decided to make his stand against Allen Kessler. With three diamonds on a no-low board of K-9d-6-10d-2d, Allen showed his nut flush to end the evening's work for Cozen in seventh place.
We came back from the break with the levels at 4/8K blinds and the limits at 8/16. The very first hand, Allyn Shulman took her shot at doubling up against Todd Brunson. Showing a strong hand of Ks-Q-9s-9, she held the lead preflop against Todd's A-Q-J-4, and her chances weren't over when the flop came down As-3s-Q. Brunson had caught two pair, however, and flop and river blanks sent the wife of CardPlayer Magazine publisher Barry Shulman out of the game in sixth place.
Allen Kessler was the story of this level. He commanded the table, building his stack higher and higher. On Hand 62, he administered the coup de gras to Larry Reynolds, who had come to the table on this night the chip leader. Holding A-K-J-10 against Reynolds' low draw of Qd-5d-4-3d, the board gave Kessler a great flop of Kd-Q-6. The two of diamonds came on the turn, opening more doors for Larry, but the eliminator of a Jack hit the river, eliminating a low hand and scooping the pot for Kessler. Larry Reynolds was out of the tournament in fifth place.
The four remaining players battled to the dinner break as if they had a plane to catch. There were several multi-way pots, but for the most part all the pots were chopped. We came back from dinner with the chip stacks looking like this:
Kessler 480K
Brunson 175K
Fischer 165K
Minaya 80K
On Hand 108, we made our way down to three players with the elimination of Manelic Minaya. Minaya battled with a short stack and could not dig his way out of the hole, going against Todd Brunson with all his chips in the pot. Brunson once again had the edge on his opponent, showing A-K-Q-3 against Minaya's A-6-6-4. The flop gave everything that Todd needed when a King came on the flop and there was no low to be worried about. Manelic Minaya left the Amazon Room in fourth place.
Todd Brunson continued the attack against his remaining opponents, and on Hand 116 he hooked into a pot against Allen Kessler. He scooped the pot to take the chip lead away from Kessler and maintained the assault against his other opponent, two time WSOP bracelet winner Tom Fischer. Fischer, who won his bracelets in the 1980's, came up against Brunson on Hand 129 and showed a double suited hand of Jd-8d-8h-3h. Brunson was also double suited and held a better hand of As-Ac-10s-6c. Two diamonds flopped for Fischer, but a third did not come along for the ride and Brunson eliminated Tom Fischer in third place.
Todd Brunson held nearly a 2-1 chip lead with 35 minutes to go in the level:
Kessler 310K
Brunson 590K
For the next thirty three hands, though, there wasn't much movement in either direction. Brunson had Kessler on the ropes on a couple of occasions, but Kessler pulled himself up off the mat to continue the fight. We took another break to color up the chips and move to the next level with the count virtually the same:
Kessler 315K
Brunson 585K
It was at this time that Brunson asserted his dominance. He chopped away at Kessler's stack and, on Hand 173, scooped the pot to get Allen down to around 175,000 in chips. Eleven hands later, the evening came to a close as the two hooked up in the last pot of the night. Kessler got his chips in on a hand of A-J-10-5 and Brunson held a low, but double suited, 9d-6c-2d-2c. The flop was great for Allen (K-10-3) and the turn was good too with a four. Kessler would scoop the pot unless a five fell on the river which...happened. The audience erupted as Todd Brunson took the championship.
Gathered among the crowd was Todd's longtime friend, Jennifer Harman and her husband Marco Traniello, who were excited for their friend. The announcement was made that this was a historic moment: it was the first time in the history of the World Series that a father and son were both bracelet winners. The legend himself displayed a moment of pride as he stepped away from the Seven Card tournament being conducted near the main floor, called, "Todd" and as his son turned to look at him, doffed his ten gallon hat and bowed to the latest WSOP champion!
FINAL RESULTS
1. Todd Brunson, Juarez $255,945
2. Allen Kessler, Huntingdon Valley, PA $132,110
3. Tom Fischer, Las Vegas, NV $66,055
4. Manelic Minaya, Tampa, FL $57,800
5. Larry Reynolds, W. Hollywood, CA $49,540
6. Allyn Jaffrey Shulman, Laguna Niguel, CA $41,285
7. Glenn Cozen, S. Pasadena, CA $33,030
8. Ben Lang, San Diego, CA $24,770
9. Nat Koe, Irvine, CA $16,515
10. Lance Allred $9,910
On a saddening note, it was learned that Charlie Tuttle, the 26 year old Tennesseean with cancer that Barry Greenstein had dedicated his tournament victory to on Monday of this week (the 20th), passed away late on the evening of June 21st. He passed away knowing that the thoughts of many were with him here in the glitz of Las Vegas, including players Marcel Luske and Greenstein, and his moments of that were happy ones for him.