Smart Entertainment & The Flying Dutchman Take Off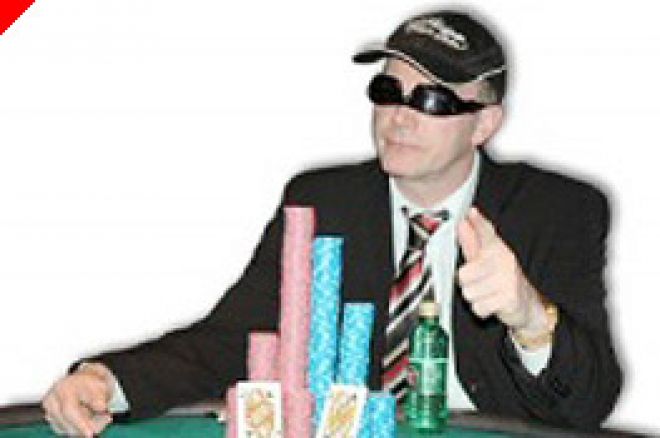 Poker certainly has its share of recognizable faces. Almost everywhere you look these days, poker super stars are shining in the sport's recent explosion in popularity. One player is making a bet on the future by making a move that could send his popularity soaring to new heights through the world of text messaging.
Marcel Luske is possibly one of the poker world's most famous players already. Easily recognized at the tables because of his fashion style and trademark wearing of sunglasses upside down, his image alone makes him a difficult player to ignore and a disarming one.
It's not just his fashion taste that makes this man from Amsterdam a formidable opponent either. Although he may be found singing a song or telling a joke while playing poker, he is more likely to be taking someone's chips. With world-wide winnings estimated to be close to $2 million, with over $1 million coming from the United States, Luske continues to demonstrate his uncanny skills wherever he plays.
Having placed in the top ten 15 times since February 2004, Luske has become a veritable fixture at final tables. He is having another banner year in 2005 with a first-place finish at the Third Annual Five-Star World Poker Classic and a second-place finish at Mirage Poker Showdown, earning winnings over $250,000. Possibly Luske's biggest exposure has come from his excellent finishes at the 2003 and 2004 World Series of Poker's Main Event, where he placed tenth and thirteenth, respectively.
Luske's success at the tables has opened a number of opportunities for financial gain both in and outside of poker. He started his own marketing organization, Flying Dutchman Marketing, to help him connect with his ever-increasing fan base via text messaging.
If you are unfamiliar with what text messaging or SMS (Short Message Service) is, one need only look at almost all of today's cell phones. Many have ways for users to communicate with friends by typing messages and sending them digitally to other users.
SMS subscribers also receive text from the network operator's message center, featuring updates, contests, advertisements, and basically anything a star or company wants you to read. If the user's phone is powered off or out of range, messages are stored in the network and become available as soon as the user turns on their phone. Text messages can cost different prices because of different plans offering different options. No matter what the use, text messages and SMS services are becoming part of modern-day life.
Luske's first attempt at finding both success and profitability in text messaging comes with his recent signing by Smart Entertainment. He is the first poker star to use its CelebrityPokerChat service.
Smart Entertainment has a number of different divisions but is widely known as a top consulting firm that specializes in creating marketing campaigns for radio, television, and film. It has helped in the successful advertising and marketing strategies of over 300 major film studio releases since 2001, with titles like Spiderman, I Robot, and Shrek 2.
Smart Entertainment's move into the poker world took another giant step on Thursday when the company told Pokernews.com, that it has signed a deal with Card Player Magazine to deliver gambling and poker news via text messaging. This deal automatically gives credibility to the company because of Card Player's long-standing reputation in the industry.
Thursday's signing delivers a major boost to Smart Entertainment's ability to reach a major portion of its target advertising audience and gives it an inside track into the poker world, a place where reputation means everything.
Powered by the strength of their mobile marketing agency and their new agreement with Card Player, Smart Entertainment will promote CelebrityPokerChat around the world. This division of Smart Entertainment specializes in the creation and management of mobile marketing applications in more than 17 countries worldwide. It has become one of the leaders in this field by creating unique marketing concepts that use the latest innovations in mobile technology, some of which Smart owns exclusively.
According to Smart Entertainment's CEO & President, Halldor Sanne, CelebrityPokerChat was a logical move for the company. "Poker is one of the fastest growing industries in the world today. Many poker players are beginning to use our SMS services and we felt it was really something we wanted to be a part of," he said.
With Smart Entertainment's backing , Luske has put himself in position to become one of the more high-profile poker stars such as Phil Helmuth and Daniel Negraneu, who make large amounts of additional money via endorsement deals.
The CelebrityPokerChat service allows Luske to deliver live updates on his progress through text messaging while he plays at the poker table. He plans to offer tips on how to play, giving him a showcase for his well-known sense of humor. With sayings such as, "Give a little bit of your chips to me," he should have no problem keeping his fans in stitches.
Smart Entertainment is banking on Luske's popularity and feels he is the perfect fit for this new text messaging venture. "Marcel is one of the top players in the world and has fans across the globe, making him the perfect representative of our services and capabilities," Sanne said.
Although Smart Entertainment initially found some difficulty in translating its international success with text messaging to the United States, company officials are optimistic about the timing of this venture. "The difference between marketing here and in Europe is the overall knowledge of using text messages. Thanks to American Idol, this is changing very rapidly. We will soon have advertisements in poker magazines and other different print magazines on how to use text messaging," Sanne said.
If receiving messages from one's favorite star is not enough of a reason to get poker players into learning how to use text messaging, Smart Entertainment plans on giving away a number of seats to next years' World Series of Poker to its users.
CelebrityPokerChat appears to be a pretty safe bet for Luske. If he is playing a tournament that it is featured online or on television, whether pre-recorded or live, he simply asks fans to sign in by sending the message CHAT to the number 76278.
If 50,000 people are watching (re-runs will also increase the number of viewers per show) and 30 percent of the people, roughly 15,000, respond to his request, he will automatically enter these fans into his fan club for free. Once entered into the system a user can receive messages from Luske for 50 cents.
The numbers look very impressive. If while playing on the World Tour, Luske can generate for example, 200,000 fans who log in to his service, he stands to make an estimated $400,000 by sending these fans four messages a month. Over the course of a year, that adds up to roughly $4.8 million in earnings away from the poker table. Not a bad cash for this man of many talents.
This text messaging venture is poised to change the way players make money away from the tables with Smart Entertainment and Luske pioneering the way. When asked about the impact of text messaging and Smart Entertainment on the poker industry, Sanne, replied, "It is a totally new revenue. To be able to reach fans in a way other than email is huge. It will have an enormous impact if these services are used in the right manner and the end-user is protected from overcharging. This could be the biggest lottery ticket for the industry for the next several years."
Full Tilt are giving away 10 seats to the WSOP in a freeroll. Check it out.