"The Mighty Quinn" Takes Limit WSOP Bracelet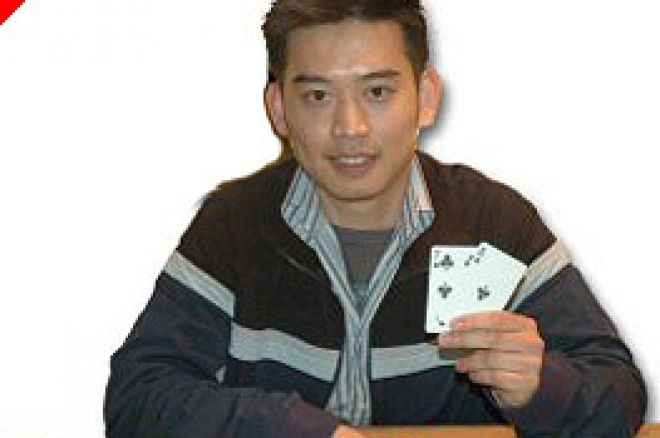 Father's Day found twenty men squaring off over the felt at Event #17 of the 2005 World Series of Poker, the $2,500 Limit Hold 'Em Event. They were the survivors from a field of 373 that had originally started the event. Up for grabs was the top prize of $265,975 and the coveted World Series bracelet.
While this tournament was playing out, both the $1,500 Pot Limit Omaha and $2,000 Seven Card Hi/Lo tournaments were in action as well. Action was fast and furious as within the first four hours we had eliminated half the field to reach the final table in what was a busy day around the Amazon Room at the Rio. After the elimination of Nat Koe in eleventh place, here's how the final table stacked up:
Seat 1: EPT Champion Noah Boeken, 20K in chips (the short stack)
Seat 2: Quinn Do, 77K
Seat 3: Sammy Arzoin, 61K
Seat 4: Rodeen Talebi, 171K
Seat 5: Greg DeBora, 44K
Seat 6: Mike Davis, 87K
Seat 7: Spencer Sun, 115K
Seat 8: Captain Tom Franklin, 124K
Seat 9: Chip leader Chi Chiang, 212K
Seat 10: Tony "TNT" Nasr, 33K
While there were some short stacks at the table, the relatively low blinds of Level 14 (3-5K blinds with the limits at 5-10K) would allow for those less advantageous to be able to work their stacks up.
This is definitely what happened as we went for the remainder of Level 14. Noah Boeken, in what would prove to be the mantra of the evening, was forced all-in just before the level increase. Boeken, with A-2, put his last chip in against Quinn Do, with a still live 5-4 of diamonds. While the board brought two diamonds by the turn, one was an Ace and when the river blanked, Boeken was back in the game.
There were several all-in moments as we entered and went through Level 15 (3/6K blinds, 6/12 limits). Every time it happened, however, the all-in player survived to double up and stay in the match. One who didn't, however, was Greg DeBora. He went all-in against Captain Tom Franklin on Hand 30 and the Captain called with a less than inspiring Q-J of diamonds. DeBora had him dominated with his Ad-Q, but when the flop brought the Captain both the Queen and the Jack, DeBora was out of the tournament in tenth place.
In the final hand before dinner, an interesting situation arose between Chi Chiang and Noah Boeken. Chiang had raised the pot to 12K and Boeken popped it up six more. After Chiang's call, the turn brought a board of Jh-5h-9x, which set off a furious round of betting. The Ace of hearts on the turn brought Noah all-in and Chiang, deciding what to do with the raise from "Exclusive" (Noah's online nickname) showed his Jack. Upon doing this, the tournament director informed him that if he played the hand after exposing it, he would be assessed a ten minute penalty. Chi did call and, after seeing Noah's Big Slick, probably was wondering why he called in the first place. Boeken doubled up before dinner and Chiang would face a ten minute penalty when we went to the next level.
After dinner, Captain Tom Franklin led the field with 243,000 chips and Chi Chiang (201K) went off to the penalty box. In an interesting span of hands, the Captain spread the bounty around the table, first doubling up Quinn Do, then delivering the same treat to Spencer Sun. By the time the second place Chiang had returned, he had the chip lead as Franklin bled off around 100,000 chips to the rest of the table.
We went forty five hands before claiming our ninth place finisher. European Poker Tour Scandinavian Open Champion Noah Boeken found himself all in with Quinn Do. His A-Q looked great against Do's A-8, until an eight hit the flop and Noah received no Queen. Boeken went home in the ninth place slot.
It would be another level (5/10K blinds, 10/20K limits) before we lost another man from the game. Spencer Sun raised Hand 109, only to be met with a re-raise from Quinn Do. Sun popped it up again and Do called. The flop of 9-7-A helped both players, as Sun got his money in with the best hand (A-8) over Do's 10-9. A six on the turn opened some more doors for Do and (it doesn't only happen online, folks) the eight on the river gave Sun two pair. Unfortunate for Sun as it gave the miracle straight to Do and Spencer Sun walked away with the eighth place prize.
The short stacked began to fall to the wayside at this point. Thirteen hands later, Rodeen Talebi left the game in seventh, quickly followed six hands later (Hand 128) by Sammy Arzoin in sixth, who battled with a short stack for much of the final table.
After giving away many of his chips, the Captain found himself down to the felt as he squared off against Quinn Do. Franklin raised up a pot, only to find Do come over him. Captain Tom simply called and took the flop of A-K-8. The Captain was quick to fire in his remaining chips over Quinn's in-the-dark bet, as he had flopped the top pair (A-4). Quinn turned up pocket tens, meaning he would have to draw out the Captain with one of the two remaining tens. In the second big outdraw of the night, Quinn's magic ten appeared on the river, sending the Captain back to drydock and out of the tournament in fifth place.
At this point, Quinn Do and Chi Chiang had accumulated almost 90% of the chips in play. Both Mike Davis and Tony "TNT" Nasr were short-stacked against these two; it wasn't a question of who was going to be the final two, it was simply a question of how long it would take to get there. With the blinds at 10/15K and the limits at 15/30K, Tony Nasr was eliminated by Chi Chiang and, on Hand 162, Chiang took care of the evening for Mike Davis, who finished third.
Down to the final two, it was nearly even:
Chiang 400K
Do 450K
Heads up play began at 1:20 in the morning, and a spirited battle it would prove to be. Both Chi and Quinn kept the pressure up on each other, raising and reraising pots and continuing to battle through each hand. It was obvious that the two had great reads on each other, but it was also becoming obvious that Quinn, when he was losing hands, was losing the minimum amount of chips, which gradually grew into a decent sized lead.
After an hour and a half of heads up play, Quinn had seized the dominant stack and Chi was left to try to fight back without adequate equipment. The final hand was stunning in its quickness. Do raised the pot to the level to put Chiang all in, which he did with his J-9. Quinn rocketed from his seat as he turned up his Ac-7c. With current CardPlayer Magazine Player of the Year leader John Phan watching close by, he hammered the nails into Chi's coffin when he flopped the flush, taking out Chi Chiang and taking home the first place prize of $265,975! Congratulations to the latest addition to the World Series Bracelet Winners list, Quinn Do!
FINAL RESULTS
1. Quinn Do, Seatlle, WA $265,975
2. Chi Chiang, Los Angeles, CA $137,265
3. Mike Davis, Spokane, WA $68,630
4. Tony "TNT" Nasr, Pico Rivera $60,055
5. "Captain" Tom Franklin, Gulfport, MS $51,475
6. Sammy Arzoin, New York $42,895
7. Rodeen Talebi, Dallas, TX $34,315
8. Spencer Sun, Novato, CA $25,735
9. Noah Boeken, Amsterdam $17,160
10. Greg DeBora, Toronto, CA $10,295
Monday is shaping up to be another busy day at the World Series. Thirty two players are still alive in the Seven Card Stud Hi/Lo event and the final table is set for the $1,500 Pot Limit Omaha match. It is an interesting field that looks like this:
Barry Greenstein 92,500 in chips
Tim Martz, 72,500
Paul Maxfield, 67,000
Paul Vinci, 54,000
Toto Leonidas, 45,000
Sam Silverman, 39,500
Chris Lindenmayer, 19,000
Chris "Jesus" Ferguson and Eric Bloore, both 16,000
We start with nine players due to the elimination of the tenth place player, WSOP champion Phil Hellmuth, early Monday morning. Hellmuth, striving to win his record breaking tenth World Series bracelet, was caught off guard and eliminated by Tim Martz, so we will start off the final table tonight with nine players. Check back on Tuesday to see who takes the gold in Pot Limit Omaha!
Ed Note: Everest Poker have our highest rated graphics. Find out why.