WSOP Event 4 $1500 Limit Hold'em - End of Day 1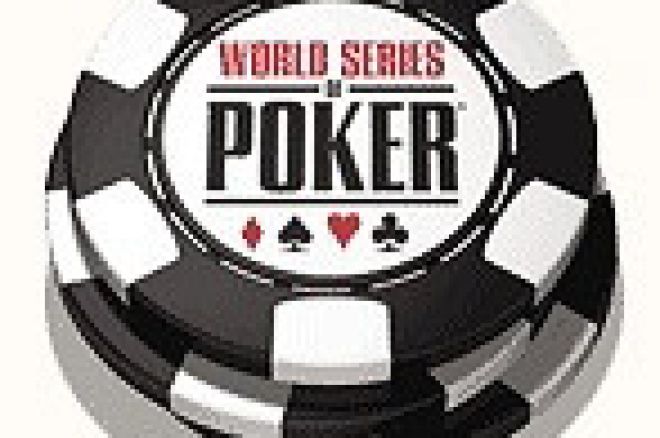 Of the 1049 players who entered the $1500 buy-in Limit Hold'em WSOP event on June 5, 33 players remained in contention for the first prize of $361,910 and the coveted gold bracelet when play ended for the day at around 3:30am on June 6.
The top 5 in chip count are:
Farzad Rouhani 95,000
Christian Van Hees 87,000
Jason Steinhorn 83,000
Michael Ma 82,500
David Rheem 80,500
Other notables:
David Chiu 58,500
Annie Duke 34,500
Roy Cooke 24,500
Peter Costa 20,000
David Oppenheim 15,500
Phil Hellmuth Jr., who set an all-time record with 48 "in-the-money" finishes at the WSOP, was eliminated in 42nd place.
Play will resume at 2pm with limits at 3000-6000. There will be a break prior to the final table of 9 to conduct interviews and to wire players for sound as ESPN has added this event to its schedule.
WSOP Event 4 $1500 No Limit Hold'em - Day 1 Results
Place Player Prize
34 Jarod Kason $5,065
35 Chris Avery $5,065
36 Mark Ferraro $5,065
37 Joe Cassidy $4,200
38 Kevin Dykstrom $4,200
39 Michael McKenna $4,200
40 Ronald Moore $4,200
41 Steven Russell $4,200
42 Phil Hellmuth Jr. $4,200
43 Andrew Kelsall $4,200
44 John Juan $4,200
45 Brandley Anderson $4,200
46 Gary Hager $3,400
47 James Shaw $3,400
48 Larry Lawson $3,400
49 James Lawson $3,400
50 Danny Morgan $3,400
54 Robert Williamson III $3,400
55 Herbert Gelman $2,895
56 Joe Brandenburg $2,895
57 Terry Leatherwood $2,895
58 Andy Miller $2,895
59 Yunya Wang $2,895
60 David Caputo $2,895
61 William Carter $2,895
62 Charles Coates $2,895
63 Jody Gararienta $2,895
64 Michael Hibberd $2,535
65 Tad Jergens $2,535
66 Jerry Zehr $2,535
67 Antonio Pane $2,535
68 Peter Dominic $2,535
69 Barraj Bilal $2,535
70 Elias Hourani $2,535
71 Patrick Heneghan $2,535
72 Petter Sawen $2,535
73 Ross Boatman $2,170
74 Gebrehiwet Goitom $2,170
75 Kurt Maier $2,170
76 Dan Heimiller $2,170
77 Feming Chan $2,170
78 Luke Smith $2,170
79 Oden Kagin $2,170
80 Brad Peeples $2,170
81 Jesse Knight $2,170
82 Vincent Poppen $1,810
84 Adam Selwyn $1,810
85 Tony Nasr $1,810
86 Li Kim Bahn $1,810
87 David Sammartino $1,810
88 Richard Pena $1,810
89 Gino Yu $1,810
90 John Horn $1,810
91 Lance Weil $1,590
92 Jack Leeney $1,590
93 Joe Harwell $1,590
94 Todd Walker $1,590
95 Gavin Griffin $1,590
96 Robert Burton $1,590
97 Alan Goehring $1,590
98 Tanya Lieu $1,590
99 Matthew Glantz $1,590
100 Robert Levin $1,590