British real estate developer Lawrence Gosney wins WSOP $2000 No Limit Hold'em event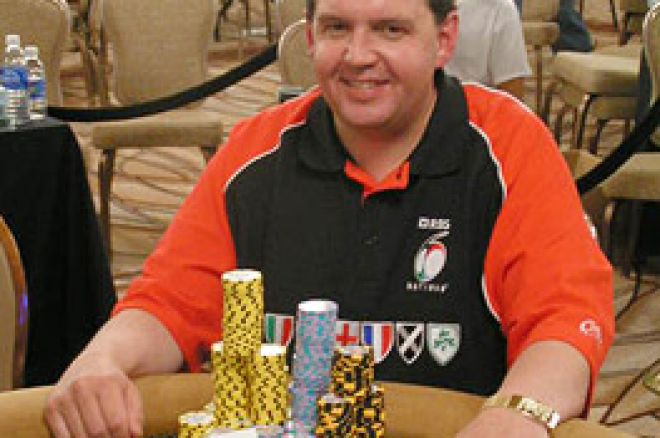 Real estate developer Lawrence Gosney of Leeds, England outlasted a field of 1072 players to win Event 29 of the 2005 World Series of Poker (WSOP), a $2000 buy-in No Limit Hold'em tournament.
Gosney won the first prize of $483,195 and the coveted gold bracelet on only his seventh attempt at the WSOP.
"I started playing poker two and a half years ago," said Gosney. "Within a few weeks, I won a few small competitions in England, 10-pound and 20-pound (buy-ins). I decided to come to America to see if I can make an impression."
In a heads-up match against Danish poker professional Jarl Lindholt that lasted 14 hands, Gosney was in total control as he widened his 4-to-1 chip lead by winning most of the small pots
Gosney eliminated Lindholt on Hand 148, when Lindholt moved his remaining 170000 chips all-in with 9c 8s and Gosney called instantly with Ad Qd. Lindholt picked up an open-ended straight draw on a flop of Td 5d Js, but missed on the turn with the 2s and the river with the Kh while Gosney made the "Broadway" (Ace-high) straight.
"I am satisfied with my play," said Lindholt to an ESPN producer. "I was down to 100000 chips with 5 players left and I was able to move up to second. I never had a chip stack and the heads-up match was like David versus Goliath."
Lindholt earned $258,000 for finishing second.
Shack Ko of Naperville, Illinois lost most of his chips on Hand 126 against Lindholt. With blinds at 10000-20000, Ko opened for 80000 from the button, Lindholt moved all-in from the big blind for 235000 with As Jd, and Ko called with Jc Tc. Lindholt made a pair of Aces on a board of 4c 3c 5s 9s Ah.
Ko was eliminated by Gosney on Hand 134. With blinds at 12000-24000, Ko moved all-in from the small blind for 206000 with Ad 5d and Gosney called instantly from the big blind with Ah Qh. Ko got no help from a board of 9d 6c 3s 8h Kd to exit in 3rd place with a prize of $138,075.
Los Angeles-based poker professional Dustin Woolf, who refers to himself as "neverwin", jinxed himself again at his second final table of the 2005 WSOP. Woolf lost the pivotal hand of the tournament on Hand 77 against Gosney. With blinds at 8000-16000, Gosney opened from the button for 40000, Woolf re-raised to 148000 from the small blind, Gosney moved all-in for a total of 535000, and Woolf called instantly. Woolf's Ks Kh were a 4.5-to-1 favorite over Gosney's 2c 2h before the flop, but the flop of Ac Jc 5c gave Gosney a flush draw. Gosney made a club flush on the turn with the Qc, and won the hand when the 5s fell on the river.
"(Woolf) raised 11 of the 14 previous hands," said Gosney. "I made a conscious decision to move all in if he came over the top of me, as I didn't think he would have a hand every time. Obviously, I made a bad play, but I was very lucky."
Despite doubling up against Ko on Hand 85 when Woolf's KQ made 2-pair on the flop to outdraw Ko's pocket Eights, Woolf was eliminated by Ko on Hand 93 when he lost with Ad Kc against Ko's pocket Nines when Ko flopped a set with Tc 9c 3c. Ko made a full house on the turn with the Ts to leave Woolf drawing dead. Woolf picked up $138,075 for his 4th place finish.
Poker professional J.C. Tran of Sacramento, California, who started the final table as the short stack with only 47000 chips, won several all-in confrontations as the statistical underdog to stay alive.
On Hand 10 in which Tran's all-in with Ah Ks was called by Ko's pocket Sevens, Ko made a set of Sevens on a flop of Qd 7d 4h, but Tran caught the Td on the turn and the Jd on the river to make the "Broadway" straight for his first improbable escape of the evening.
Tran survived again on Hand 47 when his Ah Qc outdrew Lindholt's Ac Kc, as the Qd appeared as the "door" card on a flop of Qd 2d 7s, and Tran held off Lindholt with the 5c on the turn and the 3d on the river.
Tran was crippled on Hand 49 when his all-in with Ah Kc was called by Gosney's pocket Sixes. Gosney flopped a set with 6s 9c 4c and improved to a full house with the 9h on the river.
Tran was left with 20000 chips and most observers expected Tran to be forced all-in on the next hand (Hand 50) as the big blind (blinds at 8000-16000 with 2000 ante), but Lindholt and Woolf made the error of not putting Tran all-in by just flat calling, allowing Tran to keep 2000 chips to play for the antes only Hand 51.
Tran survived on Hand 51 when he made a pair of nines with his 9s 4d against Lindholt's Kc 6d on a board of 9h 6s 2s 5d Ts. Tran survived again on Hand 55, which his 6d 5s made a straight on a board of 3s Jc 8d 4c 7d.
Tran pulled off two more improbable escape acts. On Hand 56, Tran's 4c 5d was a 3-to-1 underdog against Lindholt's Kh 4d, but Tran made a flush on the river with a board of 3c 9d 7c Kc 8c. On Hand 60, Tran was a 3-to-1 underdog before the flop with Ac 5h against Gosney's As Kc, but Tran made three of a kind with a flop of 5d 7h 5s to survive yet again.
Tran was finally eliminated on Hand 61 by Lindholt. Tran moved all-in from the small blind with Ks Js and was called by Lindholt in the big blind with Kc 8c. Even though Tran was a 3-to-1 favorite before the flop, the cards caught up with Tran as Lindholt flopped a flush with Ac 2c 5c. The Td on the turn sealed the hand for Lindholt and Tran was finally dispatched with the 5th place prize of $118,350.
Tony Rila of Las Vegas was eliminated in 6th place on Hand 33 by Lindholt. Rila moved 113000 all-in with Ad 9h and Gosney called from the big blind with Ad 9h. Gosney made a pair of fives on the turn and held off Rila with the 8s on the river.
Alan Purdy of Rossendale, England lost two consecutive hands to Tran to finish in 7th place. On Hand 30 with blinds at 8000-16000, Tran moved 57000 all-in from the small blind with Kh 5s and Purdy called from the big blind with Ac 8c. Tran made a pair of fives when the 5h appeared on the flop as the "door" card. On Hand 31, Tran opened for 40000 from the button, Purdy moved his remaining 99000 all-in with Ad Tc, and Tran called instantly with Ah Qs. The board of 5c 4s 3d 5h Ac sent Purdy to the rail with a prize of $78,900.
Carlo Citrone of Newcastle, England made a move on Hand 15 by moving his short stack of 94000 all-in with 8s 6c and was called instantly by Rila on the button with pocket Aces. Citrone got no help from the board of Td 2c 5h 3s 7s and departed in 8th place with a prize of $59,175.
Swedish poker professional Bjorn Isberg was eliminated in 9th place on Hand 9 by Woolf. With blinds at 4000-8000, Citrone opened under the gun for 35000, Isberg moved all-in for 166000, Woolf flat called, and Citrone agonized for over 3 minutes before folding pocket Queens faced up. Woolf's pocket Jacks held up against Isberg's Ace-King of Spades on a board of 5h 3h 7d 6h 7s. Isberg took home $39.450.
(Note: The final table of this event, originally scheduled to take place in the ESPN TV stage, was moved to a side table after ESPN decided to provide full TV coverage for the final table of the $5000 buy-in 6-handed No Limit Hold'em event, which featured former world champions Doyle "Texas Dolly" Brunson and Thuan "Scotty" Nguyen, as well as five-time WSOP bracelet winner Layne Flack.)
2005 WSOP Event 29 $2000 buy-in No Limit Hold'em Final Table Results:
Place Player Hometown Prize
1 Lawrence Gosney Leeds, England $483,195
2 Jarl Lindholt Aarhus, Denmark 258,000
3 Shack Ko Naperville, IL 157,800
4 Dustin Woolf Los Angeles, CA 138,075
5 J.C. Tran Sacramento, CA 118,350
6 Tony Rila Las Vegas, NV 98,625
7 Alan Purdy Rossendale, England 78,900
8 Carlo Citrone Newcastle, England 59,175
9 Bjorn Isberg Stockholm, Sweden 39,450