Legends of Poker: Gary "Bones" Berland
Al Moe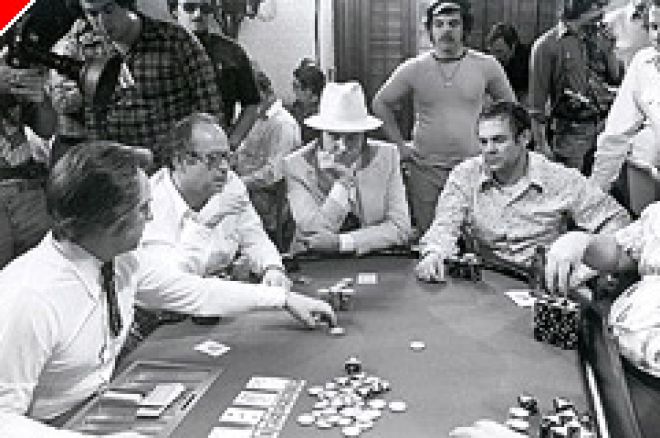 Anyone who has competed in sports or poker knows that second place can be tough. Stu Ungar, in response to questions about hitting a gutshot straight on the final hand of the 1980 World Series and sending Doyle Brunson to second place said, "Well, I must have won, they don't give any bracelets to second place."
If that doesn't sum it up for you, nothing will. Second sucks. Some players never recover from just missing. They feel cheated, bitter. It happens. Some players rise again, beating the odds and winning at a later date, and you have to admire those who fail, but continue to aspire to poker's greatest achievement.
In 1971, six road warriors put up $5,000 each for a little hold'em poker tournament. Of that group, Johnny Moss took top honors, and Puggy Pearson missed the money by coming in second. The following year, Puggy returned to the scene of the crime and watched Amarillo Slim take the bracelet while he again got the bridesmaid's honor of second place.
Puggy came back strong in 1973, finally winning the event, his enjoyment enhanced by beating Slim, and seeing Moss take second place. However, the back-and-forth of future champions landing in the second spot had just begun; and afterwards, there would be a long line of tough competitors who played their hearts out, but saw victory fade away in the waning moments of the tournament.
Crandall Addington, a seasoned pro and real estate investor from San Antonio, Texas, was the first to feel the curse of next-to-best without ever finishing first. Moss won the 1974 event, helping solidify his legacy as one of the game's finest players, and in 1975, Sailor Roberts took the crown with another Texan, Bob Hooks, stalling in second.
Hooks, from Edgewood, spent enough time tangling with the likes of Johnny Moss and Doyle Brunson to earn their respect. In fact, Doyle considered Hooks one of his best friends, but it was Johnny Moss, the Grand Old Master, who "admired his (Hook's) ability to find a way to stay in the money, without losing too much aggressiveness." And believe me, that was a mouthful for Moss. Johnny was neither long-winded, nor overly admiring or enthusiastic about his poker opponents.
Bob Hooks was a successful businessman in Texas before taking-on the Las Vegas pros on a daily basis. During his business career, he learned the importance of capital, and being well financed, and it was his money management skills that allowed him to take second place in the 1975 Championship.
Jesse Alto had the honor of second place in 1976, when Doyle Brunson won his first gold bracelet. Alto was the first non-pro to almost come away with first-place honors. He started playing poker at nineteen, and although of Lebanese descent, he calls Houston, Texas home. What is it about Texas Hold'em and Texas residents?
As the years passed, Alto went on to a superior record in the main event of the WSOP. He cashed five times, all at the final table, by coming in second, third, forth, fifth, sixth, and ninth. Strangely enough, it was his second place finish that provided the least prize money: zero.
Brunson won his second WSOP Championship in 1977, beating solid player Gary "Bones" Berland. Gary grew up in Gardena, California, where he spent most of his high school days shooting pool (like fellow pros Amarillo Slim, Puggy Pearson, and Bobby Baldwin), and bowling. At one point he took to dealing poker in the local poker rooms, but dealing wasn't the same as playing.
When his family moved to Las Vegas in 1968, Gary tried hard to make college the most important thing in his life. For nearly two years he kept up the grind of classes, studying and tests, at UNLV, but all that college work got in the way of his poker-playing.
Again, like many pros before him, Gary gave up the academic life, for the gaming life. His excellent math skills allowed him to compute pot odds quickly, and Gary began seeing action in the toughest games in town. Although he played in the 1976 WSOP, it was the 1977 event that solidified "Bones" as a true professional, and led to a ten-year streak of top finishes.
In a preliminary event, Gary won a bracelet in the $500 buy-in seven-card razz event. With his prize of $8,300 burning a hole in his pocket, Gary put up the $10,000 fee for the main event and hoped for the best.
At the final table, Doyle Brunson and Bones were heads-up for the championship. Gary flopped two pair, but checked his hand, hoping to trap Brunson. Doyle also checked, and turned a higher two-pair that led to an all-in pot. Brunson finished with a full-house, and Bones finished second, out of the money. The following year, the championship was no longer a winner-take-all event, but it would be1986 before Gary could crack the final table again, taking third place money of $114,000.
Between 1977 and 1986, Gary continued to play tournaments, and had a stellar WSOP record. His all-around play has been etched in the World Series of Poker records for everyone to see: Five tournament wins. Those wins include two seven-card stud titles, two seven-card razz titles, and a seven-card split title. For good measure, he added a second place finish in the 1978 ace-to-five tournament also, where he pocketed $9,600.
Gary's excellent play puts him in a small group of world class tournament players. His five gold bracelets at the WSOP are testament to his poker prowess, but perhaps for Bones, second place wasn't that bad after all. After each defeat he simply picked himself up and headed for the next good game, confident in his abilities - the mark of a true champion.
Ed Note: Full Tilt are running satellites to the WPT Borgata. Check it out.