The Poker Taxman Cometh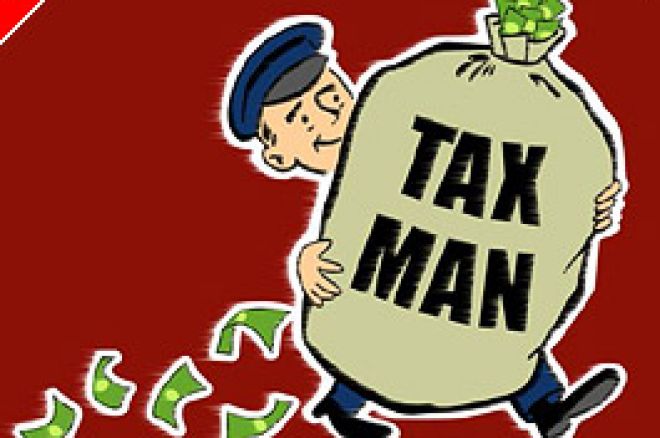 Because of the massive amount of publicity surrounding this year's World Series of Poker, it seems as though the people watching the sport for the first time think that champion Australian Joe Hachem is going to walk away with $7.5 million in winnings.
What most people outside of the poker industry and the gambling community may not realize is that the government takes a big chunk of the huge prize. And in the case of this year's champion winnings will be taxed twice.
In the U.S., if a player cashes (receives any kind of payment) in a tournament, he or she must legally pay 30 percent tax on the net profit. In other words, if a player paid the $10,000 entry fee into the WSOP's Main Event, and then was lucky enough to cash for $10,000 (breaking even), the casino would automatically hold out $3,000 from the $10,000 (gross winnings) and give the player $7,000 back. Not much of a win but at least serious U.S. players can deduct some expenses if they keep proper records.
The U.S. tax law might seem harsh to many people, but when compared to some of the tax laws of many other countries, they pale in comparison. Many European players pay taxes on their gross winnings with no hope of deducting costs such as hotel rooms or travel expenses.
Things are even tougher for this year's WSOP champion. Even before leaving the casino, Hachem turned over 6 percent of his winnings to the casino for U.S. taxes. Upon arriving in Australia, he may face the country's highest tax rate of 47 percent. This would leave the world champion with less than half of his winnings.
There is, however, a chance that Hachem might get lucky and beat the system. According to Australian law, luck plays a big part in what can be taxed. "If it's a business skill, it's classified as income; if it's chance, it's not income," said a spokeswoman for the Australian taxation office.
This is where things get even murkier for Hachem. Despite admitting to playing poker professionally for three years after winning the WSOP, he is now claiming that poker is merely his hobby. Thus the debate over his professional status may be a costly one.
According to the taxation office spokeswoman, Australian law states that "skill and chance" can mean a combination of the two factors, and the tax office's decision ultimately comes down to personal circumstances. If the tax office decides he played in a tournament as a professional, he will be taxed in a similar manner to sporting wins instead of as lottery winnings or the prize of other games of chance.
Everyone in the poker community is pulling for Hachem to beat the odds once again and win this hand!
Ed Note: Poker Stars have our highest rated tournaments, find out why