World Series of Poker - Main Event - End of Day Two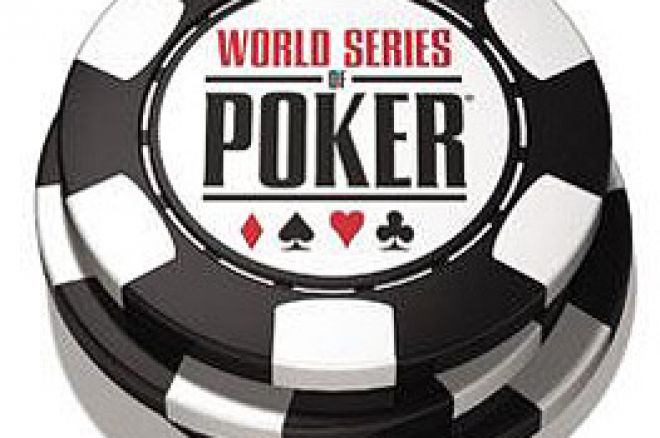 While still not manageable, the field of 1,864 players that remained as we began day two of the main event of the WSOP did fit into one single room, and for the first time since the event began, we started to see s glimpse of the light at the end of the tunnel.
Indeed, the way the day began, you really wondered if we would make it to Friday, or if we could squeeze this thing into four days. Players were busting out left, right, and center, and for a moment, it appeared we might actually get to the money tonight.
Early casualties included Gus Hansen, who lasted less than 15 minutes, and 2003 World Champ Chris Moneymaker, who made it about an hour further. Other notable bustouts included Dan Harrington, David Sklansky, Barry Shulman, Shannon Elizabeth, Gavin Griffin, Huck Seed, Amir Vahedi, Marcel Luske, PGA golfer Rocco Mediate, Mimi Tran, and a cast of a thousand (really).
For the early part of the day, the room was calm, and as usual the loudest sound you heard was the constant chip chatter. Not the chatter of the players holding the chips, but the sound of the chips being shuffled, riffled, and otherwise handled.
Soon enough, an unfortunate thing began to happen. After a relatively calm day, a couple players started shouting things when they won pots, were dodging draws, doubling up, etc. Of course, the TV crews would flock to these players to film them, and create some 'good TV'. This only resulted in more players doing more dumb stuff. Suddenly, there were players standing on chairs, pounding their chests, and shouting any number of silly things, and all the while the cameras came running.
I would like to make a suggestion for next years WSOP (and all TV tournaments, for that matter). I suggest we enact what I would call the "Johnny Knoxville Rule" for future tournaments. The "Johnny Knoxville Rule" states that any player who acts like a Jackass to get on TV gets a 15 minute penalty - purely at the Tournament Director's discretion.
Back to the poker, though, and I saw as much of it as I could today. I saw a player eliminated by runner runner quads. I saw another player call for all his chips with a hand that couldn't beat the board (his opponent had the nuts). I saw a man wearing a Sesame Street character head. On several occasions, I saw deals being cut with players who had a lot of chips where they came back from a break adorned in tons of gear from an online poker room that they may not have even heard of 30 minutes prior.
All in all, we had some great poker today, and I am really looking forward to tomorrow, where I will actually be able to cover the tournament. Trying to keep track of players at 190 tables is officially impossible. But, now we are down to a manageable 569 players (only nine from the money), and somewhere in the neighborhood of 65 tables. The players will play hand for hand play until they get down to the money. Unfortunately, that will take some time. But, after we make the money, players will fly out the door, and it wouldn't surprise me to be somewhere in the 200-250 player mark at the end of today.
There are still some name players in the field, and it appears we may have a new name on our hands. Lots of unknown players at the top of the chip count ladder, and I guarantee each one of them went to bed with dreams of grandeur. There is still a long way to go, however, and any predictions of greatness are extremely premature. Below are the top 20 chip counts (including Greg Raymer making a run at back to back glory, and Olga Varkoni trying to make it two Varkonis in four years), plus notables. See you tomorrow.
Rod Pardey Jr Las Vegas, NV $464,000
James Pollack Charlotte, NC $447,500
Tim Phan Westminster, CA $445,500
Bryan Stellwagen Huntington, NY $377,200
Bob Hotchandani Belize $372,700
Lee Watkinson Cheney, WA $336,800
Jon Lane Osh Kosh, WI $331,800
Russ Salzer New York $326,000
Greg "Fossilman" Raymer Stonington, CT $318,700
Yakov Hirsch Brooklyn, NY $318,100
Hunter Pappas Birmingham, AL $314,300
Klaus Agesen Aarhus $307,000
Kevin Mason Weehawken, NJ $297,400
Michael "The Grinder" Mizrachi Hollywood, FL $294,800
Jim Pittman Yorba Linda $289,200
Graeme Harrison Penicuik, Near Edinburgh $281,500
Daniel Bergsdorf Umea $278,600
Willy-Will' Failla Commack, NY $278,500
Jeffrey Dziedzic Stewartsville, NS $275,400
'Minneapolis' Jim Meehan Palos Verdes, CA $211,900
Olga Varkonyi Great Neck, NY $209,500
Jason Lester Miami, FL $208,700
Layne Flack Las Vegas, NV $188,100
JC Tran Sacramento, CA $178,800
Sam Farha Houston, TX $173,600
Hung La Manhattan Beach, CA $161,600
Kenna James Los Angeles, CA $152,800
Paul L. Darden Jr. Hamden, CT $144,000
John Juanda Marina Del Rey, CA $141,100
Joe 'The Elegance' Beevers Hendon, London $128,800
Howard Lederer Las Vegas, NV $127,800
Mike Matusow Las Vegas, NV $120,100
Jim Feist Las Vegas, NV $108,700
Dutch Boyd Las Vegas, NV $103,800
Carl Olson Seattle, WA $96,900
Phil Ivey Las Vegas, NV $89,600
Gavin Smith Las Vegas, NV $84,900
David Plastik Las Vegas, NV $65,100
Clowie Gowen Dallas, TX $64,400
Kirill Gerasimov Moscow, Russia $63,700
C K Hua Rosemead, CA $58,800
Barbara Enright Los Angeles, CA $44,400
Amir 'Papa' Esfandiary San Jose, CA $38,700
Bob Ciaffone Saginaw, MI $34,600
Young Phan Irvine, CA $17,300
Ed Note: Heads up is the purest form of poker. Great heads up action always at Pacific Poker