California State Poker Championship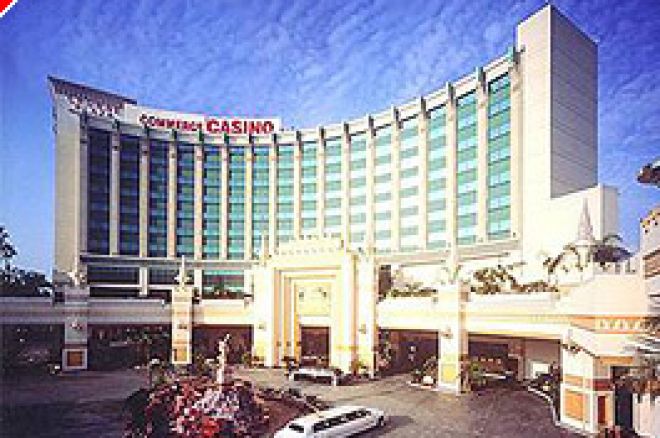 You might have heard that celebrities have invaded the game of poker, but few have actually won an event, let alone tried to repeat and defend their title. Although no commitment has been denied or confirmed, it appears as though last year's Commerce Casino's California State Poker champion, Ben Affleck, will be missed at this event known for its celebrity drawing power and big time cash payouts. Affleck earned a cool $356,400 for last year's victory and showed that anyone is capable of taking the title of best California player.
Fortunately for competitors, it look like Affleck's recent nuptials (with Alias star Jennifer Garner) and impending fatherhood have pulled him away from his love in poker (at least for the moment). "He hasn't played all that much since getting involved with Jennifer. I think his mind is on other things," said Affleck's poker coach, Annie Duke.
This is good news for tournament players who are looking to cash in on the $1.5 million event. Despite the loss of Affleck, there will be plenty of big-name pros competing in the September 23 tournament. Leading the field is World Poker Tour champion, Tuan Le, who recently won $2.7 million in April and Scott Lazar, who walked away from the World Series of Poker with $1.5 million for his 6th place main event finish.
Other pros who have cashed at this renowned west-coast event are Chris 'Jesus' Ferguson, Men 'The Master' Nguyen, Kathy Leibert, Chip Jett and David 'The Dragon' Pham.
If you don't have the $5,100 buy-in fee, Commerce will be holding satellites for players for three weeks leading up to the big event. Starting Tuesday September 6, players will compete in a variety of Limit and No Limit Hold'em events with buy-ins starting at $330. In addition to winning seats in the big dance, the best all around player will also receive a bonus of a cool $50,000.
And if you can't make these events due to work or play, you'll have one last shot during a Super-Satellite tournament on Thursday, September 22. Approximately 30 players will earn a seat into the championships the next day.
Fear not, you don't have to be from California to compete and as long as you are 21 or over and you're willing to shell out the entry-fees, you have as much chance as the next player to win the big prize.
According to Commerce Casino tournament director, Cheri Dokken, this is the perfect event for players of all caliber to compete. "The California State Poker Championship has become a major event in the West Coast poker calendar. It's an opportunity for a newcomer to really prove him or herself against a very tough competition. Including many of the region's leading professional players. By having a total of 17 events, we provide plenty of opportunity for players to grab glory and enhance their bankrolls," Dokken said in a recent press release.
Whatever your reasons, don't miss this West Coast poker throw-down!
Ed note: Party Poker have multiple tables available at every limit, 24 hours a day.