Charlie Shoten - Behind The "No-Limit Life"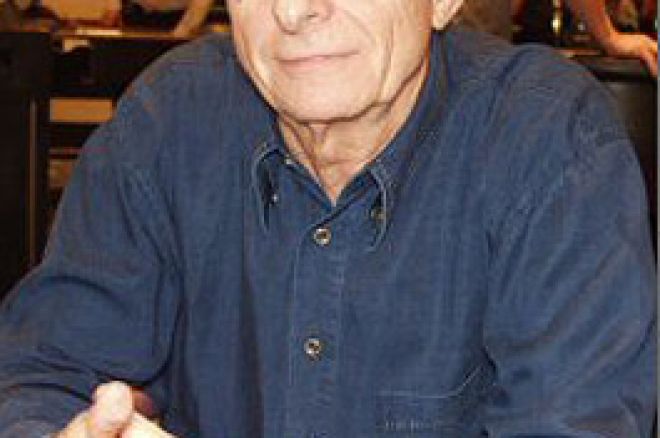 By all accounts, Charlie Shoten has led a fantastic life. Born in New York City, the onetime computer entrepreneur, insurance executive and, now, professional poker player has enjoyed a wealth of success that some may never reach. It was unfortunate, then, when Charlie found that he wasn't happy with his life.
That all changed for Charlie once he found his basic problems in life. Once he made those corrections, his life became fuller and each day better than the last. Now Charlie has passed those lessons learned onto the rest of us via his new book, "No-Limit Life". In it, he points out where many people have problems in their lives (and in their poker games, as well) and presents a very well thought out solution to those problems.
The thoughts he places in "No-Limit Life" must have helped him tremendously. Since picking up the game of No-Limit in 2002, Charles has cashed in fifty tournaments across the United States and has become one of the most respected and top-ranked professional players in the game. Now living in Las Vegas, the man known by many as "Scotty Warbucks" is living the "No-Limit Life" and took some time to talk to me about the book, what he hopes to pass on to the rest of us and his thoughts on the world of poker.
PN: Where did the ideas you present in "No-Limit Life" come from?
CS: One book was very instrumental in my conception of those ideas. Neil Donald Walsh's "Conversations With God" was a very influential book on me. Another was a book from James Owen called "Cowboy Ethics". Along with those, it was a compilation of many things I learned from throughout my life. I learned that I had spent much of my life torturing myself and staying away from situations.
There was a situation in my life, when I was younger, where I loved this girl, but I couldn't relate to her. It wasn't that I was awkward or anything, it was just the limitations that my mind put on the situation. That's when I knew that I was a prisoner of my mind.
PN: While it seems that the ideas you espouse in "No-Limit Life" are things we should have already learned, why can't people put them to use?
CS: It's difficult. Our culture is always changing and our species is transmuting and evolving. We all want to be free of our bad thoughts, but can't seem to find the way to do it. This book, I hope, helps.
When we get to who we are, we find that unconditional love is the absence of thought. Look at a baby and how they just look at you, you can see that love in their look, untainted by anything. Even the hardest person, when with a child, can see that and it makes them a better person. It's why the human race continues; if it didn't, we wouldn't be here.
PN: The ideas that you put in "No-Limit Life" about "quit being what you are not and be who you are" is pretty daunting. Is it something that society pushes on us?
CS: Correction, Earl...you cannot be what you are because you already are that person. The key is in letting go of what you are not. It's those "thought terrorists" or TT's, as I call them, that cause the problems and, yes, they are sometimes forced by society. I like to look at the correlation of a government using intelligence that they glean for use in war. In many ways, you have to use the intelligence you receive to combat your personal TT's.
Once we learn to recognize those TT's, then we can do something about them. Sometimes we hold onto those thoughts, create them, and they are inherent to us. Sometimes we believe they protect us. It is a choice that we have to make when we see that they are hurting us as to whether or not we can let them go.
PN: How do the "Ten Commitments" serve to accentuate the "No-Limit Life"?
CS: They comfort me. They are so subtle, so simple and obvious, yet many of us don't see it. They are the first things I think of in the morning and they allow me to work through the day and make each one better than the previous one.
PN: You have put a tremendous amount of effort into "No-Limit Life". What is the goal with the book?
CS: I put a year and a half into it and it was a tremendous creative process. It was the cumulative efforts of many people, not just myself. Nita Alvarez, the graphic designer, was instrumental in the effort and gave the book a great look. Over many breakfast meetings, the organization that came together with me was able to create the book
I would like to see it in every hotel, school and library. I want the ideas and concepts that it presents to reach as many people as possible. I want it to go around the world, to China, to Europe, and to help people achieve everything that they can.
PN: On that note, Charlie, do you still consider yourself an "East Coast" guy?
CS: I don't consider myself that. I can, however, go to New York and walk anywhere in the city and have some great memories of a restaurant or park, things such as that. I still have some of my roots there, but I have lived in and have family in California and, now, Las Vegas for so long that to call me strictly that wouldn't be accurate.
PN: How long have you been playing poker?
CS: Oh, I have been playing since I was a child. It is something that I have always enjoyed.
PN: What have you seen as the best and worst of the current poker boom?
CS: One of the best things is I can sit in my apartment and play with, talk to and cooperate with people from around the world. I can play on the Internet with people from Germany, Japan, Italy and other places around the world and meet these people and grow.
One of the worst things is the decisions of some of our younger people, those in high school and college. Rather than getting a good education, learning and studying, they are playing poker. Yes, sometimes they win, but sometimes they just get addicted to the game, like many other people do. It can be a double edged sword.
PN: Charlie, how can people learn more about the book?
CS: There is a website that people can go to, nolimitlife.net, that has much of the information on the book. There someone who is interested in ordering the book can download an order form. People can also go to lasvegasvegas.com, where I do my own column called "Charlie's Corner" and read more articles that I have written.
I would like to thank Charlie for taking the time to talk about "No-Limit Life". It is a fascinating book that can be a great assistance to anyone, be they a poker player or not, who wants to improve on themselves. Be sure to visit nolimitlife.net to learn more about Charlie Shoten and his book, "No-Limit Life"...you'll be glad you did!
Ed Note: WPT host Mike Sexton proudly endorses Party Poker ...Can the Ambassador of Poker be wrong?