Is the Land Down Under the New Poker Hotspot?
Michael Freidman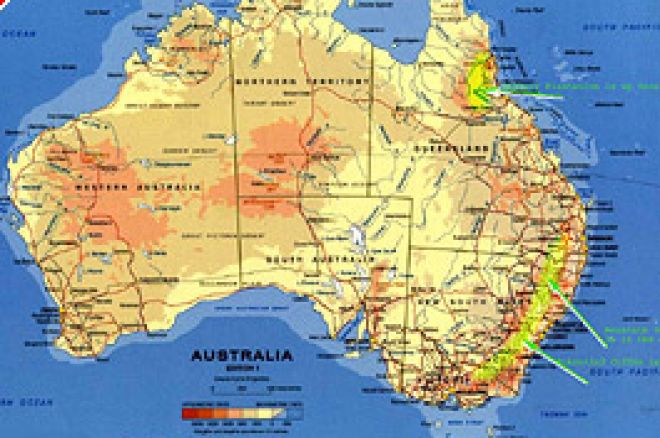 Poker has found international success. Huge cash-prize tournaments are popping up all over the world. Countries like the U.S. (World Series of Poker), U.K. (London Open), and France (Aviation Club World Poker Tour Event) lead the way with their prestigious events, but a new face on the global poker market is about to make its presence felt.
Despite having only three major casinos - Casino Canberra, Skycity Adelaide, and the Crown Casino, poker is as rampant as the animals that prowl the Australian countryside.
Poker in Australia has been bolstered by the online poker boom, ESPN's televising of the 2004 WSOP, and the coverage of the 2005 WSOP by one the country's top sports publications, Inside Sport. Also, the recent success of 2005 WSOP winner, native Australian Joe Hachem, has put the country's fascination with poker into the spotlight.
"The recent airings of poker on free-to-air TV in Australia and the accessibility of online poker have been a huge factor in the demand for poker," said Crown Casino's media relations manager, Kathrynn Farrell in a recent interview.
Although there is no current estimate on what poker is worth in Australia, in terms of its value as an advertising venue, it looks as though poker businesses are ready to capitalize on yet another country's demand for action.
Leading Australia's charge into the global poker arena is Crown Casino. The Crown recently received a major publicity push recently thanks to regular, Joe Hachem's $7.5 million victory in Las Vegas.
"We are looking to remain at the forefront of poker in the next few years," said Farrell.
The Crown Casino is making moves to do just that. According to a recent Herald Sun article, the Crown is putting its money where its mouth is and is in negotiations with a U.S. television company to create one of the biggest cash-prize tournaments in the world. Early reports estimate that 500 players will be invited to battle it out at the yet-to-be named tournament, which will feature an estimated $10 million prize pool.
The Crown is currently preparing for the tournament by transforming its poker room into one of the world's premiere venues, featuring TV studios, commentary facilities, and viewing platforms.
Ed Note: Play with Gus Hansen, Tony G, and Erik123 every day at Pokerchamps.