Legends of Poker: T. J. Cloutier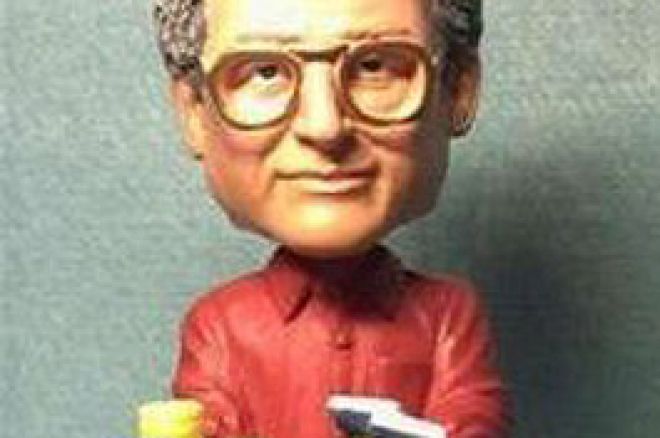 The 2005 WSOP came and went without my winning a gold bracelet. I know that's shocking to many of you, but these things happen. One of the nicer things that did happen was running into T. J. Cloutier at two different tournament tables. I'd like to say that each was a major event, and that we spent time discussing our play at the final table. However, the highest I finished was 28th, and that was in a late-night event.
T. J. won another bracelet, and that's really no surprise. There had been some health issues a while back, but Mr. Cloutier laughed, and swore he was back to the same weight he had always been, even while playing for the Montreal Allouettes and Toronto Argonauts of the Canadian Football League. That's good news for the world of poker, but bad news for the players.
T. J. was born in Albany, California on October 31, 1939, and it's been trick-or-treat for poker players ever since. He played some poker in high school, but spent most of his time at Jefferson High School (in Daly City, CA) involved in sports. At 6-feet, four inches, he starred in several sports, and took a scholarship offer from the University of California at Berkeley to play both football and baseball.
His time at Cal was again, all sports, and he played in the Rose Bowl with Canadian Football Hall of Famer (and the Cal Bear's quarterback), Joe Kapp. Kapp, who was drafted by the NFL out of college, found himself in the same boat as other future stars like Doug Flutie and Warren Moon, and had to prove himself before getting a chance at playing in the NFL.
Financial problems led to T. J. leaving college, and while helping his father earn enough money to pay the medical bills his ailing mother's hospitalization were creating, he was drafted into the U.S. Army. The food may have been bad, but the poker games were good, and T. J. earned more each month from gambling than from his base pay.
When he was discharged after his tour of duty, T. J. played for the Toronto Argonauts, and also for the Montreal Allouettes where he wore number 14 in 1964. A knee injury ended his professional career, and a series of unfulfilling jobs were in his future. He married, and worked through the 1960's, then moved back to the San Francisco Bay Area where he again worked with his father.
After the end of his marriage, T. J. moved to Texas. He says he arrived there with less than $100 in his jeans, and took the first job available on an oil rig, working as a derrick man. In the evening, T. J. played a little poker. The games were good, and Cloutier soon found he was making more money at the tables than freezing his assets on an oil derrick.
Taking to the road like a number of other ex-athletes turned poker pros, T. J. learned the hard way that games are good in some locations, and bad in others - but there's always another town within the headlights if you keep your foot on the pedal.
Today, T. J. lives in Richardson, Texas with his wife Joy. He has six children, and doesn't have to drive down those lonely Texas roads to find good games anymore. Cloutier learned early that he had a knack for reading his opponents. Some say he is "scary good," and I have to agree. He has a tremendous number of stories "from the road," and lulls you into thinking that nothing but that story is going through his mind, but T. J. remembers facial mannerisms like some people remember the lines from movies. I swear he just plays the hands back in his mind, and categorizes each movement for later use.
Over the past twenty years, T. J. has dominated poker tournament fields in Nevada and California. In 1985, he was within a whisker of taking the main event championship at the World Series of Poker. He was heads up at the final table, but Bill Smith won the final hand with pocket threes against T. J.'s ace-three. T. J. settled for $200,000 and two years later picked up the first of his six championship bracelets by winning at limit Omaha.
The following year, Cloutier again found himself at the final table of the main event, and finished in fifth place. There would be a ten-year gap between final table finishes in the main event, but T. J. continued to win bracelets at the WSOP and also score in tournaments elsewhere.
In fact, Mr. Cloutier won the $10,000 final of the Diamond Jim Brady Tournament (held at the Bicycle Club in Los Angeles) three straight years, pocketing the first prize money in 1990, 1991 and 1992. His record of over 50 tournament wins (large buy-in only - he has too many smaller limit wins to even count at this time) is the most of any player in the world.
There really are too many great efforts to recount, but his win in the 2004 Razz tournament at the WSOP was a joy to watch, and even this year, as I stood on the rail, I had to root for T. J. to pick-up yet another gold bracelet in the $5,000 buy-in no limit hold'em event. He didn't disappoint me, or any of the hundreds of fans that were in attendance, winning his sixth gold bracelet.
The only real question about T. J. is how many more tournaments he will win, and how many will be gold bracelets at the WSOP. I learned two things at this year's tournament about T. J. First, he is truly a World Champion, a legend of poker; and second, never bet against him.
If you want to know more about the way he thinks, and what goes through his mind while playing in tournaments all over the world, you might consider picking up one of his books. T. J. is a co-author (with 1983 WSOP Champion, Tom McEvoy), of four very fine poker books. They just might help you think like a champion.
Ed Note: Noble Poker have our top rated bonuses.