Mike Matusow - The Fire Inside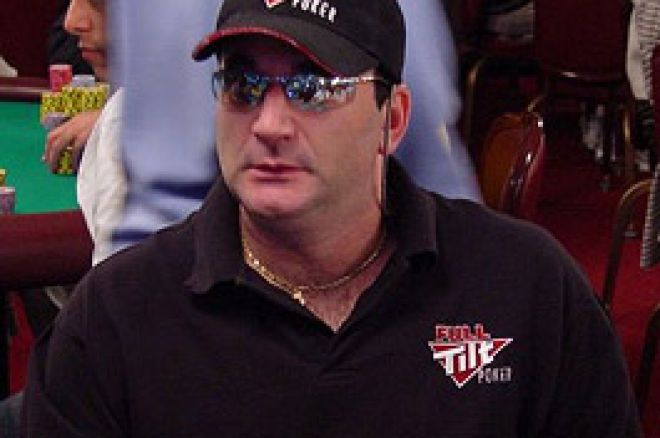 At the beginning of this year's World Series of Poker Main Event, it was commonly thought that there would be a serious lack of star power when it actually came down to the final table. With almost 5,700 competitors, it was greatly surprising when both the defending champion Greg Raymer and professional player Phil Ivey were still in the running when there were three tables left. After they fell to the side, it was up to professional Mike "The Mouth" Matusow to carry the professional banner to the final table, which he did in grand style!
Matusow was, arguably, the best player through the week of competition in the Main Event. Even after sitting out FORTY minutes for the "F" word penalty early on in Day One, he was able to battle back and found himself in fourth place as the final table kicked off. What has been Mike's biggest dream (the WSOP Main Event championship), unfortunately, was not to come to pass; after suffering a bad break when his pocket Kings ran into pocket Aces early on in the final table and losing a great deal of his stack, Mike was unable to mount a comeback and was eliminated in ninth place in the 2005 World Series Main Event.
While it was a less than great outcome, the World Series added further proof to the return of Mike Matusow to competitive poker. He had a difficult 2004, as anyone who reads the message boards or the newspapers knows and, after completing his time for his transgressions, began his Phoenix-like rise with an excellent showing in last year's Ultimate Bet Aruba Classic. The World Series only made it further known that "The Mouth" is back!
I had a chance to talk on the phone with Mike recently and, in the course of our conversation, he demonstrated that he still has "the fire inside" for the game of poker and for life overall.
PN: Hello, Mike and congratulations on the showing at the World Series!
MM: Thanks, Earl! Yeah, I had a great Main Event, but just came up a little short.
PN: Well, with all of the big names in the Main Event, you were the last recognizable professional left standing. How did that make you feel?
MM: Oh, it was a great feeling! This is the third year that I got into the last hundred, and last year it was devastating to go out the way I did, with that AQ versus my AK. But, hey, in the last five years I've made two final tables including this year and not too many people can say that!
PN: Yeah, you and Dan Harrington...
MM: Yeah, and I think Chris Ferguson can say it, too. That's pretty damn good company to be in!
PN: Definitely!
MM: So, yeah, I'm thrilled with the way I played. It was the best week of poker I have ever played in my life.
PN: What was your assessment of the players at the World Series and at the Final Table at the Main Event?
MM: Oh, man, it was probably the weakest field in the entire time I've been at the World Series! With so many Internet players, it really forced me into a different style than what I normally like to play. Not to knock the Internet guys, but there were some very suspicious moves being made by them! I have to say, though, that I was fortunate to make it to the Final Table. You have to be for that to happen.
At the Final Table, I learned something that, if I had learned it about two hours before we broke the night before, I would have gone into the last day with a monster pile of chips! NOBODY wanted to play! I was making some aggressive moves and everyone was folding down, even as we started the final table. I looked back at it later and thought about it, and the play was the same as the night before. There wasn't a lot of aggression and people really were sitting back and looking at coasting into the Final Table. If I had realized that the previous night, there would have been no stopping me!
PN: Well, you have long been known as an aggressive player. I know that there were occasions in the Main Event where you were attacking with strong hands and then others where you did have less than the best. Were those gear shifts critical to your success?
MM: I have definitely backed off of my aggression over the past couple of years. In the Main Event this year, it was very important for me to shift gears. I tried to take what the table gave me. If it was a loose table, I really tightened up and played a conservative game. If it was a tight table, I got aggressive and stole the blinds and antes where I could and took some smaller pots as well. It really got me into a good groove and I really think I was "in the zone" during the Main Event.
I really was playing the tightest poker of my life in the first three or four days. I chopped and chopped away at people and continually was building my stack. If you look back at the daily chip counts, mine was consistently going up every day. I only got involved in maybe three coin flips in the seven days of play, and I lost two of those three!
PN: With your chip stack at the final table, Mike, was it difficult to walk away in ninth?
MM: Oh, buddy, it was devastating! But something you have to realize, and which I did, is sometimes you just gotta say, "That's poker." After being there once (in 2001), you always wonder if you can ever get back again. I know now that I can and I know that I will be back there again!
I think that people kind of psych themselves out with it. Yeah, it's the World Series Main Event, but if you look at it, it's another poker tournament. It really allowed me to play well when I kept that in mind.
PN: You do have an extreme amount of passion for the game, however. Is that something you believe a player must have to be successful?
MM: Yes, most definitely! When I have won in the past, it's because I have put my entire self into it. My reward when I do that is winning!
PN: Mike, how did 2004 change your life, both as a player and as a person?
MM: Well...(pauses)...the people that know me, my friends and players that I respect and respect me, know what happened was unfair. I know that time I was out, I felt sorry for myself...anyone would. I know that one of the things now is I do appreciate life much more.
As far as a player, I made it my mission to prove myself again. I wanted to show everyone that I could come back, not just at the tables either, but overall. I believe that I am still on that mission, and I am enjoying the challenge.
PN: Did you play poker at all before you started as a dealer in the casinos?
MM: Yeah, I played for about a year and a half before I took on dealing. I realized that I could make some money doing it, but it wasn't going to be much. I had to have a good job to fall back on to allow me to make the additional money I made at poker worthwhile.
I mean, if you're making $300 a week at your normal job, it doesn't allow you to play at a level that will make a significant impact. If you work a job that pays $700, like when I was dealing poker, then you can afford to play at a better level and it will have an impact on you. It isn't as much of a grind then.
PN: Did working as a dealer make your game better?
MM: Oh, yeah. It really made me think when I was at the table. When I was able to start putting the table on their hands all the time, I knew I was ready to take on poker full time.
PN: Is Texas Hold 'Em your best game?
MM: Some would say yes, but I don't think so. I was the best Limit player in 1996, but since I have been playing No-Limit, it's kind of gone away!
When I am on my game, I believe I am one of the best. I have to be on my game, though. I look at guys like John Juanda and Phil Ivey and they are amazing. They always have their A games going whenever they step to the table, they always have that focus that is necessary to be an excellent player. Sometimes I don't have that focus like they do!
PN: What are some of the skills someone has to bring to the table to be a world class player?
MM: Everyone thinks that you have to outplay your opponents. Most think you have to make these fancy plays and moves and all that. Mostly you have to be patient and be ready to jump on people when they make mistakes.
Don't get me wrong, though. There is room for play in poker. It's one of the things I saw at the World Series with a lot of the Internet players. When they got a hand, they would shove their stacks to the middle, and sometimes the hands they were doing it with weren't what you would consider the best hands! That's not poker. There is something to be said for playing the game out, otherwise it isn't poker, it becomes an all-in fest.
PN: What do you do to get away from the game?
MM: Not much! Poker takes up a lot of my time. If I'm not playing in a tournament somewhere, you'll usually find me playing online. In fact, that's what my friends did to me during the Main Event is, when we were done playing for the day, they took away my laptop so I couldn't play in the off time! I appreciated it, though...it probably gave my mind a break, when I would have just rather played more poker!
PN: I know you play all the time on Full Tilt. How do you enjoy that?
MM: I love it! I play all the time there and I would like to see the other guys play there more often. I mean, we're only supposed to play ten hours, but I am there constantly! I've found that I do pretty well there and I think if the other players played more often they would see that they would do pretty good there too!
PN: What are your plans for the rest of the year and in the near future?
MM: Well, I am taking some time off right now. Nothing serious, but I'm visiting the doctor this week and getting everything checked out. After that, I am gonna be getting into the World Poker Tour events and seeing what I can do there. I seriously want to make a run at the Player of the Year race and I see my performance in the World Series as a serious push to get me to that level.
I'm really interested in getting something else going. Let's be honest, poker has become entertainment and people are watching. The World Poker Tour, however, has made tournament poker into something like the WWE by cutting it up and packaging it in those two hour blocks. People like the personalities, the wild characters, and there is a lot of interest in the heads up game. I think that people would be interested in a pay-per-view type setting, where the personalities of the players come out and make it for some great viewing. Could you imagine Annie Duke sitting down against Jennifer Harman? Or myself versus Phil Hellmuth? People would eat it up! You could have a couple of matches like that, where the players really kind of go at each other, put it on pay-per-view, and really make something on it!
PN: That does sounds interesting! Well, Mike, thanks for the time, congrats again and the best wishes for the rest of the season!
MM: Thanks, buddy. You take care!
I would like to thank Mike for sitting down with me. What I found was a man who has come back from some indiscretions and is on the doorstep of being one of the best in the game. He is passionate about the game, which is evident from speaking to him, and he is forthright and frank about his views on the game. When it is said someone wears their heart on their sleeve, it could apply directly to Mike. You always know where you stand with him, and you always know where he stands with his thoughts. If you want to take on the challenge of playing poker against Mike, you will always find him at the tables at Full Tilt!
Full Tilt is the room that Mike plays at. Check it out.