Sweating Poker Players?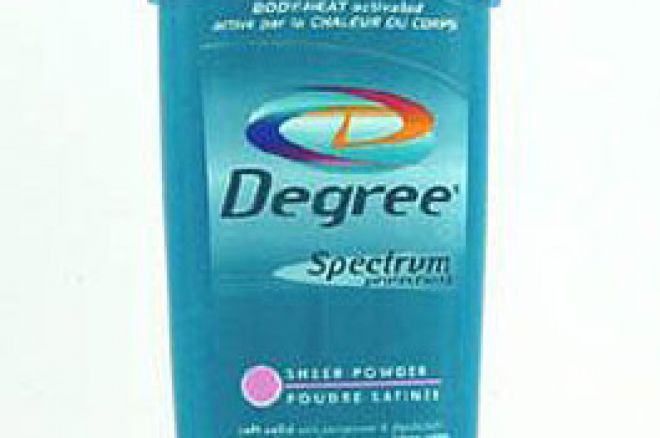 A number of poker camps have evolved as a result of the recent poker boom that are making poker education into a lucrative new cash revenue stream for players and sponsoring companies. The World Poker Tour (WPT), Phil Helmuth, and Howard Lederer were the first to bring "poker education" to the masses and have been selling out camp dates ever since.
Although it is the latest to join the poker education industry, Degree for Men is taking a different approach to education. Led by two-time WPT winner and Celebrity Poker host, Phil Gordon, Degree is sponsoring a series of six free (yes, that's right, FREE) educational lectures at ESPN Zones across the country. Degree For Men is one of the leading underarm deodorants and has been actively using poker to reach its target audiences.
"In life, and in poker, you need to take calculated risks to win big. At the Degree All-In Poker Experience, poker fans will learn the skills they need to take calculated risks - whether it's bluffing, betting, or going all-in," Gordon said in a recent press release about the new tutorials.
The camps offered by Degree is the next step for Degree, which has become deeply engrossed in the poker landscape. In addition to being the main sponsor of ESPN's online poker club, Degree is also a sponsor for the World Series of Poker and feels that its product fits perfectly with poker.
"Degree is an official World Series of Poker sponsor for good reason. We offer twice the underarm protection men need, so they have one less tell to worry over when they push in their chips. We're excited to give men the tips and tools they need to take risks, either at or away from the table," said Christopher Luxon, vice president of marketing for Degree.
Although the tutorials are free, there is still a big prize to be won. Guests at the lessons will have the chance to win a 2006 WSOP seat and an exclusive opportunity to meet Phil before the start of the WSOP. All attendees and contestants (no purchase necessary) will compete in a test of poker knowledge for the seat and special meeting. Players unable to attend the lectures can participate in the contest at degreedeodorant.com.
The Degree All-In Poker Experience will make stops at the ESPN Zones in New York (Aug. 9), Baltimore (Aug. 16), Chicago (Aug. 23), Denver (Aug. 30), Anaheim (Sept. 13), and Atlanta (Sept. 20). Admission is free but space is limited. Expect each night to fill quickly. Seating is on a first-come, first-served basis.
Full Tilt is where Phil Gordon plays, while never perspiring. Check it out.