From Broker To Bracelet: Cliff Josephy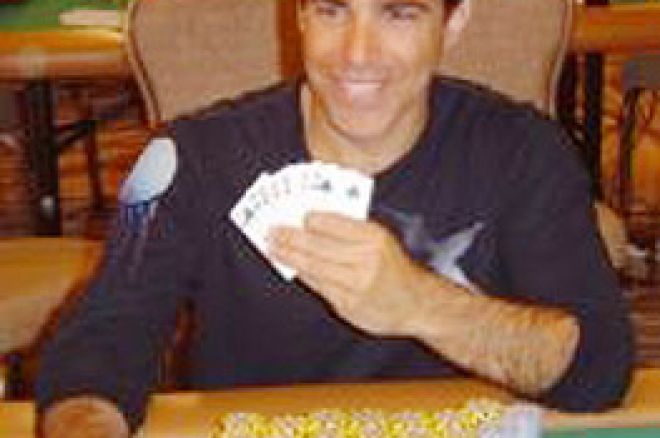 Cliff Josephy is a snapshot of how online poker has changed lives. Two years ago, Josephy was working on Wall Street, and toiling away as many of us do every day. Then, Josephy discovered he could play cards....on the internet.
He began playing, and built quite a name for himself online as 'Johnny Bax'. Building a bankroll over the next few months, Cliff decided he would take his roll, and roll out to Las Vegas for the WSOP. Many who know Johnny Bax know he plays mostly No Limit Hold Em. But, a funny thing happened in Las Vegas - Cliff decided to enter his first live Stud tournament ever - the $1,500 buy in event. An even funnier thing happened less than 48 hours later - Cliff won the event, and added just under $200,000 (and a gold bracelet) to his bankroll.
Recently, we caught up with Cliff at the Borgata, and got a little more insight into the life of 'Johnny Bax'.
PokerNews: When did you start playing?
Cliff: I started playing at the end of March, beginning of April of 2004.
PN:What first got you involved?
CJ: Cards were like a hobby for me after working a zillion hours a day on the stock market. So I would come home and relax and play hearts on the computer for several hours. Not all the time mind you, but enough.
So I went to visit my dad during Christmas 2003, and I started playing poker on the computer. I never even dreamed that there would be poker on the computer, I don't know why. After I saw my dad playing on PokerStars.com, I started. I played only play money at first. Everyone was all in every hand, it was kind of ridiculous.
PN: Where did you first cut your teeth?
CJ: One day I just decided to head up to Foxwoods to play in a $2,500 event. I hung in for while and started plugging holes in my game.
PN: What is your favorite game?
CJ: I would definitely say no limit is my game.
PN: Do you consider yourself a pro now?
CJ: Yeah, I'm done working and I decided to give it a shot.
PN: What was the moment you knew you were going to go pro?
CJ: I had been bored in the stock market, and I had worked hard for a long time and was getting burned out. I just like this so much more, it's certainly more enjoyable.
PN: Have you been approached to rep an online room?
CJ: I had a meeting with PokerStars before the final table. I wanted to see what they had to offer. Although it is what you might call my home site, I had heard what other sites were offering, so I wanted to explore my options. No one is really approaching me and I'm kind of lazy and I'm not looking too hard. We'll see how it goes.
PN: What do you think of poker's dramatic growth?
CJ: I'm happy...you know. It's given me a hobby, and I can make money at it. I guess that makes it no longer a hobby. It's not the stereotypical image of a bunch of degenerates in a smoky room anymore with the public's acceptance of poker on TV. All anyone wants to know now is when you're going to be on TV. I'm happy about it.
PN: What was it like winning a WSOP title?
CJ: I still don't think it's set in. I was so shocked and so tired. I had a stomach virus and had to run away from the final table a few times. I've made some good money in my life, so this was good. I would have felt a little better if it had been on TV, so my wife could tell her friends that her husband was a professional poker player. It was a little rough in our neighborhood. I wish it had been on TV for her sake. It would have made her proud.
PN: What is your favorite aspect of the game?
CJ: I like all aspects of the game. It's a thinking game. You have to have use your head, have a high tolerance for risk, and be able to stay focused. These are the three things that in whatever I've done, I've been pretty good at. It's right up my alley.
PN: How difficult is it to balance family and the game?
CJ: It can be difficult. What I do is spend as much time with my family as I can. I do what I have to do, and I want to do to be a good father and husband, but I do have to make a living. I can't live what off of what I have for the rest of my life. I'm very cognizant that my family has needs. I'm not the only one in my family. I love spending time with my wife and three kids. So, I make sure that I take care of them.
Some people ask why I don't play on the bigger events that take place on the weekends. But, I'm with my family on Saturday and Sunday. Although, recently my wife might have given in a little and I might start playing a few Sunday tournaments in the future due to the dead money in the events.
PN: What advice would you give to aspiring player?
CJ: I was fortunate in that I didn't have to learn everything on my own. I tried learning on my own, but then started talking to other players. People need to read the books, talk to better players and look for weak links in their game.
Ed Note: As he mentioned, Cliff mostly plays at Poker Stars you should too!