Nadeau Takes On Poker Challengers For Charity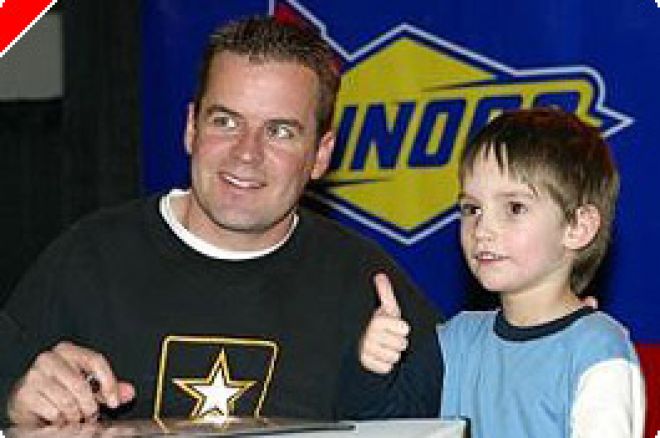 Racing enthusiasts love their action. High speeds, souped-up cars, and good-'ol-boy drivers competing for a title is tops their list of fun. So, it is no surprise that racing fans are poker fans as well. Rabid ones at that. The union of the two sports was destined to happen and is another link between sports fans everywhere.
Fortunately, the merger of the two sports has had some amazing effects as drivers have joined fans in raising money for a number of charitable organizations and causes. The latest to try and raise money is Nextel Cup driver Jerry Nadeau.
Nadeau is the master of ceremonies at the September 14, "Jerry Nadeau Poker Challenge and Cruise," and is joined by sponsors Sugar Hill Speedway and the Racing Against Cancer Team in his efforts to raise money for David's House, a place for terminally ill children and their families. David's House is close to the Dartmouth Hitchcock Medical Center in New Hampshire.
Inspired by the loss of their young son David to acute lymphocytic leukemia in 1984, Dick and Gerry Cyr established the refuge house so parents and children could live in a home-like atmosphere during treatment.
"The Jerry Nadeau Poker Challenge" features 11 tables of eight players each (totaling 88). Each table will feature at least one celebrity race car driver, such as BuschNorth Series champions Andy Santerre, Mike Stefanik, Brad Leighton, Dave Dion and Mike Olsen at the start of the tournament.
Cash prizes will be awarded to the top eight finishers including first prize of $1,250 and an overnight stay at the prestigious Foxwoods Resort Casino, valued at $375. The entry fee is $100 and includes a buffet and a three-hour cruise aboard Mount Washington as it travels across New Hampshire's Lake Winnipesaukee.
If the tournament doesn't sound like your cup of tea or you just want to watch the action, tickets are available for a $40 donation for adults and $30 for children under 12. Throughout the evening raffle prizes will be awarded from the Racing Against Cancer Team and other sponsors as well, so everyone has a chance to take home something.
To learn more about David's House visit davids-house.org. For tickets or to get additional information contact Debbie Archambault at Sugar Hill Speedway at 603-329-5166.