Online Only (1)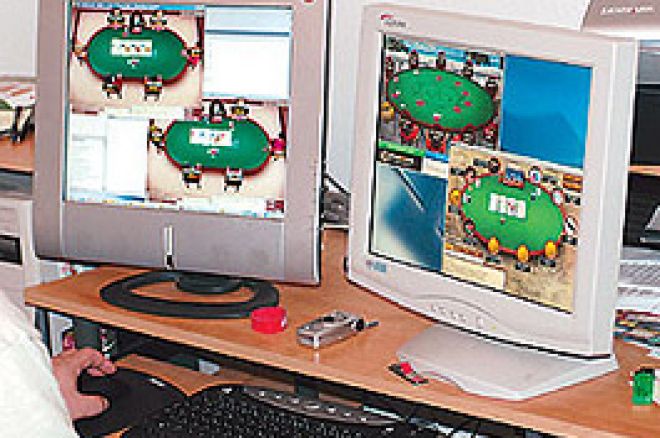 Before I begin diving into the aspects of online poker not often discussed, I want to introduce myself. I've been playing online poker full-time for about two years and have played on nearly every poker room in existence. I was previously a writer for the defunct PokerTrails website.
While I was in Los Angeles for the Legends of Poker, John Caldwell gave me an offer I simply "couldn't refuse". After some negotiations that involved a few people being knocked off, I am happy to call PokerNews my new home. This column of online poker happenings, rumors, and other things relevant to the booming world of online poker should appear weekly, with updates appearing as news breaks. Send any rumors, or relevant things to sketchy65806@yahoo.com
Side Bets Online
Many of our readers probably are familiar with the August tournament leader board side bet that went on. All of the action was based on PokerStars.com's monthly tournament standings, and huge wagers were placed on who would come out on top of that leader board. While all the details are still highly rumored and very little has been publicly addressed, a few people made wagers in the six-figures range. The guy doing most of the betting did not win, and let's just say tens of thousands of dollars changed hands because of this.
This type of bet is commonplace in poker, but it's fairly new to the online community. While many have done this with friends, it's become a fad on poker message boards. Now, there's a big $100 a person bet going for the October leader board, and numerous other last-longer bets being wagered daily.
If you stumble across someone offering these on a table or in a forum, a few words of caution. Don't make these wagers without outlining every rule that needs to be outlined. Don't make them with people you don't know or you can't trust. And please, don't gamble more than you can afford to gamble. This is poker, but these bets are hard to win and you shouldn't be putting up a large chunk of your bankroll to win a trivial side bet. They should be for purely entertainment purposes.
Live Professionals Taking on Online Pros
PokerStars World Championships of Online Poker (WCOOP) is currently in the final stretch and will probably have concluded by the time this hits the press. An interesting thing that's been happening has been the online pros taking on the live tournament pros in a few final tables.
Most notably, in the $500 Stud Hi-Lo event, Chris Moneymaker (money800) and Scott Fischman (emptyseat88) took on Matt Mortenson (Bunsen). When three-handed play began, Moneymaker was the terminator of the final table, having eliminated most of the players and holding the chip lead. With the slow structure of these events, chips were traded around for a few hours before Bunsen finally took both of them out.
Other name pros to make some cash in this year's WCOOP include Barry Greenstein, his son Jason Sebok, Greg Raymer, and many more are rumored.
Online Rooms Booming Not Busting
One thing I was interested to see was how all the poker rooms did while the WCOOP was going on. PartyPoker usually draws a big crowd for their weekly tournaments, and I thought that with PokerStars spreading so many big events, the average Joe players would stray from their big prize pool events.
That has not been the case in the least. In fact, the WCOOP has surged overall online poker business. Each week, every site seems to be drawing more and more players in. I think the WCOOP isn't making Stars monopolize the tournament market like I thought it might. Instead, they seem to be improving the overall poker community, as every room now is filling tournaments even more.
Paradise Poker is drawing bigger fields. At one point a year or more ago, Paradise seemed as if it could be on a downturn. Now they have big promotional events, like the million dollar freeroll, and are back in the saddle again. It will be interesting to see how business goes after the WCOOP dust has settled completely. That will be a litmus test for how big poker will grow in the next twelve months.
Ed Note: Paradise Poker are booming - check it!