Poker Circuit Saturation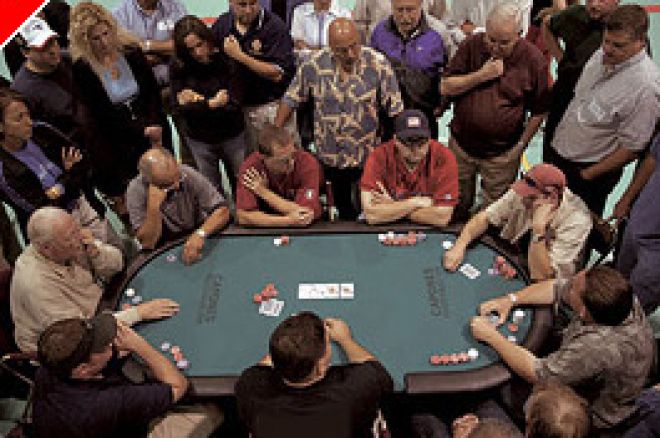 Let's say you are a top poker professional. Any tournament in the world would love to have you occupying a seat in their tournament, and you seek all the publicity, and exposure you can get. The online poker room that sponsors you pushes you to do every TV event possible, and when you can, you oblige them.
You want to play only $5k, and $10k televised events. Three years ago, that would have left about 340 of your 365 days in a year free for you to do whatever else you would like. But, these days are quite different. Let's say for sake of argument that you had an unlimited bankroll for travel, and tournament buy ins. Also, let's say for the sake of argument that you had unlimited energy, and you could play poker 12 hours a day for 30 straight days without getting burned out. Your joy for the game knows no bounds, and you are determined to make the most out of the next thirty days. Let's look at the life a top pro could theoretically lead for thirty days between September 14th, and October 13th of this year.
September
14th-16th WSOP $10,000 circuit event in Las Vegas (Ironically, as you show up, you find out they aren't televising it, so you hop on a plane to Barcelona for the EPT event, which is televised on Eurosport).
16th -17th Barcelona $5,000 EPT event.
18th - Travel to Atlantic City
19th - 22nd WPT $10,000 buy in event at Borgata
23rd - your one day off
24th - Travel to Aruba
25th - Oct 1st. WPT $5,000 buy in Aruba (you bust out on day three, and fly to London)
30th - Oct 2nd London $5,000 EPT event
October
3rd - Travel back to Atlantic City
4th - 8th US Poker Championships $10,000 event (ESPN)
10th-13th WSOP Circuit Biloxi *
Obviously, the Biloxi circuit event was cancelled due to the damage from hurricane Katrina, but the point is that here is an example of the current state of tournament poker. A top player, could have - in theory - played in a major, televised event, or traveled to an event 29 out of a possible 30 days, assuming for sake of argument that this pro lasted all the way to the last day in most of these events.
I realize we are in the gold rush phase of the new world of tournament poker, and every casino, corporation, or poker TV program is jockeying for position on the circuit schedule. Eventually, some of these events on the circuit now will fall away, and yet other new events will pop up. But, reason number 1,267 why we need a strong, unified players association is to streamline the circuit, and rather than having several events competing for top players, we can have a circuit, or tour that schedules well, allows sponsors maximum impact on events, and allows players to get the maximum value out of the time they have to play.
With so many organizations competing for players at their events, it is only a natural progression that the players must organize, and make (sometimes) difficult decisions about which events to 'certify' and which to pass on. If you leave the scheduling of events to the organizers themselves, they will naturally schedule against each other, and cause lots of stress, and trouble as they fight for the attention of top players. As sponsors become more integrally involved in the sponsorship of events, they will inevitably ask "Do you have Daniel/Doyle/Phil/Annie" to tournament organizers, and the tournament that can answer yes the most times to those questions will get the most sponsorship dollars.
At this point, we are at a saturation point for large buy in live events, and unless some type of unified schedule can be established, all the events will suffer. Naturally, competing events will dilute each others fields as they compete for top players.
Make no mistake - I love that poker can make new superstars, and that each month, a person who has never won a big poker tournament before wins one. But if we are interested in the long term growth of this business, we must develop stars. The establishment of one, or at most two top tier events a month will allow players to set their schedules without worry of politics, or conflicts, and sponsors can rest assured that they will at least get to promote name players entering in the events...even if they don't make the final table.
Until next time....Play to win!