Atomic Table Puts You on the Felt at Your Computer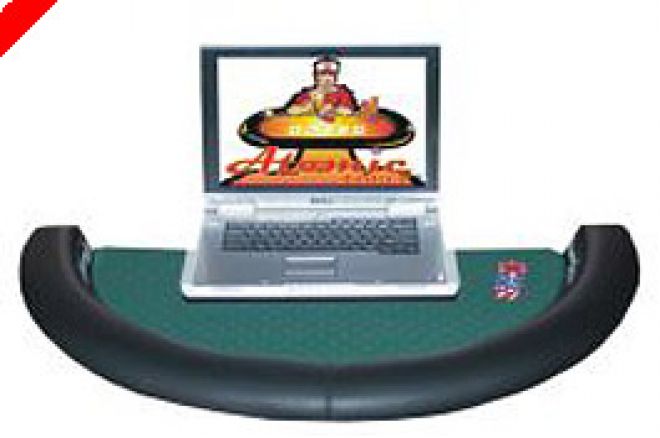 When you are sitting at the computer at home or work and playing online poker, sometimes the real feel of being in the casino can be lacking. While the noises sound similar, with the chips clacking, it sometimes doesn't feel the same. Now there is a way to alleviate that lack of the full experience, and we have the company Print To Impress to thank for it.
Print To Impress has come out with what is a novel concept for the online poker player. While other companies have developed mousepads with poker chips or, lacking that, having a stack of chips beside you online, Print To Impress has developed the Atomic Table II. The Atomic Table II is a computer workstation designed to look like you're sitting at a poker table in real life!
The Atomic Table II actually has a padded poker rail type setup for the online player to rest his arms on as well as ten poker chips to shuffle along with the game. The felt itself has several different designs, from the traditional green felt to a brown style pattern. The company also has its Atomic Table, which is a full size poker table for your own home game. You can even get ten Atomic Poker poker chips (which come along with the Atomic Table II) to even further your poker experience.
The Atomic Table II is priced at $100.99 plus $19 shipping and handling. It would make an excellent gift for anyone who plays poker online, as the table can actually give that feel for being in the "real" poker game that everyone wants when they are playing. The original Atomic Table can be ordered in several designs for a little more than $400.
All in all, the offerings from Print To Impress can be a great gift for the poker player in your life. Whether it is for his home game or his journeys into the Internet battlefield, either one of the Atomic Tables can be a worthwhile investment and a great gift. To learn more about the products that are offered by Print To Impress, be sure to take a look at their website at atomictables.com.
Ed Note: While playing on your Atomic table, drop the Atomic bomb on your opponents at Party Poker