Earl's Excellent Poker Adventure - Day Six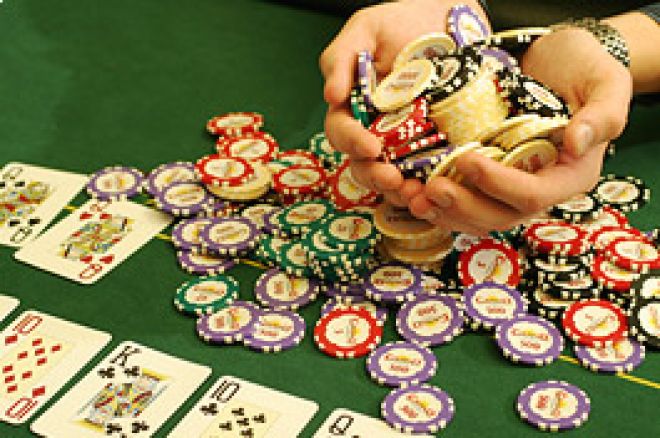 Well, I did it. I made it to the final table of a World Poker Tour tournament!
Granted, it isn't the way that I truly want to. While being a tournament reporter can be an exciting life, you have about four days of true tedium to work through to get to those moments of excitement. When you are at the tables, playing for the opportunity to win large sums of money, those moments of excitement can be more frequent! So while I didn't make it to the WPT Doyle Brunson North American Poker Championship as a player, at least I was there as a reporter!
There's a lot of work that goes into these tournaments that you see on TV. The crowd was seated at about 5PM, but the tournament wasn't set to start until seven. The two hours were spent taking crowd shots and filming the WPT Season Four commercial that you should be seeing soon on the Travel Channel. The players all arrived around 6:30 and waited to get their battery packs and microphones on and, around 7:30 in the evening, we actually started the final table of the tournament. It shaped up like this:
Seat 1: Longtime poker player Tony Grand, short stacked with 118,000 chips
Seat 2: Veteran high stakes cash game master Minh Ly, chip leader with 3,056,000 chips
Seat 3: Former World Champion Dan Harrington, 2,937,000
Seat 4: Las Vegas poker player Don Zewin, 552,000
Seat 5: WPT Mirage champion Gavin Smith, 1,368,000
Seat 6: Denmark's Jan Sorensen (2005 WSOP Seven Card Stud Champion), 370,000
This was probably one of the most professional laden final tables of the WPT's history. It could have been better with Barry Greenstein, who finished tenth, and Chris Ferguson (out in eleventh), but the men who worked their way to this prestigious seat at the Bellagio definitely brought some serious poker skills along with them. With three serious short stacks, we at least figured that they would be quickly eliminated and then settle in for a long battle.
We had barely gotten started when, on Hand 8, Tony Grand decided it was time to make a stand. Tony was pretty much the story of the entirety of the Doyle Brunson North American Poker Championship. At 81 years old, he has played poker for his entire life and, to date, this has been his finest achievement, in addition to being the oldest final table player in WPT history. After pushing in, both Minh Ly and Jan Sorensen both called him. When the board came down 2-7-5-10-Q, Minh bet out and forced Jan from the pot. When the cards were turned up, we kept Tony around for more poker (to the delight of the audience) when his Q-9 barely outraced Minh's Q-8, tripling him up.
Eleven hands later, after Gavin Smith raised the pot, Grand was all in again. After Don Zewin came all-in over the top, Gavin dropped his hand and the race was on between two Las Vegas poker playing veterans. Tony held the edge with his pocket tens, but Don came with an A-Q for the battle. An Ace on the flop and an unnecessary Ace on the river sealed the end of the night for Tony Grand, in sixth place for $96,560.
"I really didn't want to take him out," I heard Gavin Smith say later. Two hands previous to this, Gavin and Tony locked up and Tony drew out a flush on him. He was honestly somewhat relieved not to be the person who knocked the octogenarian from the event! As it was, it was another Vegas veteran, Don Zewin, who did it.
It wouldn't be long before our next departure would occur. Jan Sorensen showed that his skills in the game extended far beyond Seven Card Stud by getting to this final table and, with a stack withering from the antes and blinds, found a hand to go with. He pushed all in on Hand 23 with his pocket fives, only to see Don Zewin call him. Zewin showed a dominant hand with pocket sevens and, once the board provided no help for Jan, he left the Fontana Ballroom in fifth place with $137,940.
This was less than an hour into the event, and we would get into the true nature of poker. For the next four plus hours, there was no one eliminated from the game. Gavin Smith, who is truly one of the bright stars of the future of the game, launched into an ultra-aggressive style that, at one point, captured him more than half the chips left in the game. Don Zewin showed the skills honed in Las Vegas as, repeatedly, he put his tournament life on the line and came out the victor. Both "Action Dan" and Minh repeatedly battled with their other two table mates, but were unable to gain a significant advantage. We went through two level ups before the action heated up tremendously.
With the blinds at 100K/200K with a 20K ante on Hand 135, Dan Harrington decided it was time to play. He raised the pot to 600K, prompting an all in move from Don Zewin. Zewin only had approximately 400,000 more chips, so Harrington made the pot odds move when he called. Dan turned up a very un-Harrington-like hand of the 9-7 of clubs, which was dominated by Don's pocket nines. Zewin had to have hated the flop of 4c-7-Kc and, with a blank turn, was sucked out by the former World Champion when a ten of clubs hit the river. Zewin, who had played tremendously throughout the entire tournament, was eliminated in fourth worth $189,630.
The very next hand would lead to the next elimination. Minh moved all in from the button and, after deliberating for several minutes, Gavin Smith called him from the big blind. Minh's K-8 shrunk in comparison to Gavin's A-7 but, once a King hit the flop, Gavin was crippled to the point that he was all in on the next hand. Harrington moved a raise in to force out Minh and turned up another interesting hand, the 8-4 of spades. Gavin had to like his chance as, fitting of the namesake of the tournament, he turned up the 10-2 of hearts (the Doyle Brunson). This time, however, there was no magic in the hand as Dan hit an eight on the flop and added a four on the turn to send Gavin home in third with $327,610 for his efforts. It was obvious in looking at Gavin, once he was away from the table, that he was truly devastated. In both cases, he had got his money in with the best hand and, both times, he came away the victim instead of the victor. Close friend and confidant Erick Lindgren, who sat in the audience and sweated his compatriot, provided some condolence on the unfortunate turn of events.
Down to two, the chip counts looked like this:
Dan Harrington: 3.375M
Minh Ly: 5.020M
It was nearly over on the next hand. Harrington raised the pot and, when Minh moved all in, called. A more typical Dan Harrington hand of A-J covered Minh's K-J and, when the board blanked out, Harrington captured the chip lead. It was Ly's turn to double on the next hand and we continued the heads up battle for a few more hands.
The two traded the chip lead back and forth and, after a level up to 150K/300K (30K ante), the final hand came. On Hand 151, Minh moved all in and Dan called him. Harrington had the dominant hand of Ah-5c to Ly's Jc-3h. The poker gods graced Minh with a three on the flop and, once the drama of the turn and river blanks, Minh Ly was the champion of the Doyle Brunson North American Poker Championship, taking the $1,000,060 first place check! Dan Harrington was down in second, but the $620,370 was a nice consolation prize.
Ironically, it was a three that Minh had lost to when he was playing Doyle Brunson heads up at the World Series this year when Doyle captured his tenth bracelet. Perhaps there was some poetic justice in the factor that Minh won Doyle's tournament by defeating his opponent with a three as well! Minh was visibly shocked and stunned during the awards ceremony, with Mike Sexton, Vince Van Patten and the new and lovely (and better than previous) hostess Courtney Friel when he was able to utter, "I wanted to gamble...and I did. I'm happy I won!"
Once the tournament was over, the press corps relaxed as well. I was able to sit back with my peers and enjoy our week of work, including toasting Minh himself as he came by our table. I sat back and truly enjoyed the thrills of poker and life in Las Vegas! In the epilogue to this saga, I'll look at many of the things I came to learn during my time in Vegas and, perhaps, may answer some questions you've been wondering about as my Excellent Poker Adventure comes to a close!
Ed Note: Poker Stars have our highest rated tournaments, find out why