Earl's Excellent Poker Adventure - Days One and Two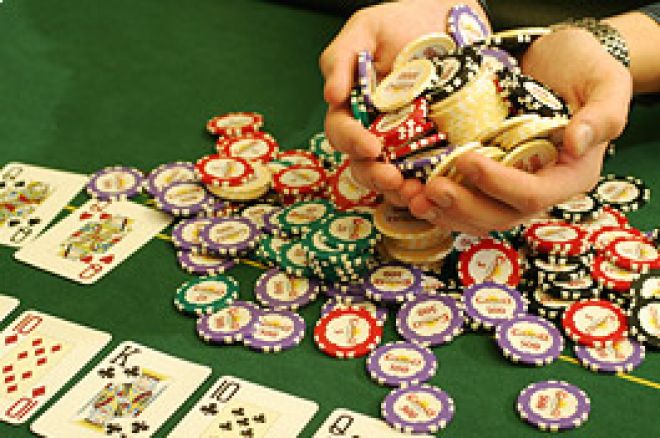 When I found out that I was going to be coming to Las Vegas to cover the Doyle Brunson North American Poker Championship going on at the Bellagio this week, I tried to think of something that would be able to bring you more that the usual tournament coverage. While there are some that want nothing more than the nuts and bolts of a tournament, there is more that goes on in this city than you could imagine. So while I'll be covering the tournament, I decided that it would be a good chance to take a trip around to different casinos and try out the poker. After all, what good is coming to Las Vegas if I'm just going to watch others play!
Day One started uneventfully, excepting for nearly missing the flight here! Once on the ground, though, I was immediately struck by the difference between the conditions now versus when I was here for the World Series in June. You could actually walk around without needing medical attention after taking a few steps! The lack of humidity this time of year makes it extremely easy to get around and without the need to carry your own water supply with you. I noticed as well that the crowds are smaller, making it easy to navigate the streets of the city.
After checking into the hotel and getting a few hours of rest to get my body clock on pace with Pacific Time, I decided to head out in the evening. I had a list of a few poker rooms that I wanted to check out and, because it happened to be closest to my hotel, the brand new Wynn Hotel and Casino was calling my name. The Wynn is the latest (and grandest) creation of billionaire entrepreneur Steve Wynn, who spared no cost when he put the hotel up. It is by far one of the most recognizable pieces of the Vegas landscape and should be some place that you stop by for some excellent casino gaming.
The poker room was spectacular, to put it bluntly. Out of the forty or so tables that were there, approximately thirty of them were in action, spreading pretty much any game that you could imagine. There were No-Limit games ($1-$3, $2-$5, and even a $5-$10) going on, and the play at them was strong from my viewing. There were also Omaha games, Seven Card and even Chinese Poker (which, you'll have to forgive me, I'm not even going to attempt to play!). The seating was comfortable and the tables showed no sign of wear, which is something that the older casinos do show sometimes. I quickly was able to get a table and I decided to settle in at the $4-$8 Limit table and start an evening of action.
What I found interesting when I sat down at the table was there was a distinct lack of talking. Perhaps the true nature of ring games in the casino is that way, which is an unfortunate situation. Poker is, after all, a social game and it would have been a little more fun had my table mates been a little more on the social side. Nevertheless, there were definitely some fine players sitting at the felt with me as the cards hit the air.
I would love to be able that I was crushing the game there at the Wynn. Unfortunately, this is non-fiction, so I must be honest when I say that, on this day at least, instead of being the Louisville Slugger, I was the Rawlings baseball. I played my big hands hard and had most of them covered when the flops didn't help me but helped my opponents. Baby pairs were the death of me, as many times I got those little devils and just couldn't get any help. The only time it did happen, when I held pocket sevens, a flop of 3-5-6 rainbow came down. I bet my hand out, figuring that it was the best hand at that time and trying to protect it. The turn seven was a double edged sword; while I made a set there, it also opened up the straight to someone on a four, which I found was the case when I was raised there. A crying call and a blank on the river left me with a losing hand as the gentleman playing an A-4 of spades raked in my chips.
As I said, the players there were very good. Later in the evening, I was able to look down at cowboys (K-K) and smooth called an early position raiser. It was between the two of us, which was interesting in that raises aren't respected as much in the casino game (I was learning!). A flop of A-x-x came down and I knew immediately that I was behind, figuring my opponent on some sort of Ace. When no help came for me on the turn or river, he turned up his A-Q and took the pot.
I had to know, so I directly asked him if he would have dropped the hand preflop if I had three-bet him. He immediately replied that if he was already in the hand for two bets, one more wouldn't have stopped him (an astute response, and a honest one). "I figured you on a big Ace as well, maybe A-J or A-Q along with me," he stated. Once I told him I had Kings, he shook his head and said, "Tough break, man." It was a nice platitude from an opponent at the table.
I was able to walk away from the Wynn, albeit a little lighter in the wallet for it. But it was still a very entertaining evening at the tables and I would encourage anyone who plays poker to make a stop there. Recently, the Wynn poker room has been starting daily tournaments, so we may have another stop there yet!
Monday I went on the lookout for where the best daily tournaments were. A quick walk down the Las Vegas strip revealed that the Mirage has daily games, as well as the Orleans and several other casinos. These will be something that will definitely be getting another look as I spend the week here. The Bellagio, where the Festa al Lago tournament is going on and the World Poker Tour's Doyle Brunson North American Poker Championship will be battled for, unfortunately didn't have their usual array of daily tournaments going on, but the poker room was definitely action packed! I will step into the poker room there later this week as well.
There are other things going on here in Las Vegas as well, which I'll be sure to tell you about. If you have any questions or want to know anything about the neon oasis that is Las Vegas, be sure to drop me a line here on PokerNews and I'll attempt to answer your questions. Hopefully, in the next installment of my Excellent Vegas Adventure, we'll have a better outlook on the profits line!
Ed Note: your profit line will build if you play at Party Poker