Jennifer Tilly Has Poker Fever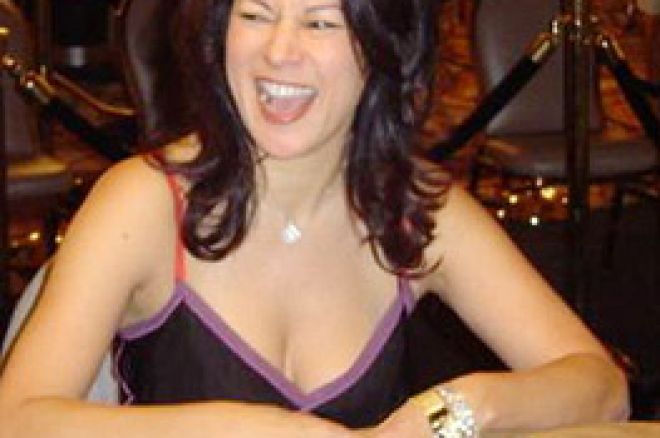 Jennifer Tilly already had the characteristics of an interesting story. The Oscar-nominated actress and star of a new CBS sitcom, Out of Practice, has already beaten the odds by finding roles on the big screen and on television. But now that she has become the first player to win both a World Series of Poker bracelet and a World Poker Tour title, her story has taken a new twist by showing her fans and the rest of the poker world that she is more than just an attractive talented actress.
Tilly loves the game. It's more than just a game to her; it's a level playing field in which players from all walks of life can test each other. "Poker is great because it gives you a chance to play with the best in the game. The other day I was playing with a guy who was a few hours late for the main event because he couldn't get off from his construction job. The fact that anyone can play is a testament to the democracy of the game. It's really amazing that somebody who just loves the game can play against the best."
According to Tilly, the game is one of the few avenues in which the everyday person can compete with the best in the world. "If you are in another profession, let's say golf, you don't get to play with Tiger Woods. But in this game, poker aficionados can take on their heroes. At one table in a recent tournament, I had Carlos Mortenson on one side and Mike 'the Mouth' Matasow on the other. Then I get moved to a table with Amir Vahedi. You never know who you're going to be next to, let alone know what's going to happen."
Although there is no way to predict the outcome of the game and there is no consolation for losing, Tilly believes that playing in big tournaments with the leading players in the game is a great value for the entry fee. "To lose your chips to a top player who outplays you is a worthy loss. To donkey off your chips to an internet player just gives you a completely different feeling than losing to one of the best players in the game."
Early in her acting career, Tilly learned that if you had a dream, you had to try to make it happen. Initially she wasn't sure if she would find success in acting, let alone poker. "When you're an actor, you're always practicing your Oscar speech or your Emmy speech, but I never thought I would go to the Oscars or win other acting awards. I did on one level; on another, I didn't. I thought they were pipedreams. But I have to say, people should reach for the stars. When I was growing up, everyone said I wouldn't make it as an actress and my freshman acting professors said that I should change majors because I would never have a career in acting."
Despite early warnings, Tilly continued her quest to become a star and just like her recent wins at the WSOP and WPT events, she dominated the obstacles in her path. "When I started playing poker people responded in the same way they did when I said I wanted to act. I had a dream to win a World Series bracelet, which seems like a ridiculous dream. Everybody thought it was silly, me making a career out of playing poker. But look at me now. I'm playing poker all over the world and people have offered me website deals and bobble-head deals. I know I could quit my day job and play poker with all that's happened."
It's this positive attitude and ferocious game play that has made numerous pros reevaluate their opinions on this multi-faceted individual. At a recent tournament, the WPT main event at the Borgata Hotel Casino & Spa, several players commented that Tilly is a legitimate threat at the table.
When told of the players' growing respect and positive comments, Tilly responded, "I like that. There are some players that have won major events and they are still seen as fish that got lucky. I think that was part of my major motivation to win another title at the Ladies WPT Invitational tournament. Although it was a different type of tournament than the main events, I think players understand how difficult it is to win two titles in a row. The second win helped calm my doubts about my game."
Like other top players, Tilly has had to battle her inner 'poker demons' and overcome the fear that many players face on a daily basis. "The thing about poker is that I've listened to top players down to the small players and all have fears like 'I don't even know if I'm a good player.' Even players playing ten years have these doubts. I, like everyone else, often wonder if I've played a hand right."
According to Tilly, the newfound respect she has earned from other players has a sweet taste. "Titles and respect go hand in hand. I think in mostly in terms of acting and in playing poker, I've always said I wanted people to respect me as a professional. Sometimes money follows the title, but that doesn't guarantee respect. I think the respect is the most valuable out of the two because it doesn't go away."
In the end, Jennifer Tilly takes her poker victories with a grain of salt and remains modest in the shadow of her success. "I'm not sure if I'm what you would call a true poker player. I look at my boyfriend Phil (Laak). If he is losing, he won't get up from the table. It doesn't matter if its 40 hours or 60 hours, he won't get up from the table until he's even. If he's winning, he won't leave because he's hot at the table. Me, if I lose, I get up and leave. I hate the feeling of being a loser. And if I'm winning, I don't want to play anymore because I want to enjoy being a winner. I think that's the difference between me and Phil."
Whatever your opinion of the reigning queen of poker, one thing is for certain, she is the type of player that can only benefit the game. A true fan of the game, she sets an example of what can be done by a determined individual, both at the table and in life.
Ed Note: Titan Poker are a new room with a lot going on. We think you should check them out.