Legends of Poker: Barbara Enright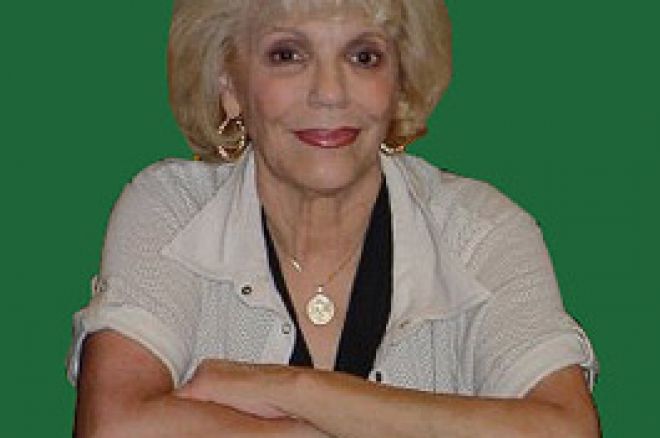 I admit it. I eavesdropped on Puggy Pearson recently from my hold'em table at the Bellagio in Las Vegas. Pearson was chatting with a non-professional at the table beside me, and as always, Puggy was willing to help a new player out. After about a half-hour, the tourist left the table wiser in the ways of hold'em. Puggy stayed put. He was no wiser, but he did have to contend with all those chips the fellow left behind.
It's a tough job, stacking up chips, but the best players somehow manage to muddle through. Puggy continued playing by peering at the flop through small cracks and fissures in his mountains of clay.
At my table, a young player snickered at a piece of advice Puggy gave about "playing the player," and remarked that he was lucky to have any World Series of Poker bracelets. His amazing insight into poker went something like this:
"The tournaments were tiny back then, and besides, it's just luck. If you get the cards at the right time, you win; it's pretty simple. It's just like that lady, who made the final table in the 1990's, what's she ever done besides that," he asked.
"Well," I asked, "how do you think you would have done in 1973 when Puggy won the WSOP $10,000 tournament against a small field of players like Doyle Brunson, Amarillo Slim, Sailor Roberts and Jack Straus?"
"Yeah, and Johnny Moss," another player added.
"Hell, those guys are old. "I 'da put the hurt on 'em," my opinionated friend stated as his runner-runner flush took down a $1200 pot. "See, ya gotta feel the odds, the other players don't mean anything."
I managed a weak smile, mucked my trips, and said, "I think you'd see it a little differently if you were there in 1973, or in 1995 when Barbara Enright came in 5th and won over $100,000."
"Nah, I'da just opened a can of whoop ass on 'em."
The kid actually did pretty well at the table before cashing out, but I predict a fascinating career in the fast-food industry for him. I do thank him, however, for reminding me how tough it really is to win a WSOP tournament. And with regard to Barbara Enright, I think Mike Paulle said it best after Barbara won a tournament at the Orleans Casino a few years ago.
Paulle said, "When she goes on one of her patented rushes, the sun dims in the sky and she becomes a force of nature," and as she closed in on first place, Mike added, "Barbara Enright was catching everything but malaria."
I like that line, and it kind of sums up what many people think of Barbara - that she's lucky. Funny, I hear the same thing about Gus Hansen.
Barbara was born in Los Angeles, California and by the age of four, was playing poker with her brother for matchsticks. Says Barbara, "When we started playing for pennies, I ran over him." Believe me, I know the feeling. Barbara is easily one of the best limit hold'em players I've ever had the misfortune of being steam-rolled by. In tournaments, she's like a heavy rock on a steep hill. You keep trying to hold her back, but eventually you slip-up and she just rolls right over you to the final table.
Barbara began playing in poker rooms in the late '70's. She prefers no-limit to limit, and has shown a great deal of aptitude at both. In 1986, Barbara won her first World Series of Poker tournament, the $500 Women's 7-Card Stud event, and pocketed $16,000.
Her second bracelet came in the $1,000 Women's 7-Card Stud tournament in 1994, and her exceptional play continued the following year when cashed in the 1995 WSOP $1500 Pot-Limit hold'em event. However, the best was yet to come.
The next week, Barbara made history by becoming the first woman to reach the final table in the $10,000 Championship. If she had been a little lucky, as some seem to think she is, her pocket eight's would have stood-up to win after she went all-in and was called pre-flop by eventual third-place finisher Brent Carter who held 6-3. However, that's what happens in tournaments all over the country - somebody gets luckier than somebody else does.
Barbara's fifth-place finish and $114,000 in prize money helped to console her, as did poker player/author and significant other, Max Shapiro. Max has written enough excellent columns for Card Player Magazine to convince me he knows what he is talking about, and he says it's the aggression that makes the difference. There are no successful tournament players that don't turn-up the pressure at the right time.
In 1996, Barbara's amazing feat at the '95 WSOP was overshadowed by an even greater accomplishment. With two tables left in the $2,500 Pot Limit hold'em event it appeared previous champion Brad Daugherty or main event runner-up's Bobby Hoff or Hans "Tuna" Lund might prevail, but it was Barbara Enright who rode a straight-line of excellent play to the championship, and first prize of $180,000.
After becoming the first woman to win an open event at the WSOP, there was little doubt just who the best woman poker player in the country was. Author/player Mike Sexton summed it up when he said, "Barbara is the most dominating, relentless, aggressive woman on the tournament circuit," in an interview with Dana Smith.
Barbara continues to fare well in tournaments around the world, and at this year's (2005) WSOP, she placed 286th (from a field of 5600+) in the $10,000 Championship. Her play, however, is taking a back seat to her work as chief editor of Woman Poker Player magazine, which debuted in April of 2005.
Says Enright; "Women may have a basic advantage over their male counterparts. Psychologists tell us that women possess a sixth sense, and this instinctiveness can be a valuable asset at the poker table."
That's bad news for male poker players everywhere, especially at tournaments where players like Enright, Jennifer Harman, and Annie Duke have mastered the art of deception and aggression. Really now, what's a guy with no WSOP bracelets to do?
Ed Note: Man, or Woman....you will love playing at Paradise Poker