Legends of Poker: Susie Isaacs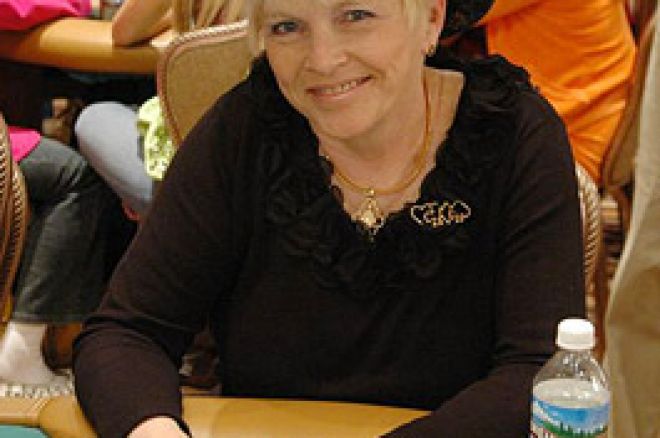 Before Annie Duke became a household name by appearing on multiple TV broadcasts as a professional poker player, there were a handful of ladies who braved the male dominated world of poker and emerged as successful, respected players. Most played small-venue tournaments in places like Las Vegas and Reno, but a few ventured to the World Series of Poker and played both the "Ladies Only" events as well as the open events, long dominated by men.
Starla Brodie was the first woman player at the WSOP to win two gold bracelets, placing first in a mixed-doubles event in 1979, and taking the 7-card stud crown in 1995. The two years before that, a young woman finished third and forth respectively. Her name is Susie Isaacs.
Susie was born in Nashville, Tennessee where she was introduced to poker at the tender age of four. Her recollection is that she was employed as the lookout for her older cousin's poker games, and that soon afterward she was able to play in the games. To finance her poker playing, Susie sold her prized comic book collection for the whopping sum of $2.36.
Over the years, Susie became a competent poker player, and although her first excursion to a Las Vegas poker table in 1982 ended with a $20 loss, she thoroughly enjoyed herself. She remembers searching the poker room at the Hilton and finally sitting at the one and only table that included other women players. That memory is instrumental in her continuing push to get more women into playing poker.
After moving to Las Vegas in 1986, Susie, who has one son and two stepchildren, began to take poker more seriously. She knew her play needed to improve if she wanted to play on a regular basis against the Las Vegas pros, but she was unprepared for the fun and excitement of tournament play.
There were two weekly "Ladies" tournaments held at the Tropicana and the Sahara, and Susie began matching her skills against the other lady players, and something nice occurred: she found them to be easy pickings. "Back then, a large "ladies only" event would have as high as 75% dead-money. There weren't many experienced players, and that had something to do with my early success," Susie says.
She's being modest, but there is some truth to the fact that a lot of events had women that were new to poker. However, thanks to columns written by players like Susie (in magazines like Card Player and Poker Player Newspaper), more women are learning poker, and more women are earning a living as professionals.
After getting her feet wet in small tournaments, Susie eventually began entering events at the World Series of Poker. She had one of the finest runs of excellent play of any player at the WSOP after taking third place in the Women's Seven-Card Stud event in 1993. Making the final table again the following year, she took-down fourth-place prize money and looked forward to 1995. However, that was the year Starla Brodie won her second bracelet and Susie was shut-out.
Isaacs came roaring back in 1996, holding back the entire field and pocketing $42,000 in first-place prize money. Then, attaining one of the rarest of WSOP accomplishments, Susie won the Women's Seven-Card Stud event in back-to-back fashion the very next year. Only Barbara Enright has more WSOP bracelets among women, with three.
Although Susie has pushed hard to get more women interested in poker, and has played many "ladies only" events, she's been known to hold her own against the best in the poker world, male or female. If there is any doubt there, consider the WSOP of 1998.
The then-record 350 entrants for the $10,000 Main Event Hold'em Championship included the best in the world, but there was no "reigning champion" in the field. Three-time winner Stu Ungar, who played magnificently to capture his third crown in 1997 passed away before the 1998 event, throwing a pallor over the entire tournament. Many of the previous champs were knocked out early, and as the final table approached, only three players with a WSOP bracelet were left.
With two tables competing for a first place prize of one-million dollars, the three remaining players best known to the crowd were T.J. Cloutier, Susie Isaacs, and Scotty Nguyen. Nguyen played a masterful game, going home with the big prize and T.J. Cloutier got $437,500 for his third place finish. Just missing the final table, Isaacs settled for a $40,000 payday and 10th place.
The payout matched her wins for 1997 and 1996, and the three year-run cemented her name in the minds of poker enthusiasts around the world. Susie has continued to play tournaments, and wrote a book (MsPoker: Up Close and Personal) in 1999. In 2004, she finished fifth in the Ladies Limit Hold'em tournament at the WSOP.
Most recently, Susie aligned herself with World Poker Exchange when they announced an exclusive partnership, and the poker site will sponsor Isaacs on the Pro Poker Tour. Good luck to them both!