NBC Poker event moves to Caesars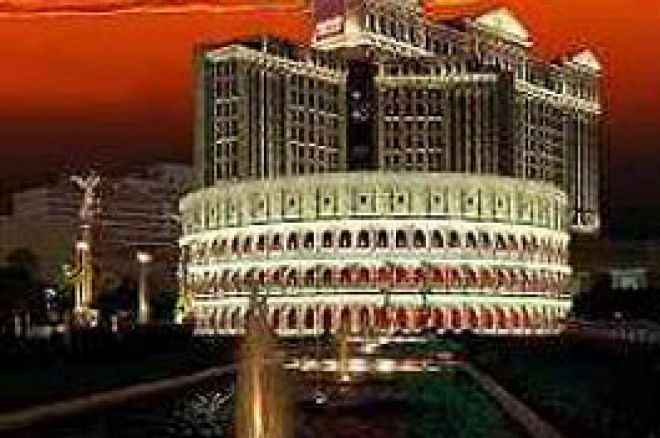 Last year, NBC made major waves with its broadcast of "The National Heads-Up Poker Championship." The one-on-one tournament featured a college basketball-like, single elimination format and was held at the famous Golden Nugget in Las Vegas.
Ratings were solid for the inaugural tournament and sponsors were pleased with the hotly contested action on the felt. Although the six episodes were broadcast over the course of six weeks, there was no shortage of viewers as the grueling elimination matches reached on average, over four million viewers per broadcast.
But things have changed for the now annual event, as it moves location and sets up shop in Caesar's Palace's new poker room. This year's event features a total prize pool of $1.5 million, paying out $500,000 to the first place winner.
According to Harrah's Entertainment vice president of sports and entertainment marketing, Jeffery Pollack, the move made sense for the recently added venue. "This is a terrific addition to our portfolio of sports ventures. We're thrilled Caesar's Palace has joined with NBC Sports to showcase this increasingly popular event in Caesar's new poker room."
This year's coverage will expand to 10 hours, broadcast in six shows which will be telecasted on Sundays in April and May. Things are sure to be hotter this time around when "The Brat," Phil Hellmuth looks to repeat his first-place finish of a year ago. Hellmuth will have his work cut out for him as he takes on a field of 63 other top flight competitors like the legendary Doyle Brunson, the ever-intriguing Gus Hansen, and the man Hellmuth bested last year for the big cash, Chris "Jesus" Ferguson.
Senior vice president for NBC Jon Miller, believes this type of programming is what the public is looking for. "This event has special qualities that have enabled it to rise in the poker landscape and establish a uniqueness that the public can embrace. The head-to-head confrontation between players, who are now legitimate stars, provides compelling competition for players and makes for entertaining television," said Miller in a recent press release.
With an all-star line-up of players, the match-ups will be decided by the luck of the draw and should immediately raise the stakes for the players. They will have to be able to adjust styles on the fly for this old school, western style shootout.
Ed Note: Heads up is the purest form of poker. Great heads up action always at Pacific Poker