Online Only (2)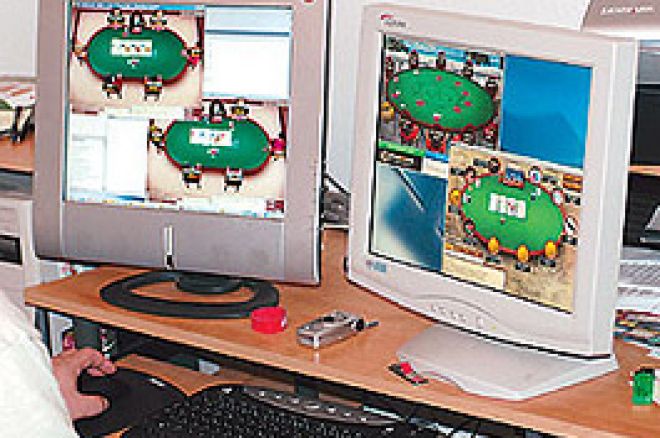 WCOOP Winner—The Real Deal?
I can't really comment on how Panella86 won the WCOOP main event title, because I didn't watch him from beginning to end. His general play was a good one for a large-field, slow-structured tournament. He was tight, but very aggressive, and made good plays at pots that he felt he could win with bets and aggressive raises.
However, as with most tournament players who hit a big win, he's having a hay day playing $5,000 heads-up matches and other big buy-in games on PokerStars. He's been spreading money around, and while I haven't been keeping exact track of his wins and losses, it looks safe to say that he's been lining a few people's pockets for sure.
Panella86 has been playing online for a living for a while, and has racked up a large bankroll. There are rumors abound that he ran up a six-figure roll and then ran it right back into the ground. Obviously you can watch him play for yourself and track his money, but it's safe to say that if you have a big bankroll and are looking for a new challenge, he's probably going to be up for playing you.
This is actually nothing new. A lot of online players in the community have seen players go from rags to riches and mismanage their money. Let's hope Panella86 doesn't over-celebrate his way to back to broke...
A Glaring Omission
I'd also like to thank Rick 'Da Voice' Charles for pointing out that I forgot to mention one very big name who did well in the WCOOP. Barry Greenstein, known mainly for donating his tournament earnings to charities, cashed for a total of $15,739 in three events during the WCOOP. He took 53rd in the main event, 16th in the $500 Pot-Limit Hold 'Em event, and 40th in the $200 Limit Hold 'Em event.
Thanks for pointing that out Rick. I can't believe I forgot about one of the most prominent names in poker.
A few final notes about the WCOOP. Just some interesting stats I found at PlayerStalker.com. A total of 17 players entered all 15 events; Lenny was the only player to cash five times, while 12 players (reggiman, dirkdigler9, DietDrPepper, emptyseat88, JesusQintana, gaffel, MAD M3, Rich_Fish, ZZSER, zzyzx rd, thedonator, and Purr of Aces) cashed a total of four times. The total prize pool for all 15 events totaled $12,783,900. PokerStars generated $628,355 in entry fees for the house.
Major Online Tournament Results
The first weekend of October came and went, as did millions of dollars in poker tournament prize pools. On PartyPoker, kwob20 scored $100,000 for winning the Sunday $500k guarantee. john222 pocketed $130,360 by defeating all of his opponents in the PokerStars Sunday $500k guarantee. On UltimateBet, icyravenhawk took down the $125k guarantee tournament.
I also thought I'd recognize those who won the other weekly $200 events on PokerStars. danilee won $3,280 for the $200 Pot-Limit Omaha; morbo1 took down the $200 Limit Hold 'Em for $5,280; JRod34 took home $3,200 for the $200 Stud Hi-Lo; musher won $10,920 for his victory in the $200 Omaha Hi-Lo; Carmen35 took down the $300 No-Limit Hold 'Em for $11,160. Congratulations to all the winners.
"Did you sign it to the donkey?"
If you happened to read the coverage of the WPT event this past weekend, Barry Greenstein signed a copy of his book (as he is apparently doing with regularity) for Devin Porter, as he eliminated Barry from competition. Barry had opened with ace-king, Porter re-raised with ace-jack and called the all-in from Barry. A jack on the flop sent Barry home.
Barry got up and shook his hand and gave him a signed copy of his Ace On The River. As he did so, a man from the crowd yelled (not an exact quote, as it's second hand information, but you get the gist of it) "Did you sign it to the donkey?"
An uproar was seen on a few forums out there because the unidentified man was found to be Todd "NSXT2/Diablo VT" Arnold.
The situation caused an uproar on online forums, and became a bit ridiculous. People were calling for Todd's head for the statement. First off, Todd and Devin are undoubtedly friends, as I know Todd well enough to know he wouldn't make such a comment to just anyone (the two are regulars on a poker forum as well, leading me to believe they know each other). Second, it was in light-heartedness, considering I think even Todd would have played the hand the same way.
Barry is an aggressive player, and ace-jack might have looked pretty good against a guy who he felt is just as likely to hold king-five there as he is ace-king. Devin put in a raise because he didn't buy Barry's raise, then was pot-stuck and had to call his all-in, and got lucky. It's not the first time such a thing has happened. It's also not the first time Todd has needled someone over such a play.
Ed Note: Play online at Party Poker Why have you waited this long?