PokerStars Caribbean Adventure $5,000 freeroll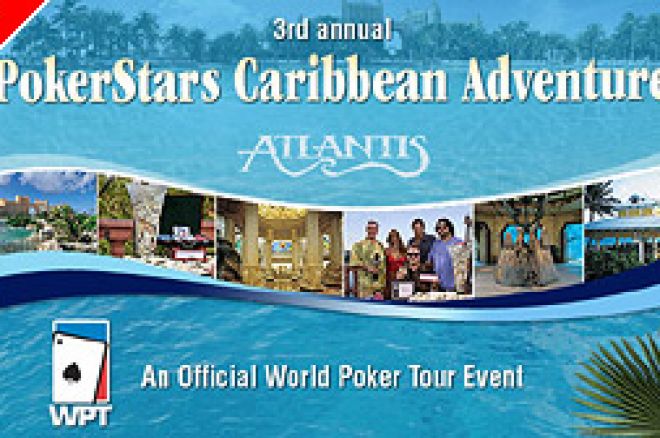 Here at PokerNews.com, as I have said before, we try to bring you the best value on the web. Two months ago, we had two rooms we were doing freerolls with, and now we have five. Pretty soon we will realize my goal of you playing for your share of $5,000 every week just because you sign up through PokerNews.com.
The latest in our freerolls partners is PokerStars. If you sign up for PokerStars through the special PokerNews.com links, you will be able to play in a freeroll for one of eight seats to the PokerStars Caribbean Adventure Super satellite. This seat has an entry cost of $650, and one out of 18 players in this tournament will be going to the Bahamas to play for the right to get on the World Poker Tour. This is a $12,000 prize package that includes tournament entry, hotel, and $1,000 for flights AND $1,000 for meals at the resort.
I know I rant and rave about what good value we offer, but think about this. Yes, you could play in a freeroll to get into the PokerStars Caribbean Adventure directly through another site. But, then you are playing against 1,200 people for one trip. Here, you will be playing against maybe 100 people to get one of eight (not one) seats in the super satellite. Then, in the Super, you will get a one in 18 chance of going. I like your odds in our formula a lot better.
Simply download the Poker Stars software through the PokerNews links, and open a Poker Stars account by making a deposit. Then, you will need to earn one (1!) Frequent player point to be eligible. So, open an account, make a deposit, play one (only one if you like) raked hand, and you will be eligible. You will then be qualified for this freeroll, which will have a pretty small field (maybe 50-100 players). Out of this freeroll, the top eight players will win a seat into the PokerStars Caribbean Adventure super satellite on November 20th.
If you wanted, you could also unregister for the super satellite, and simply keep the $650 W$ in your Poker Stars account. These W$ are like an internal currency at PokerStars, and can be used for satellites, or sit n goes into any of the Poker Stars events (EPT, Caribbean Adventure, Foxwoods WPT, and others).
**Also, note that Poker Stars just announced a 25% deposit bonus (Poker Stars VERY rarely offer deposit bonuses) that runs through the end of this week. So, if you sign up this week, you will get the deposit bonus, AND be eligible for these freerolls. If you are even thinking about this, you should do it this week.**
The PokerNews.com/PokerStars $5,000 PokerStars Caribbean Adventure freeroll will be Saturday, November 19 2005 at 4:00PM ET.
Top 8 finishers win a $650 seat to the Sunday, November 20th Poker Stars Caribbean Adventure super satellite.
Sign Up Today.