Rugby Players Flush With Poker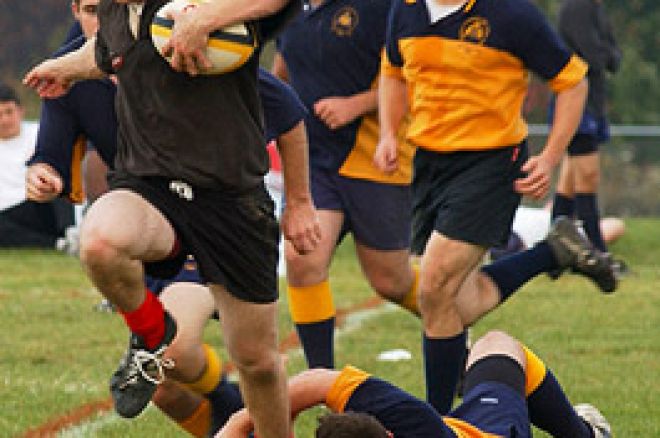 Some people are suited for risk. Non-helmet wearing rugby players would be at the top of the list of those who qualify for this persona. These crazy athletes risk life and limb every time they go into a scrum. Fortunately for one professional rugby star to be, he has changed his game and decided to cash in on the sport of poker with his mates instead.
Joined by life-long friends and fellow Royal Grammar School classmates, Graham Stanton and Sam Rattue, Luke Sayer took his love of the game and combined it with an entrepreneurial mentality, making what appears to be the perfect mixture of poker and money with the group's business, FlushPoker.
This group of 22-year-olds are tapping into the exploding online gaming market with their store and have literally been flushed with success since the start. The business predominantly sells poker chips, card shufflers, and poker tables, but offers a whole lot more with its ability to organize corporate poker events, offer private poker lessons, and supply stores with poker-related products that are unavailable to general public.
These shrewd young men have also moved quickly to stabilize the rocky road that is the poker industry by securing deals with international exports company in China and is currently in the process of working a deal for mutual advertising and promotion with English poker giant, William Hill Poker.
Having seen the growth of poker while playing cards in their Nottingham university poker club, the group decided that there was plenty of room for them in the industry.
"We all felt that we didn't want to go down the usual route and end up in the city. We all had good degrees and really wanted to work for ourselves, while keeping starting costs low and avoiding making big investments. With the massive boom in the poker market we knew it was a good idea to try," Stanton said in a recent Surrey Advertiser interview.
The fledgling company prides itself on having high-quality poker goods at low prices because of the low overhead of the products and having a broad customer base afforded them by the internet.
"We've had a lot of interest from across the U.K. and from France and Spain. What we've found is that the poker market is much more widely enjoyed than is traditionally thought and that really appeals to us," Stanton said.
Ed Note: Do you own a Mac? You can play online anytime you want at Pokerroom.com