Running a Major Poker Tournament is Hard Work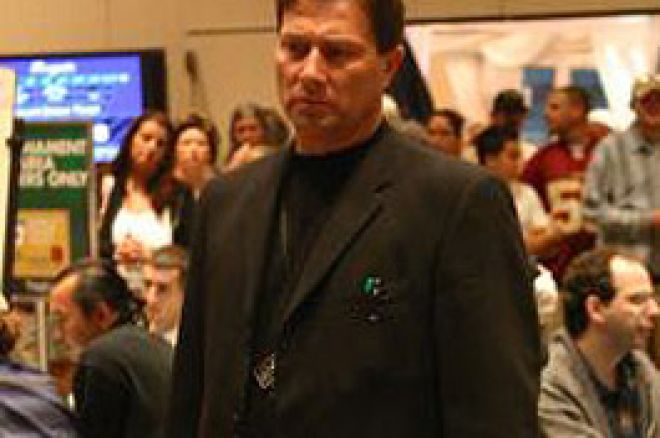 Without a doubt, playing poker is a tough business. The long hours and mental strain can wreak havoc on the minds of even the best in the game, but poker players aren't the only ones on the floor who are trying to beat the energy-draining environment. Consider what it takes for a tournament director to work his or her magic. More specifically, a tournament director for one of the biggest, most lavish casinos in the United States who has to run a 12-day tournament series that includes a televised World Poker Tour main event. Some say playing poker is tough, but they've never had this job.
Borgata Hotel Casino & Spa tournament director Tab Duchateau is the perfect image of cool. Starting his career in the poker industry at Resorts Casino a little over 12 years ago, Tab immediately knew that poker could offer him new opportunities and a possible change in careers. "Someone said that Resorts was opening up a poker room and hiring people to deal full-time off the bat. I didn't know much about poker at the time but I knew I wanted a nice salary. So I went over there. They taught us by hiring dealers from California, because poker was still relatively new to New Jersey.
As time flew by on various casino floors, Tab's experience grew. He bided his time and waited patiently for the chance to become a tournament director in a rapidly growing division of the gaming industry. "To tell you the truth, I got a bit tired of the everyday, same people, same thing. Tournaments aren't that way, especially with the unhappy people. You lose in a big tournament and you leave and the remaining players are happy because they are still in. It kind of provides a balance. Instead of having a bunch of unhappy people at your table, everyone really wants to be there."
Fast forward to the recent Borgata Poker Open. Over 4,000 players, double last year's number of players, made the pilgrimage to the Borgata and laid down their hard-earned dollars in hopes of earning big cash and a beautiful gold diamond-encrusted championship bracelet. According to Tab, things have changed dramatically from when he started as a tournament director.
"When I started, there were 40 players playing mostly Stud. We had a $20 entry fee and a $10 vig on it. Those $30 tournaments had first prizes between $400 and $500. These days there is no more Stud. It's a dinosaur in the industry. That's why we went to all No Limit tournaments this year for the Open. No one really wants to know who the stud champion is. Everyone wants to know who the new No Limit millionaire is."
With changes in the game have come changes in job responsibility. "It used to be that you stood at a table and you just ran the tournament. Now it's all encompassing. You are heavily involved in orchestrating the whole event. For an event like the 2005 Borgata Poker Open, we started meetings the day after last year's tournament finished. We want to figure out what went right and what went wrong for the next tournament. We wanted players this year to feel that the tournament was worth their entry fees. There is nothing worse than someone saying they just paid $1,000 to play an event and they didn't feel like they got their money's worth."
This year's event structure was a big focus for the Borgata's poker team because many players left bigger events like the World Series of Poker feeling much like the famous poker-playing bad guy from the movie Rounders after he had taken a big beating, "Just like a young man coming in for a quickie. I feel so unsatisfied."
According to Duchateau, the staff knew they needed to make a change if they wanted more action at the events. "Stan Strickland, my boss, and I discussed the tournament structure and decided to make it a player's event. We wanted to make it more of a fair tournament structure and bring in more players. Give the players a lot of chips and give them a lot of time. Really let the skills of the players shine. Let the best players win the tournaments. It doesn't always work out that way, but at least more advanced players have the chance to make some headway with this kind of structure."
This approach was one of the major reasons for the success of the 2005 Borgata Poker Open. Not only did players have a great chance to make the money, but they also enjoyed one of the most luxurious and player-friendly venues on the planet. "The great thing about working for the Borgata is that an event like the Borgata Poker Open won't make any money. But we do it, because we want everyone to experience the Borgata. It's great publicity for the company as a whole. The Borgata is always thinking first-class and they give us a lot of leeway in running the event. This is an expensive venture for us, but the Borgata has always been very poker oriented and they have been behind us from the start."
Even with the support of the Borgata, the tournament series is a difficult undertaking, especially for the tournament director. "For us, it's a 12-day, 38-event tournament series when you include the super-satellites. That makes things a bit tougher. We are constantly on the go. From the time we arrive in the ballroom to the time we leave, it's been a 24-hour a day process for us. There are both day and night events so there is no down-time. It's difficult orchestrating the sheer number of events, but somehow we get the job done."
According to Duchateau, there is one key rule to finding success in an event series like the Open. "The most crucial element would be that there wasn't a mistake made during the series that eliminates a player. We did our jobs and they eliminated themselves. The players' destinies were in their own hands."
With the conclusion of the 2005 Borgata Poker Open, it has become evident that poker is here to stay. With the largest field in the history of Atlantic City (WPT main event), the Borgata and its tournament director are ready to meet the growing needs of today's poker hungry masses.
When asked about his feelings on the success of the 2005 Borgata Poker Open and the future of the game Duchateau replied with a big grin, "Any time you take a small amount of money and turn it into a million dollars, people will come. Here we have a $65 tournament that could actually cost a player $15, if they won a voucher, and they could win entry into the WPT main event. You could take $15 and make a million. As long as this is going on, I don't think poker will ever go away. As long as the little guy with a little bit of money and a dream is around, it will continue to grow."
Ed Note: You can't play in your underwear at Borgata, but you can at Pokerroom.com