The Crue's Vince Neil Rocks The Poker World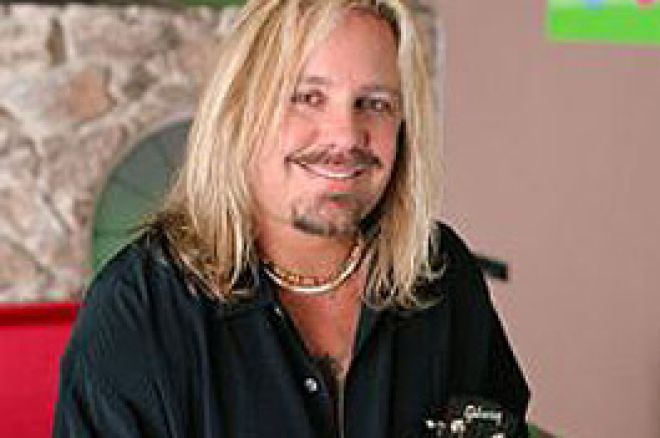 Oddly enough, the worlds of poker and rock and roll cross quite frequently. On "Celebrity Poker Showdown", guitarist Dave Navarro and Meat Loaf have been competitors on the program. Recently in Las Vegas, the "Vegas Rock Star" poker tournament was held and now rock music and poker cross tracks again for a beneficial cause.
On November 11th at the Hard Rock Hotel & Casino in Las Vegas, Motley Crue frontman Vince Neil lends his poker skills to the Vince Neil Off The Strip Charity Texas Hold 'Em Poker Tournament. The tournament, being held to benefit the T. J. Martell Foundation, will be an evening of hot poker, hotter music and still hotter young ladies, fitting in with Vince's reputation as one of the legendary wild men of the music industry!
Besides being an evening of fun and frivolity with Vince, it is also a cause that is near to his heart. Through his own efforts, Neil has helped to raise over one million dollars for the T. J. Martell Foundation, a music industry organization that is dedicated to raising money for life saving research into leukemia, cancer and AIDS. It is an excellent reason to have a great time for a great cause!
The players will vie for a prize pool that will total $50,000, with the final table being the beneficiaries of the bounty. Seats are limited to the first 150 entries, with a buy-in of $500 plus a $40 entry fee. Immediately following the tournament will be the awards ceremonies and a live auction with a very special emcee that will be revealed at the moment of the show. If you can't get into the tournament, then there are guest passes available for those not playing.
Some of the loveliest ladies who entertain in Las Vegas will be joining in with Vince for what should be several hours of fun and poker. Vince himself was enthusiastic about the tournament, saying, "I'm very excited about the tournament! We have kicked this idea around for a while and it just makes sense, since I live in Las Vegas and The Joint at the Hard Rock is one of my favorite venues. Texas Hold 'Em is a kick ass game and when you add the girls to the mix, it only gets better. I hope my fans will come out and make this a very special night because it is a very special cause to me."
R. J. Demman, Vice President of Casino Marketing for the Hard Rock Hotel and Casino, is credited with the addition of the dancers. "We have wanted to use our off the strip location as a tie-in to an event for some time. We are going to make it as close to a strip off event as possible! Vince is the perfect guy to partner with on this one. It's going to be a fun night. I am sure we are going to sell it out. I look forward to this becoming an annual event at The Joint."
This should be one of the hottest tickets on the Vegas scene that week, so if you would like to support a great cause, see some of the most attractive ladies Las Vegas has to offer and (oh, yeah) play some poker, there's no better stop than the Hard Rock! Be sure to learn more about the Vince Neil Off The Strip Charity Texas Hold 'Em Poker Tournament by calling the Joint at the Hard Rock at (702) 693-5000.
Ed note: As far as you know, you might be playing with 'entertainers' when you play at Party Poker