Inside the Poker Tour - 29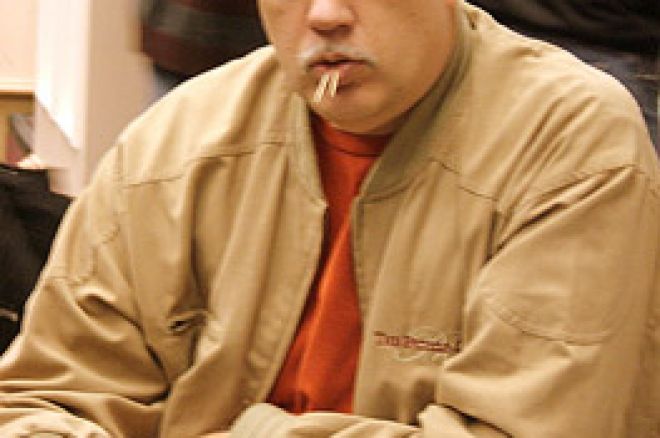 Okay we have finished the Fox Sports Net segment here of Superstars III and the 35 or so shows that will air over the next year. Plus the NBC show, a one table tournament that will not air until 2007! The NBC one table that I did in 2004 at Morongo Casino is scheduled to air on Super Bowl Sunday of 2006! Talk about planning ahead! I am not going to talk about results but I am going to mention some special things.
Superstars III began with 24 players, almost all of them very good professionals or World Champions, and was pared down to 16 advancers through playing five segments of no-limit holdem at tables of six contestants. You were awarded points in the following manner; 6th was worth 0 points, 5th 1, 4th 3, 3rd 5, 2nd 7, and the winner got 10. The mathematicians in the crowd said that 19 points would surely qualify a player, but Daniel Negreanu and a few others said that 19 was not a lock by any means. Both turned out to be correct as at the last moment a group of players were tied at 19 and so tiebreakers had to be used. Given the importance of advancing in the event (staying alive to fight on) it was unfortunate that some were left out but television dictates schedules and there was no obvious alternative.
Speaking of Daniel he mentioned that he had studied the format of Superstars II, as well as watching it air, and indeed seemed to me to be clearly ahead of most of the others in making correct decisions, relating my observation to the tournament as well as his hands.
One participant that took entertainment to a new level was the incredible Gus Hansen, winner of Superstars I when it was a one table invitational. In this event Gus entered his 5th match with only 11 points and so needed to win his final try in order to qualify. What was his strategy? Only Gus and God knew the plan, but he want on a tear the likes of which I have never seen before—he went the first twenty hands, raising every one, many of them in the dark, including all-ins, without losing a single hand—he tied one and won the other 19. Put that in the smoking calculator—and watch for this episode, it is flat jaw-dropping unbelievable.
One quote from Johnny Chan that made me think at length came when he was asked about his view on playing heads-up. "You don't get many opportunities to play heads-up. It is hard to get there, so once you do you don't want to waste it!"
There were some humorous quotes as well. Mike the Mouth attacked many a player and seems to be determined to be poker's bad boy. At one point when he was relentlessly criticizing Ted Forrest, Ted responded with the comment, "I put the over/under on you coming to borrow money from me at two weeks!" which made even Mike laugh while agreeing that this was likely!
In one segment the players noticed that three Jews and Jesus were playing. Poker rooms are quite the melting pot with Blacks, Whites, Asians, Israelis, and Persians as well as many other ethnic groups making fast friends.
My role model for how to take a bad beat is Phil Ivey. In counterpoint, I hereby second Norman Chad's nomination of Phil Hellmuth's wife as a saint. He calls her up and tells her bad beat stories?! Perhaps he has not heard of Dial-a-Beat?
Thor Hansen, a great professional poker player, was asked by the media what he would do if he won the large first prize in a tournament in New Jersey and he said he would pay some debts and they followed up by asking him what about the rest. "They will have to wait!" he replied seamlessly to the mystified reporter.
Freddy Deeb endeared himself to many when he had a Lebanese feast brought in for the [impromptu] dinner break one evening.
I mentioned Gus earlier and will give an example of some hands from the WPT event held on a huge cruise ship that circled Cuba for Pokerstars in 2004. I watched the final table as well as the play down to the final table the day before. The final table had three pros in Daniel Negreanu, Hoyt Corkins, and Hansen with three amateurs and it took Gus something like seven hands to eliminate all three! The first amateur, named Remco Schrijvers, was from Europe and Gus had over 300,000 in chips and held AQ with which he made it 19,000 over a big blind of 6,000 and Remco, with 115,000 in chips, shoved all-in with AJ. To eliminate the second, one hand later[?], he held Q9 off-suit in first position and made it 19,000 over a big blind of 6,000 and Daniel called from the button holding A-10. Now a young man named John D'Agostino moved all-in from the blind for something like 33,000 more (the exact hands are on the WPT video; I am speaking from memory). Now John was playing tighter than tree bark and his raise had to be respected, some months later he had a memorable heads-up match with Phil Ivey in Turning Stone and I was amazed at how different (creative and open) his play was then. In any case Gus called the raise, and the reason that I find this amazing is that Daniel was behind him with something like 300,000 in chips, and he has to be a big dog to John's hand as well. I talk about this particular hand as the proof than when the TV lights are on Gus can drive a herd of camels through the eye of a needle. It came Q-6-2 and Gus made a bet and Daniel mucked, D'Agnistino held JJ and the turn came off an Ace. So Gus found a way to win the hand, magically! The third amateur went out soon thereafter, Michael Benedetto raised it to 20k from late position (it was now four handed) with 8h7h and Gus called with QJ off-suit. It came J-10-9, Gus bet about 40k and Michael raised, they put all the money in the middle and off came the K. No problem.
Later in playing heads-up with Hoyt, who held a large chip lead, a hand came up with all the chips going into the middle with Gus holding 10d-9d and Hoyt holding Ac9c where it looked as though the tournament was over when the flop came Q-9-x, but off came the 10 on the turn and from there Gus was running downhill to the finish line. I have never seen a run quite as cosmic, nor results more magical, than this. If you were to put a picture of Gus on your altar I would understand!
Til next time: play good and don't forget to be lucky!
Poker Blue are giving away a WPT or WSOP seat a week. Check it out.