Legends of Poker: Lyle Berman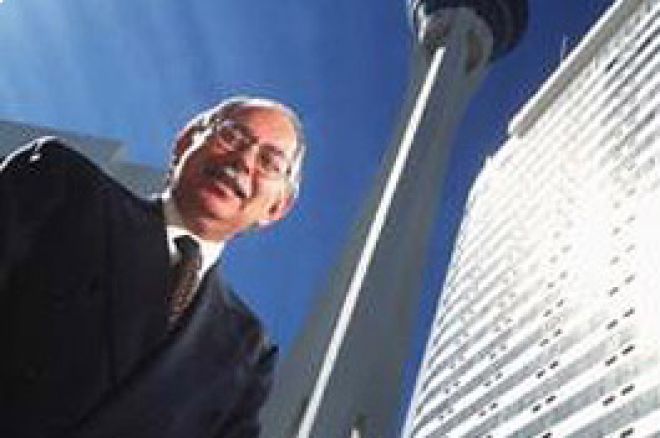 Lyle Berman. The name means different things to different people. People in the United States, especially the mid-west, think of the CEO and Chairman of the Board of Lakes Entertainment Inc. People around the world think of the CEO and Chairman of the Board of the World Poker Tour. People in Las Vegas think of the best non-pro, no-limit poker player they have ever met. Is there more?
Sure, there's more to Lyle Berman. Lyle was born in Minneapolis, Minnesota on August 6, 1941. He was just a toddler when Hubert Humphrey campaigned for Mayor of Minneapolis in the early 1940's on a campaign of "cleaning up the town." When Humphrey entered office in 1945, most of the area's "clubs" had been shut down and local mobsters headed to Las Vegas to take-over the Las Vegas Club, Golden Nugget and El Cortez casinos.
Lyle grew up in an area that allowed only "charity" gaming, and while he played poker in high school and college, it was little more than a way to pass the time. Lyle attended the University of Minnesota where he graduated in 1964 with a degree in business administration. His family expected him to work for the company business, Berman Buckskin, and he didn't let them down. Lyle got married in 1967 (but honeymooned in Las Vegas), settled down as the typical hard-working family man (he has four grown children), and eventually the two family stores that carried Indian-made leather goods grew to became a 200-store chain.
In 1979, the chain was sold to W. R. Grace, but Berman stayed on as President and CEO. The company was later sold to the Melville Corporation and renamed Wilsons The Leather Experts Inc., and Lyle again stayed on as a director. In the mean time, a new law passed in1988 and opened the door to new possibilities for Berman when the National Indian Gaming Regulatory Act went into affect.
The gaming act, which allows casino gaming on Native American reservation land, was just what Lyle needed to get into the gaming industry. Although he had been playing high-stakes poker for several years in Las Vegas and got to know a number of casino executives, he had little experience in casino operations. What he did have, however, was years of interaction with the local Indian tribes, and understood Native American culture and needs.
As a founder and Chairman of the Board of Grand Casinos, Inc. (from Oct. 1991 through Dec. 1998) Berman opened up contracts with several Indian tribes, and the Grand Casino Mille Lacs opened in April of 1991. Other casinos followed, and in 1998 Grand Casinos, Inc. had a total of eight casinos in four states when it merged with Hilton Hotels. The casino management group was spun-off to form Lakes Gaming, which became Lakes Entertainment. Since 1999, Berman has served as the CEO of Lakes, which owns a majority of the World Poker Tour common stock through its subsidiary, Lakes Poker Tour, LLC.
In a nutshell, Lyle doesn't worry much when he is playing high-stakes poker with the likes of Barry Greenstein, Doyle Brunson and Chip Reese. Actually, the fact that he is very well off financially should not detract from the fact that Lyle is an excellent poker player.
His first experience cashing at the World Series of Poker was a bracelet-winning, limit Omaha event. Two weeks later in the 1989 tournament at Binion's, Lyle took fifth place in the $10,000 championship event.
In 1992, Lyle won another gold bracelet, taking down $192,000 in the $2,500 No-Limit Hold'em tournament. Lyle doesn't play too many events, and he probably won't ever win another limit tournament, since he considers the game of limit to be a blight on the planet of poker.
However, Berman did continue playing well in the no-limit tournaments. In 1994, he won the $5,000 buy-in No-limit Deuce to Seven tournament, and in 1997 took second place in the same event.
Barry Greenstein considers Lyle's best game to be pot-limit Omaha, and says, "He worked hard to improve his limit game and for some reason as his limit game improved, his ferocity at no-limit declined." "Regardless, he still holds his own in the biggest game and would be a clear favorite in the next level down except for the fact that the smaller stakes would bore him."
Because of this, I guess I won't have a chance to play against Lyle, but I enjoyed watching him in the "Heads-Up" TV tournament held recently. He finished fifth (for $75,000), knocking out Freddie Deeb, Jennifer Harmon and Carlos Mortensen before running into Phil Hellmuth, who went on to win the tournament.
Berman was inducted into the Poker Hall of Fame in 2002, which speaks volumes for his ability to play well against the best in the world. He also has a book coming out called I'm all In, Lyle Berman and the birth of the World Poker Tour. Look for it soon. I'm sure it will be a good read.