Poker Life Magazine Impressive, but Puzzling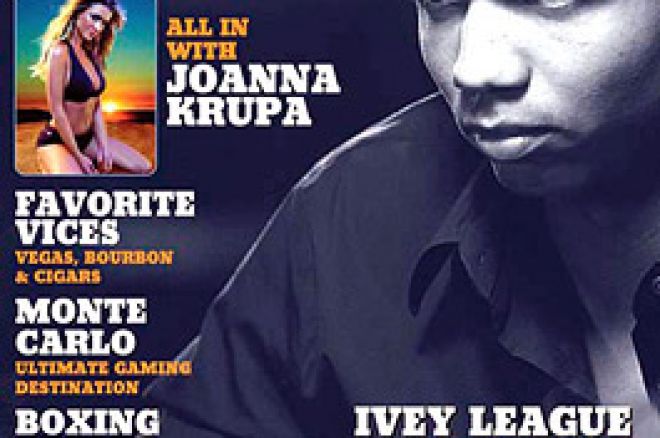 It almost seems that when a new month comes along, it brings another new poker magazine to the newsstand racks. As I perused my local bookstore this last week, sure enough there was a new treat for poker aficionados called "Poker Life". What I found after I picked up the first issue was a impressive looking but occasionally puzzling new entry into the poker magazine sweepstakes.
The premiere issue of "Poker Life" has the visage of Phil Ivey, in full kill-stare at the table mode, coming at you from the cover (alongside a smaller box shot of model Joanna Krupa, touting her photo spread in the magazine). It is a quarterly magazine that is available for the more than reasonable price of $4.99 US ($6.99 Canadian) and seems to bring some very impressive names to the table. By looking through the advertising can you pick this factor up.
The advertising was one of the first things that leapt out at me. The magazine overall is excellently done, with glossy pages and full color across the board from advertising to photography. While there are the usual suspects for advertising in a poker magazine (online poker rooms, sports books, etc.), there were some advertisements that truly surprised me. Alongside advertising for the usual suspects were other companies such as Versace and Ernst Benz watches and an advertisement regarding the new development from billionaire entrepreneur Donald Trump going up in Las Vegas. In fact, I began to think that The Donald has more than just a passing interest in this magazine as he had FOUR full page ads there (for his new cologne, the Trump Marina and the upcoming Trump Classic poker tournament to be held in late November).
After all of that, though, this IS a poker magazine and the stories they presented were very appropriate for the first issue. Other than the cover story on Ivey (well-done, actually following him into the Big Game at Bobby's Room at the Bellagio), "Poker Life" doesn't violate the Brunson Rule (if it is your first issue, you must have an interview with Doyle Brunson!) in a nice interview. There are also stories about the Hendon Mob, actress Mimi Rogers and tennis champion and burgeoning poker professional Yevgeny Kafelnikov that are nicely done as well.
While these were great parts of the magazine, there were some questionable areas though. One feature article was on the ten greatest boxers of all time. While the magazine went straight to the man who would be the expert on such an area in Bert Sugar (the legendary boxing writer and announcer), the article seemed to be a little out of place in a poker magazine. The article, however, was excellent and provided some surprises that I didn't expect (Ali only in seventh! And no mention of Mike Tyson!). It was just an odd choice to show up in a poker magazine.
There were a couple of other occurrences of that "what is this doing here?" thought that came across while I read the first issue. A review of the BMW M5 and a section called "Vices" that concentrated on cigars, bourbon and steakhouses of Las Vegas (definitely things that would fall into this category!) were a couple that made me scratch my head. However, if you're calling your magazine "Poker Life", then I guess that it isn't a stretch to include these things between your covers.
Instead of these things, perhaps the editors could have brought some more poker instead. There was no tournament coverage (except for a three page photo spread of celebrities competing at the WPT Invitational from February of this year) and, save for a short segment called "The Outs", no strategy sessions. The magazine does attempt to be a worldwide publication though, as it looks at poker rooms from Las Vegas to Atlantic City to Monte Carlo and does contain a schedule of tournament action spanning the globe over the next three months, down to the daily tournaments offered in Las Vegas.
Overall, "Poker Life" is a perplexing magazine. With only four issues per year, trying to identify what their goals are is perhaps the largest piece of the puzzle. While the magazine has the look of a high class magazine (oddly enough, think of a fashion magazine), for those that are looking for a hard core poker strategy magazine they will be disappointed. For those that are looking for the latest recaps of the World Series of Poker Circuit or the World Poker Tour, that isn't going to be here either. But if you are a casual fan, looking for well written interviews on players and an idea what your life might be like if you lived like a high roller, then "Poker Life" might just give you a taste of it. As a solid poker magazine, though, I would have to say pass on it.
Ed note: Live your 'poker life' on your couch...while playing at Ultimate Bet .