Police Officer Arrested in Poker Raid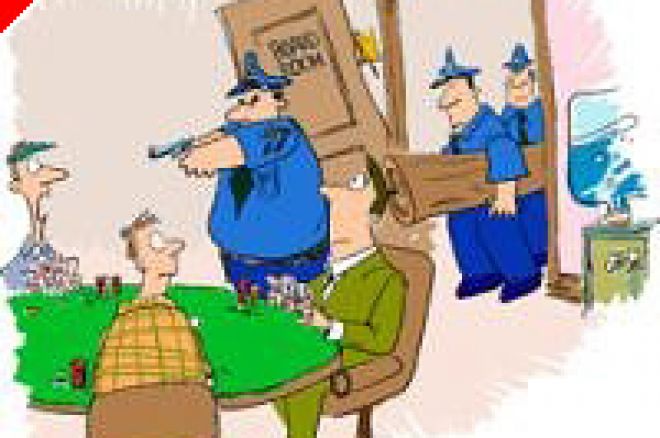 In more criminal poker news, an off-duty policewoman is the victim of a recent Baltimore police raid on a high-stakes poker game in the Northeast section of Baltimore.
As part of an internal affairs investigation, the raid was carried out at roughly 1:30 in the morning. Police handed out six criminal summonses and confiscated $4,600. According to police department spokesman, Matt Jablow, there was sufficient evidence that illegal gambling was occurring.
"We began this investigation when we received a tip that Officer Mengel was involved in illegal gambling," Jablow said in a recent Baltimore Sun article. Police refused to disclose further details of the raid or the people involved.
According to Jablow, Mengel and the other players are facing two gambling charges; one carries a penalty of up to two years in prison and $1,000 fine. The other charge has a penalty of up to two years in prison and $100 fine.
Unlike the recent raid that netted 80 players in South Baltimore last week, this bust was specifically focused on Mengel and the other players. After receiving a tip, the department's internal affairs and vice detectives began an investigation.
There is some irony in this case, in that Mengel is a nine-year veteran of the police force and works in the Southwestern District's operations squad, which typically targets drug dealing, prostitution, gambling, and other crimes.
Fortunately for Mengel, not everyone in law enforcement feels that this was a "righteous" bust. According to Lt. Fredrick V. Roussey, Mengel is being represented by the police union in both the criminal and administrative aspects of the case and has only been temporarily suspended with pay.
Those of us in the poker industry are continually frustrated by the recent series of arrests and raids occurring in major cities like New York and Baltimore and are left wondering if there aren't better ways to use police resources and time?
It is truly scary to think that the game you may be sitting down at might get raided, but this is the Orwellian status of some state laws and players need to be aware that the law isn't on their sides these days, despite the popularity of poker throughout the United States, not to mention the world.
Ed Note: Even cops should be playing in their living rooms by logging on to Paradise Poker