What Bull Will Poker Sites Think of Next?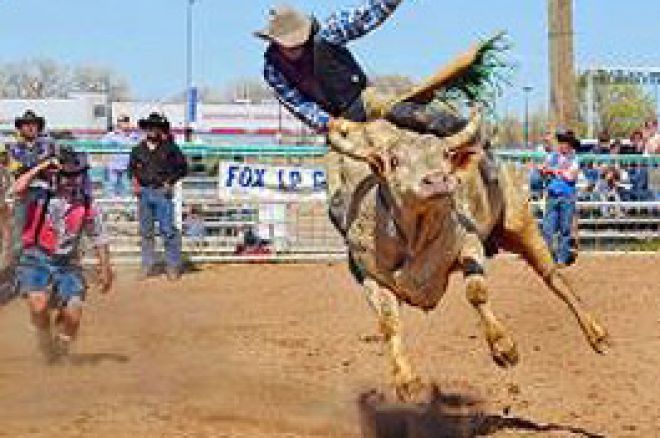 The words Golden Palace have appeared on many improbable spaces. The promotion for the online poker room on boxer's backs, painted cows, and now on the backs of some tough individuals that bring new meaning to the words "all in."
After years of making public marketing ploys, it appears as though Golden Palace has hit a new low with its poker and prison promotion. The publicity starved company recently sponsored the Angola Prison Rodeo, the longest running prison rodeo in the country.
When examining Golden Palace's promotion attempt, one can't help but think of the movie Stir Crazy and the hilarious action that ensues as inmates participated in a rodeo similar to the Angola Prison Rodeo. Richard Pryor's and Gene Wilder's characters acted almost as silly as this current Golden Palace stunt.
Amazingly enough, the Angola Prison Rodeo has been part of the Louisiana lore for over 40 years and has become one of the most popular rodeos in the United States. Started by a small group of rodeo-loving inmates, the event has blossomed to the point of having big-time corporate sponsors.
As a sponsor of the rodeo, Golden Palace painted its web address on the bulls and had a last man standing contest and yes, it is what it sounds like, bulls picking off inmates with the words Golden Palace stenciled on the back of their shirts.
In the contest of sheer guts, four inmates were seated at a make-shift poker table while a bull was released into the large ring. The objective for the inmates being to stay at the table as long as possible.
The winner of the contest, watched with a calm head as his three fellow inmates were knocked about buy the bull with one player even being launched close to eight feet in the air. The eventual winner took home a $1000 prize and the knowledge that he's still got all his body parts attached.
According to Golden Palace CEO Richard Rowe, the mix of cons, online poker, and bulls is a perfect match. "This was one of the most original events that we've ever sponsored. It was also the most enjoyable. The last-man-sitting poker game was a real crowd pleaser and we are happy to be part of the American tradition."
Ed Note: We promise no bull will knock you off your coffee table when playing at Pokerroom.com