This Dragon Loves Poker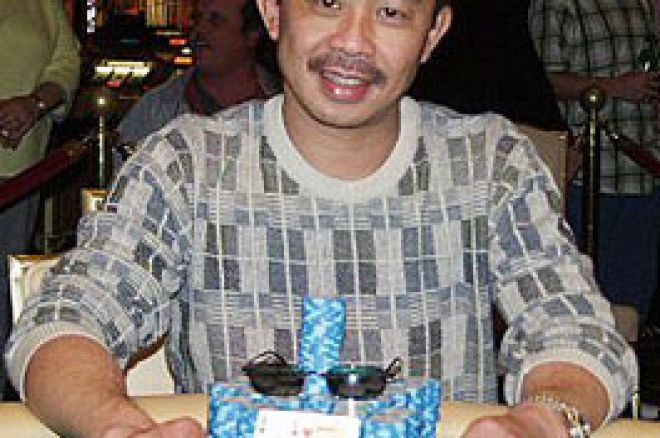 Few professional poker players give other players feelings of anxiety and fear when they sit down at the table, but David Pham, "the Dragon," is one of them. This Vietnamese-born, purveyor of poker prowess is one of the world's toughest competitors and certainly lets other players know it with his table talk.
Pham's love of the game began while he was growing up in Vietnam and carried over when he eventually started traveling to the United States. "When I was young I gambled. When I first walked into a poker room, I saw all the money and asked myself why I had to work so hard. There was money everywhere, right, left, in front, in back. I realized very quickly that I could make money playing poker and work a lot less."
Raised in a tough environment, Pham learned the tricks of the trade when he was young and quickly decided to take his skills overseas. "When I was a little kid I gambled a lot. It was all around me and I enjoyed it. Eventually, I came over to the United States to play and got beat up pretty bad. I simply wasn't playing well enough at the time."
Pham had to regroup and develop his game after taking serious losses from the U.S. action. "I went back home and worked real hard for five years straight. Finally, in 1999, I told my wife that I was going to give poker another shot and she supported me. I came back strong that year."
It was at this point that Pham decided to make a living at poker. "I told my wife I would try for one year. That year I made a lot of money and paid off all of my debts. In 2000, I made 28 final tables in one year. I made a lot of money, but unfortunately, poker wasn't as big then as it is now. The prizes were still small, maybe $100,000 for first place."
This success didn't come easy for Pham, who worked long and hard to improve. "During the time I was working for the five years, every day I would set up nine hands. I would open them up and look at how the cards match and what would happen in each situation."
Pham also took one other step to master the game. He watched other players, especially one in particular. "I had one guy I who I learned a lot from. Although he didn't know it, I would watch how he played. I used to stand behind him and watch how he raised and what position he would play. It was Stu Ungar."
It was Ungar's skills that made Pham realize there was so much more to the game than just playing the cards he was dealt. "In 1994 I saw him playing in the Four Queens in Las Vegas. I wasn't good enough to play at the time, so I just watched and learned. After that I decided that I had a lot of work to do before I came back."
Unfortunately for poker players in tournaments everywhere, Pham's practice eventually led him to perfect his play and he became one of the most dominant players in poker. During this period, Pham also won gold at the prestigious World Series of Poker in 2001 when he became the S.H.O.E. bracelet winner. According to the Hendon Mob's player database, Pham has won almost $3.7 million to date and shows no signs of slowing.
Pham's move to the forefront of the game hasn't gone unnoticed in the poker world. "In 2000, I won player of the year, and every year since I have been in the top ten. 2004 was so close. Only Daniel Negreanu and John Juanda could catch me. It went down to the wire but Daniel made enough points to beat me. It was so close. Daniel is a great player so I feel a little better about it. The year before that I finished third in the player-of-the-year race and the year before that second. I think I've finished in the top ten in the five years since I decided to come back to the game."
When asked which was more important, the money or the titles, Pham responded with a smile, "Usually the money is more important than the title, but the title can make you more famous and you can make money that way as well. Although with the titles, you don't see the money right away, you stand to make more in the long run."
Asked which top professional was the biggest threat to his taking a big-time title, he paused for about two minutes and then said, "One guy I really admire is Phil Ivey. I've played a couple of final tables with him over the last year-especially at the ESPN event in Lake Tahoe during April. I sat in front of him and his monster chip stack. Every time I raised, he called. He bluffed me several times and made me muck some good hands. Phil is just a great player.
In the long run, Pham sees more to life than playing poker. This family-oriented man knows that money isn't everything and like many others in the game, he has to find a way to balance family life and the game. "It's tough. I love my family. Sometimes when I go to Vegas I take my wife or bring one of my kids with me. It is so tough to be away from them. This is one of the reasons why I may skip certain events. I want to be with my family. I try not to stay away for too long, maybe a maximum of two weeks if I'm traveling far."
With over $600,000 in winnings for 2005, Pham is looking forward to a big 2006 and once again is hoping to take player of the year honors, as well as some first-place cashes. Players are warned. Keep an eye out for "the Dragon" and his fiery play or he may just help you find your way to a quick tournament exit.