The Final Table, Part One: Best Newcomers of 2005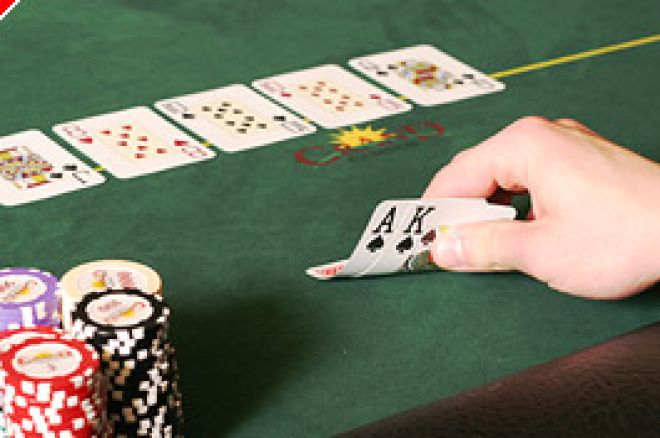 2005 saw poker tournaments busting at the seams as they tried to accommodate the sheer numbers that came to them. Many tournaments went to two flight first days and even the 2005 World Series of Poker $10,000 Championship Event went to an unprecedented three first days to make everything even for the over 5,000 combatants. From all of the tournaments that happened in 2005, these nine men were my overwhelming choice for Best Newcomers of the Year.
The criteria for Best Newcomer was simple: just don't score any Player of the Year points in the previous year or make any serious tournament noise and you're a Newcomer. The nine gentlemen mentioned here have not only made a major impact on the poker world in the last twelve months, they also have the potential to become breakout stars in 2006 and beyond. So, in no particular order, here are the Newcomers of 2005!
1. Michael Gracz - If there was a Rookie of the Year award given in poker, it would more than likely be handed to Michael without much argument. Michael went to the PartyPoker Millions IV tournament in March on the Caribbean Sea having come up with half the buy-in and getting the other half from another friend already on the ship for the event. When the cruise ended with the only $10,000 Limit Event on the World Poker Tour, Gracz had bested his 735 shipmates and walked away with the first place prize of over $1.5 million dollars.
If that wasn't enough, Gracz then turned his attention to the World Series of Poker in June. In the $1,000 No-Limit (w/rebuys) event, Michael was able to overcome not only the 826 players in attendance (who put up another 1495 rebuys) but also a dangerous final table that contained Phil Gordon and David "The Dragon" Pham. In capturing both a World Poker Tour title and following with a World Series championship in the same year, Michael joined some exclusive company in that of Layne Flack, Ron Rose, Barry Greenstein, Antonio Esfandiari and Doyle Brunson. Quite a list to be a part of!
In all, Gracz has pulled down over $2.5 million in the past twelve months and has consistently been in the Player of the Year race all season. The 24 year old from Raleigh, NC, has at the minimum had one of the great years in recent memory and should be a force in the game for some time to come.
2. Todd Witteles - Known as "Dan Druff" to thousands of online players, Todd made the step into the brick and mortar world of poker in 2005. His strongest game is Limit Hold 'Em and he captured a WSOP bracelet in the $3,000 event at the beginning of July. He continued to make a strong showing throughout the 2005 World Series and, in October, made a foray onto a No-Limit final table during the Big Poker Oktober tournaments held at the Bicycle Casino in Los Angeles.
He has amassed almost $500,000 from his finishes in 2005 and is ensconced in the Top Fifty in the Player of the Year race. While he caught some flack from poker message boards for his demeanor at the World Series, Todd hasn't let that slow him down. If he can continue with his growth in his overall game, Witteles can be a serious threat to many tournament titles in 2006 and beyond!
3. John Smith - The quiet man with the simple name and the big game is potentially one of the mysteries to many that only get their poker information from the WPT or WSOP broadcasts. Picking up the game seriously only a little over a year ago, the fifty-something highway contractor from La Habra Heights, CA, has definitely made an impact! Not only has he captured two preliminary championships in 2005 (at the L. A. Poker Classic in February and the Legends of Poker, both at the Commerce Casino in Los Angeles), he has been on the verge of making a serious breakthrough all season. At the Bally's WSOP Circuit Championship Event in November, he more than held his own against a final table that contained not only World Champions Scotty Nguyen and Joseph Hachem but also WPT champions Mihn Ly and WSOP Circuit champ Doug Lee.
While he goes against the trend towards the younger generation taking over the game of poker, it wouldn't be out of the question to see Smith continue his excellent play and capture a major WPT or World Series title himself in 2006. His steady game and steel nerves have placed him in the Top 25 in this year's POY race and he is not intimidated by either the professionals or the young guns that he runs into. I watched him play during the L. A. Poker Classic and was truly impressed with his decision making at the final table and, with a few breaks, he can turn those skills into a fantastic 2006.
4. Joseph Hachem - This was a borderline call. While he truly made his breakthrough with winning the World Championship at this year's World Series, he (much like 2004 World Champ Greg Raymer was in Connecticut) was a known quality player in his homeland of Australia. Hachem toiled in the relative (and literal) outback of poker for a couple of years before crashing the party in Las Vegas this summer and since then has demonstrated that he is going to be part of the game for some time to come.
Joseph by far has made the most money for this year (that $7.5 million at the Main Event of the World Series assured that!) but he has also demonstrated himself as a great ambassador for the sport of poker. He also showed that the Main Event victory wasn't a fluke; at the WSOP Circuit at Bally's in November, he was the chip leader at several points and nearly captured that title before a bad beat knocked him from the tournament in fifth place. While it may not be as financially rewarding as 2005, Hachem's move to the United States should make him a major force in tournament poker in 2006.
5. John Gale - Once again, here we have a renegade against the youth of today overrunning the game of poker! In January, Gale was the survivor of the PokerStars Caribbean Adventure and parlayed that tournament championship into an excellent stay at the 2005 World Series. He nearly captured a WSOP bracelet in the $5,000 Pot Limit Hold 'Em event, outlasting World Series POY Allen Cunningham and Cyndy Violette. It was only through a tough couple of beats by Brian Wilson that Gale couldn't have also added that bracelet with his WPT title.
He has continued to play well in many tournaments in both the United States and Europe and, now that he has his focus on poker after leaving his job in England, may well be a threat to many more championships around the world. John is also one of the most likeable newcomers on the scene today, quick to talk to anyone regarding poker, and a true champion of the current renaissance of the game!
6. Don Mullis - Here's another name that isn't readily recognizable to most but, once he makes his breakout in 2006, many will. Note that I didn't say if; with Don, it is only a question of WHEN he will break out in 2006! Mullis is the proud holder of two WSOP Circuit rings from preliminary events in Tunica and Lake Tahoe during 2005 and the Mooresville, NC, native has been a challenge in many other WPT and WSOP events.
He's a player that is screaming for a sponsorship, as Mullis has shown that he has the talent to hang with the big guns in the game today. He has been among the Top 100 players all season and is on the verge of making a name for himself in tournament poker. All it would take is for Don to get into more major tournaments and that WPT or WSOP bracelet championship would be written in stone. While it was a nice 2005, I expect that more people will be learning about Don Mullis in 2006.
7. Joe Sebok - One of the most enjoyable stories of the 2005 World Series was the emergence of Joe Sebok on the tournament poker scene. The son of Barry Greenstein, Joe has gone about poker the right way. He went to college and earned a degree and even worked in the "real world" before deciding he wanted to take a shot at being a poker professional. It all led to a very nice start to a promising poker career.
Joe earned two final table finishes during the World Series and has enjoyed success in other tournaments during the season. He should be a player that makes that breakthrough in 2006 in a major championship but, if not, he will always be honest with himself and his readers at his online poker blog on barrygreenstein.com. He is also quick to point out that he has much to learn about the game, as I found out when I talked to him at a recent tournament (writer's note: that interview will be here on PokerNews very soon!).
8. Doug Lee - The WSOP Circuit champion from the Las Vegas stop in the first season, Doug has continued on as 2005 played out and done very well. The Canadian has been able to make a final table during the World Series and has also come back for a return trip to the final table in a WSOP Circuit Main Event. Lee has a very puzzling game and seems to be a constant struggle for any player to get a read on.
Although many may think that he has reached his apex in 2005, Doug's game should guarantee him continued success as we start into 2006. With his unorthodox and unpredictable style, I would expect to see Doug Lee make even more final tables in 2006 and beyond and, perhaps, make even more of an impact on the tournament poker world in years to come!
9. Nick Schulman - The winner of the WPT stop at Foxwoods in November is finishing off 2005 in style. He just finished fourth at the WSOP Circuit stop at the Showboat in Atlantic City and, while his result in the event won't push him to the top of the 2005 Player of the Year list, his performance in two high profile tournaments in such a short period of time should put him well on the radar of the rest of the poker world for 2006.
Barely old enough to drink (and play in the casinos) at 21, Schulman is truly the firstborn of the Internet age of poker (online, Nick is known as 'The Takeover'), a player who cut his teeth through the online game and is now moving into the B&M world and tournament poker. As he has not built up a great amount of background information for most tournament professionals to trade yet, Nick should be a threat throughout 2006 to any tournament. Once the major players in the game catch up with his playing style, however, that could be a different story altogether.
While some of these men have already captured major championships, they have been the brightest lights of the newcomers to poker in 2005. They have also shown that they have games that will lead them to even greater success in 2006. So who will be there once the new year comes around? In the second part of my series looking back at 2005, we'll take a look at who were the Best Players of 2005. The men (and maybe women?) there will definitely be ready for the fight once the tournament season kicks off again in 2006.
Ed Note: Play at Paradise Poker enough, and you might just be on this list next year