'Poker Academy Professional 2' Well Worth Investment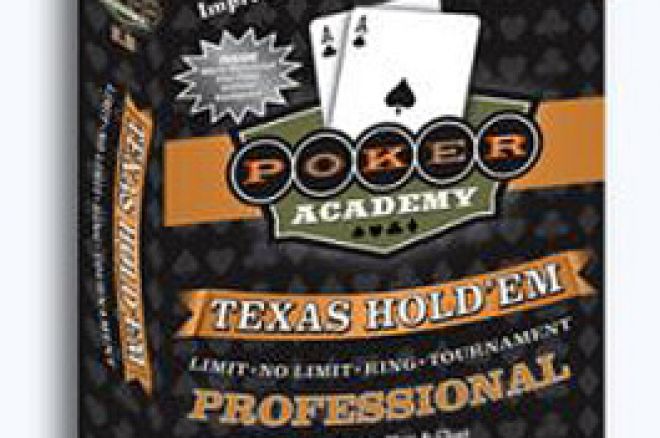 Poker players, whether online or in a B&M casino, must consistently work on their game to be able to improve it. Sometimes it isn't readily available, however. Even with the increase of wireless internet hookups it can be difficult to find a game and, even if you can get an online game, sometimes the play can lead to less than optimal playing conditions. Even in a casino poker tournament, the number of players can't be duplicated nor can the proper conditions. Thus, it is left to computer simulators to potentially give that type of setting for you.
Poker Academy Professional 2 is one of those computer simulators that can add that extra edge to your game. It did for "Big" Ron Hargrove, who attributed his training with the software to giving him an edge in tournament poker play. Hargrove was able to parlay his success with the software into a third place finish at the November stop for the World Series of Poker Circuit in Indiana, earning over $130,000. Other professionals such as Antonio "The Magician" Esfandiari, Scott Fischman and Thomas "Thunder" Keller were also quick to sing its praises when it debuted at the 2005 World Series.
With such glowing references, I figured it was time I took a look at the software for myself. It is available for $129 through their website (poker-academy.com) and you can also find it in many software stores as well. For that small fee, you will have a piece of software that will provide you with a great training ground and hours of mental poker exercises as well.
The software is very easy to navigate and offers not only ring game setups but also a tournament arena as well. In a break away from other software packages, there isn't a pesky bankroll that you have to build up to be able to access certain higher limit or tournament games as Poker Academy Pro 2 believes that its players are using the software as a training tool, rather than a video game.
The ring game setup has a wide array of variations available to test your skills. There are eleven separate limit and no limit options available, including shorthanded play and heads up. The tournament area is one of the best training tools, though, as there are setups available in limit and no-limit multi and single table simulations. There is even a simulation available for two popular online rooms, PartyPoker and PokerStars, that use their blind structures. Any of the tournament setups can be set to any specification, from number of players to buy-in, which makes Poker Academy Professional 2 an excellent training ground before you step into the poker battles either online or in the casinos.
There has also been a tremendous amount of work put into the different "bots" that control the computer players. There are three different "bots" in the limit section and four available in no limit, using theories on poker espoused by David Sklansky, T. J. Cloutier, Darse Billings and other game theorists. What makes these "bots" special is that the user of the software can adjust the settings of the "bot" opponents to a more aggressive or even a less aggressive style. This is tremendously helpful to make your tournament simulation as true as possible.
The actual gameplay will give you the training that is important for tournaments. There is the table setup, very easy to read and with all information readily available, but the side chart on the right side of the game is where you can get every bit of information that a player would use to determine whether to play a hand or not. There are pot odds, hand strength, and your own personal advisor "bot" that will suggest your action. I found that the advisor was sometimes a little too tight for my taste, but that can be adjusted as well as there are different bots that can be used there.
There are other additional tools that can be used throughout the play of a game. If you are making a move that is a serious gaffe (such as folding a strong draw or failing to bet the nuts on the river), there will be a pop-up window that comes up and asks if you REALLY want to make that move! You can set the software as well to be able to take a look at your opponent's hand, which I found useful when I play the "put your opponent on their hand" game that I use as a personal mental tool when I play tournament poker. There is also Hand Evaluator software and a Showdown Calculator available (whether in a tournament or not) that is extremely useful in simulating winning percentages and learning whether you have a better hand versus an opponent's hand (sometimes you're stronger than you think!).
The one flaw I did find in the game was with the online tournament simulations. Because of the low number of chips and quick rounds of online tournaments, the bots didn't seem to simulate those games nearly as well as larger tournaments with deep stacks and long blind structures. At around Level Six (around an hour into most online tournaments), the bots correctly make their determinations, with the rising blinds and shorts stacks, to move all-in most every hand. This has the effect of making the online tournament simulation almost an "all-in" fest, as it is not uncommon to see four or five players move their stacks to the center and not with the best of hands. While the bots are making the correct moves, it is not realistic that it happens that way in the online arena. With that said, though, most players would use this software to simulate large buy-in tournaments, such as a World Series or World Poker Tour event, so it is a small issue to have with a simulator of such quality.
Overall, Poker Academy Professional 2 is well worth the investment. It will have a tremendous and beneficial effect on your game, making you think about your actions at the tables and changing your style when you get a read on your opponents. It also will give you a chance to sit down and simulate hands out, so you can see if you really were playing at an optimum level. It would be well worth a serious player's time and money to have Poker Academy Professional 2 on their computer system.
Ed Note:Noble Poker has 6 handed single table tournaments that we think are easy pickins...get in on the action