'World Challenge' - TV poker gets creative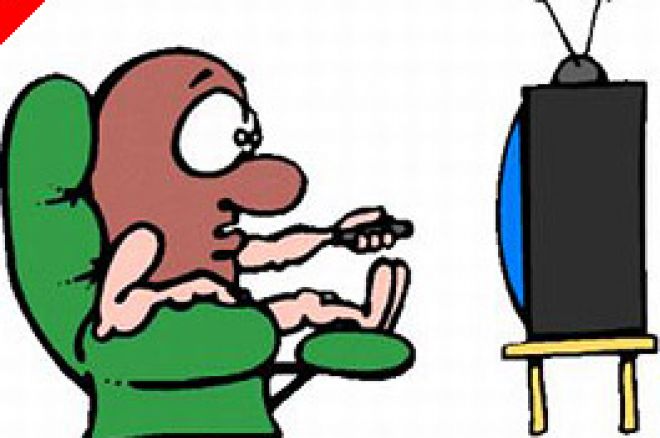 Sure, it appeared to be just another televised poker tournament. 16 tables were strewn around the room, and there was some very serious muscle in the house. I walked in the room, and within 90 seconds had put an eye on Daniel Negreanu, Phil Ivey, Chris Ferguson, TJ Cloutier, Jennifer Harman, Erick Lindgren, and I knew this must be a pretty heavy event.
The event they were here for was the 'World Challenge Cup' a made for TV poker event that was shot at the Palms yesterday for future airing on Fox Sports Net.
The event had a twist - even though the seats were randomly drawn, each player was assigned to either the 'U.S.' team, or the 'Rest of World' team. The rules were pretty simple, if a US player knocked out a world player, the US team got one point. Vice versa if a World player knocked out a US player - point for the World team. If a US player knocked out another US player (or a World knocked out a World), no point was scored. The team that ends up with the most points, wins the competition, and the pride of knowing they were the best team that day. Other than that, it was a $5,000 No Limit Holdem Freezeout.
The rivalry brought out some good natured ribbing, and in what was clearly a calculated move at getting two people on opposite ends of the spectrum, Jesus Ferguson was named US team Captain, and current European Champ Tony G was named the team captain for the 'Rest of the World'.
Tony G picked up Aces on the first hand, and while getting another player to lay down their hand, was singing (to the tune of 'We are the World') "We are the Rest of the World, We are the Children"...and we were off.
By no means complete, in a once around of the room, here are some of the members of the individual teams.
US team - Chris Ferguson (captain), Paul Phillips, Tj Cloutier, John Juanda, Allen Cunningham, Michael 'Grinder' Mizrachi, Evelyn Ng, Layne Flack, Mike Matusow, Amir Vahedi, Kristy Gazes, Phil Ivey, Phil Gordon, Andy Bloch, Clonie Gowen, Scott Fischman, Erik Seidel, Paul Darden, Jennifer Harman, Huck Seed and Erick Lindgren.
'World Team'- Tony G (captain), Gavin Smith, Surinder Sunar, Paddy Parkinson, Marcel Luske, Hiroshi Shimimura, Mel Judah, Noah Boeken, Carl Olsson, Daniel Negreanu, Erik Sagstrom, Gen Watanabe, Haralabos Voulgaris, Ram Vaswani, Joe Beevers, Harry Demetriou, Carlos & Cece Mortenson, David Benyamine, and many others.
No tournament would be complete without some internet qualifiers, and indeed Full Tilt sent 10 players into this competition. The internet qualifiers held their own early, as one of them busted 'Grinder', who was the first one out.
This tournament will air on Fox Sports fairly soon. I am not going to reveal the winner, but suffice it to say this seems (at least from being there) like it will be an interesting twist, and probably worth watching. Look for it on FSN soon.