The Borgata Adds a Couple Cadillacs for Players
Michael Freidman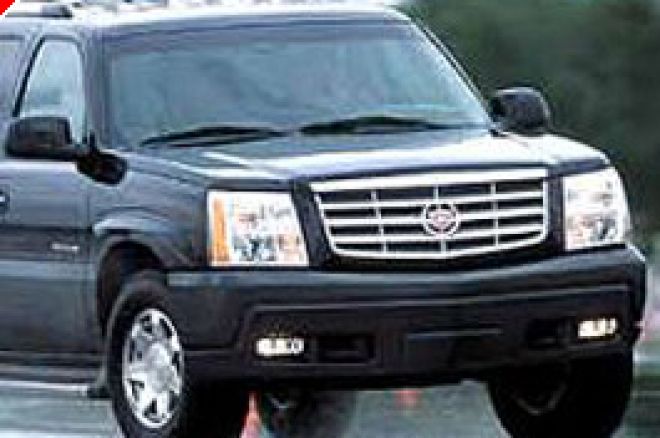 In the competitive world of land-based casino gaming, the war for poker tournament players has become a battle of wits for today's biggest and brightest minds of the poker industry, especially casinos with large poker rooms. With a casino's "brand name" recognition being almost as important as the amount of money it rakes on a daily basis, many casinos are doing whatever they can to establish and keep the growing number of poker players flocking to their venues.
Borgata Hotel Casino and Spa is already known as the premier place on the East Coast to play poker, but it is also known as one of the most player-loyal venues around. In order to continue to provide players with more and more reasons to come and play at Borgata, the casino has added two, 2006 Cadillac Escalades to the proverbial pot. There is one car for a lucky player who entered events 1-8 and one for the Winter Poker Open's $10,000 winner.
With the addition of these two sweet rides, the Borgata has raised the ante for all venues on the World Poker Tour stops. Although Party Poker has given out a Ferrari, this is the first time that a WPT event has had a car given to the first-place finisher.
According to WPT founder and CEO, Steve Lipscomb, the Borgata has once again taken steps to reward its players. "You can't beat this new American dream. Hats off to the Borgata for giving their WPT winner America's dream car to carry all that cash home in style," Lipscomb said in a recent press release.
The Borgata is certainly pulling out the stops with these giveaways. To make players salivate even more, they place the Cadillacs in the tournament room so that players could look at the powerful yet sleek vehicles. With a million dollar payday, a brand new Cadillac Escalade, and a $25,000 seat to the WPT's championship event in April, Borgata's main event should satisfy event the biggest of poker appetites.
"In giving away the Cadillac Escalades, we're looking to further develop our relationships with the loyal customer base of poker players while at the same time, give players who have never played in a Borgata tournament or may be new to the game, an equal opportunity chance to take home one of these great vehicles. We believe that the strong bond we have with the players will help us fill our new 85-table poker room when it debuts this spring," said Larry Mullin, Borgata's recently named President and COO.
With play beginning January 29, 2006 and the final table culminating on February 1, 2006, poker fans and players alike can expect a hotbed of poker action. The biggest names in the game will be playing in the event and are expected to give the "home-town heroes" fits. However, don't be surprised if an unknown wins this event. September's Borgata Poker Open was won by Al Ardebelli, who won his way into the main event by winning a satellite.
Ed Note:Noble Poker has 6 handed single table tournaments that we think are easy pickins...get in on the action