Legends of Poker: Kathy Liebert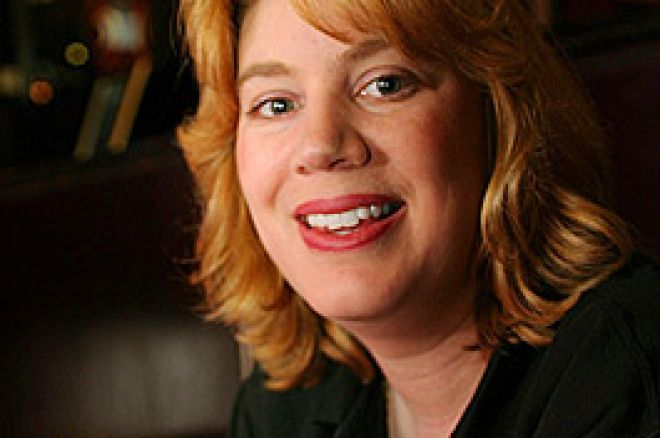 Kathy Liebert was born on October 1st, 1967 in Nashville, TN. She grew up on Long Island in New York, and began playing poker at the age of 12 with her friends and family and recalls immediately enjoying the game. She even admits to purchasing a book on winning at poker and keeping her results listed on the inside cover. Those few admissions spell out lifelong traits - smart enough to learn about something before she invests heavily, and results oriented.
Those skills first paid dividends while Kathy was employed as a Business Analyst at Dun & Bradstreet where she had taken a job fresh out of college. Graduating with a double major in business and finance, Kathy listened to her mother when she told her to "do something you love and the money will follow." While working on Wall Street for just a year, Kathy did love investing in stocks, and her knack for picking winners allowed her to accumulate a modest bankroll and sent her on trip around the country.
After flying to California, she enrolled in classes at the University of California at San Diego. She enjoyed the warm weather and scenery of the of the Southern California coast, but there was always that itch, the desire to play some more poker.
Taking a weekend trip to Las Vegas provided Kathy with the poker fix she needed. Then the weekend turned into a week. She loved it. When classes ended, Kathy moved to Colorado, lured by the mountains and the prospect of skiing. Shortly after arriving, casinos in Blackhawk and Cripple Creek opened - and they spread $5 limit poker.
There have always been good games with higher limits in places like Trinidad, Colorado where players like Bobby Baldwin (and myself) have spent a few nights meeting the locals, but Kathy stayed with the legal $5 games and read a stack of poker books. She also took a job as a proposition player, and added to her bankroll while growing antsy for another crack at Vegas.
During the next few years, Kathy tested her skill in home games where the limits were often as high as $10/$20. By this time she had quit propping, and felt her bankroll was sufficient to take another trip to Las Vegas where she planned on playing in some tournaments.
As usual, Liebert had a good plan, as the very first major poker tournament she played in added $11,000 to her bankroll. Later that week, she cashed for $21,000 in a $230 buy-in Limit Hold'Em tournament. The rest, the old saying goes, is history.
Since that time Kathy has worked as a traveling tournament player, although she has taken up residence in Las Vegas. At the table she is a talker, able to converse with any player, and her conversation can be a useful sword in her attack arsenal. Some players wither under her constant barrage, others succumb to her other poker skills. Just as her analysis of the stock market has paid handsomely over the years, her ability to analyze each individual hand of poker has made her a constant winner in tournaments.
Like most successful players, Kathy uses an aggressive style of play, and she has been successful in both limit and no-limit hold'em games. In 1997, Liebert had two money finishes at the World Series of Poker. Her second-place finish in the $3,000 No-Limit Hold'em tournament netted her over $120,000 and cemented in her mind that she was on the right career path.
Since that time, money from her WSOP winnings ($460,000) have allowed Kathy to purchase homes in Downey, California as well as Las Vegas, and she continues to invest in the stock market. Because she plays in so many tournaments, it is impossible to list them all, but 2002 was a pretty good year that included a $1,000,000 win in the inaugural Party Poker Cruise. Her take-home from that tournament was about half the stated amount since there was a "deal" made at the final table between the three remaining players (Berj Kacherian and Phil Hellmuth), but Kathy did indeed finish first.
The World Poker Tour also provided some excitement for Kathy (the cruise was not a WPT event in 2002) in 2002 as she made the final table of three tournaments, including a 7th place finish in the $10,000 buy-in during the World Poker Finals. In 2003, Kathy cashed three times at the WSOP, and twice in WPT events.
In 2004, Liebert only cashed twice at the WSOP, but she was happy anyway, since the second tournament provided her first gold-bracelet from the Granddaddy of all poker tournaments. Her first-place finish in the $1,500 Limit Hold'em Shootout was good for $110,000. To date, Kathy ranks fifth in WSOP winnings among women.
The year of 2005 provided dozens of tournament cashes, but her third-place finish in the WPT Borgata Poker Open (a $9,700 buy-in) provided Kathy with a cool $427,000. Those winnings pushed her lifetime total to almost $2.5 million dollars.
In late 2005, Kathy took a trip to St. Kits for the Caribbean Poker Classic. As a warm-up to the main event, she won $24,000 in a $500 tournament, then finished the $6,000 tournament in 18th place and won another $21,000. What a way to vacation!
Liebert says poker is a game that "rewards patience, discipline, observation, and the ability to make intelligent decisions quickly," and her ability to manage all these skills have made her a legend in the poker world.
Ed Note: Kathy won the inaugural Party Poker Million. Lots of satellites running now!