Legends of Poker - Mike Sexton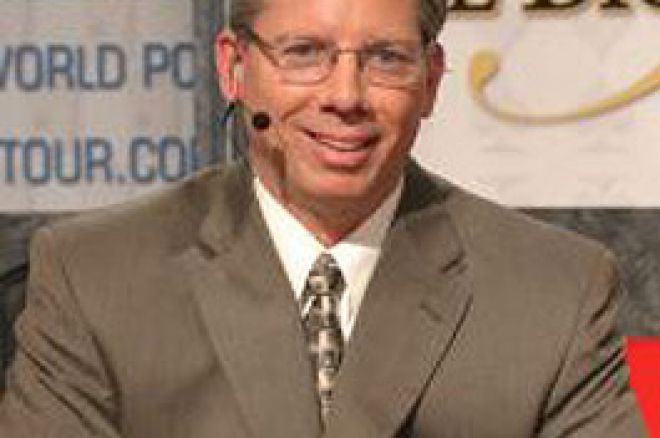 These days most everybody has heard of Mike Sexton - or at least they have heard his voice as he and Vince Van Patten discuss hands during the World Poker Tour's broadcasts on TV. That doesn't make Mike a legend, just well known. But before you stop reading, you might want to know that Sexton has 37 cashes at the World Series of Poker. In fact, he is 10th all-time - ahead of players like Dewey Tomko, Howard Lederer and Johnny Chan. Got your attention? Read on!
Mike was born on Sept. 22, 1947 and grew up in Dayton, Ohio. His parents, both dance instructors, must have passed on their talents and grace to their boys. Mike and his brother Tom spent snowy winter months attending tumbling classes at the local YMCA and later joined the gymnastics team in high school. In school hey both excelled, leading their team to a state gymnastics championship.
Both brothers received full-ride scholarships, and Tom went to Oklahoma where he was the university's first All-American gymnast. Mike stayed closer to home and attended Ohio State. While Woody Hayes and the Ohio State Buckeye's football team may have been front-page news, Mike still landed his share of press. Hayes once said "A guy from Ohio can make it in life if he works hard enough, and you can outwork anybody." I'm not sure he was thinking of anybody but his football players, but he pretty much summed up young Sexton's athletic style.
Mike spent hundreds of hours perfecting his routines, and his dedication and hard work eventually returned him the Ohio State Most Valuable Gymnast award. It would be a few years before Sexton put the same effort into poker, but when he did, his life changed dramatically.
After college, Mike joined the Army at the 82nd Airborne Division in Fort Bragg, North Carolina. He trained as a paratrooper, and to supplement his meager Army pay he also taught ballroom dance. When his military hitch was over, Sexton took a job selling products to military PX's, and began playing in more home poker games.
However, the mid-1970's were not the best of times for Mike. His long hours at the job and the poker table took a toll on his marriage, and shortly after getting a divorce Mike decided that the job was also taking a toll on his poker playing. In 1978, Sexton decided it was time to concentrate solely on poker, and quit his sales job. He's been pretty happy ever since.
Although there were ups and downs, Mike says he "knew that if I went broke, I could always get another job." He says he spent the next seven or eight years making periodic trips to Las Vegas and playing in the home games in North Carolina before moving permanently to Nevada.
These days, Mike can live wherever he wants, but travel demands are great due to his commitment to the World Poker Tour. However, before his TV career kicked into place, Mike spent years playing small tournaments and plotting his play against the local's in Las Vegas. He took shots in ever increasing buy-in tournaments and made his first big score at the World Series of Poker in 1989.
It was also at the 20th WSOP in 1989 that Mike won his gold bracelet, earning $104,000 and first place in the $1,500 Seven-Card Stud Hi/Low Split tournament. His success at the WSOP has spanned the past 15 years, and Mike has career winnings of over $550,000 while cashing on a very regular basis.
Sexton has also had great success in tournaments outside the United States. In 2000, Mike won the European Hold'em Championship as well as a 1st place finish in Pot Limit Omaha and Omaha Eight or Better. In 2003 he took first place in the Paris Euro Finals of Poker Heads-Up Championship, but Europe isn't Mike only winning spot.
In 2005, Australia became a favorite poker location when Sexton finished in the money during three events, including a first-place finish in the Crown Australian Poker Championships for Pot Limit/No Limit Speed Poker. And just this week (Jan. 2006) Mike took forth in the 2006 Crown Australian Poker Championships for Speed Poker.
For those of you that doubted Mike's poker ability, you must have missed the many articles on poker strategy that he has written over the years. He also just finished a book he hopes will bring more people to the poker tables titled "World Poker Tour: Shuffle Up and Deal." I'm sure the book will contain some keys to poker success, and with his TV exposure it is bound to sell well.
If you don't catch Mike on your TV, you should remember that he is also a spokesman for Party Poker. After being hired in 2000, Mike spent several months helping the group in India develop the website and later convinced Linda Johnson of Card Player Cruises to host the finals of the Party Poker Million on a ship. The idea worked, and today Party offers satellite tournaments to win an entry for the cruise and tournament for as little as $6.
Because Mike has been so successful as the host of the World Poker Tour, his poker career is often overlooked. That's an unfortunate circumstance of his current celebrity, but whether Mike is hosting an event, or playing in it, he's a hard-working and dedicated professional who deserves recognition for what he has become, a legend of poker.
Ed Note: Mike Sexton proudly endorses Party Poker ...Can the Ambassador of Poker be wrong?