Artist Chooses Poker Chips As Canvas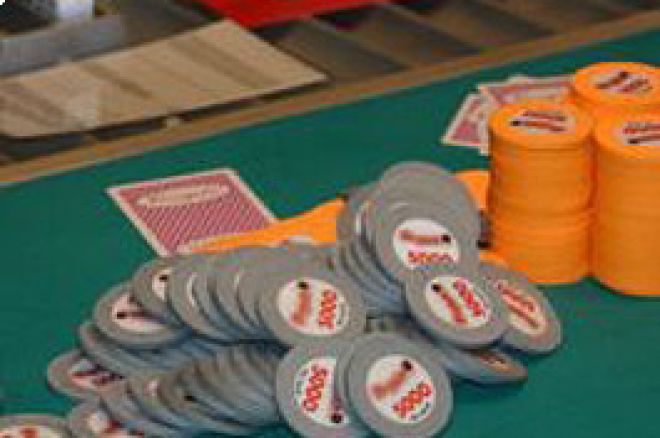 Poker chips are the benchmark of success in the world of poker. As a whole, however, they aren't exactly the most aesthetic item to look at. In many a poker room or home game the chips have been used for years, if not decades, and have been subjected to the rigors of life at the tables (spills, general usage, etc.). An online poker chip company has come up with a new set of chips that many may not want to use but, if they do, will add a decorative touch to your next home game.
Instantpokerchips.com offers a wide array of poker merchandise, from tables to chips to other paraphernalia. But, as Brad Fallon, the owner of instantpokerchips.com stated, "There are only so many times you can print 'Vegas' on a poker chip before it's just the same old, same old. So I started thinking about what I personally, as a poker player, would like to have at my next game." With that thinking in mind, Fallon struck upon a unique offering. "It dawned on me...I'd love a custom set of poker chips that look like mini-paintings. How great would it be to have chips that none of my poker buddies had ever seen, let alone own!"
With that, the idea of using the poker chip as an easel was born. Fallon decided to enlist the skills of one of his favorite artists, Barrett Hinkle, to create a unique set of poker chips to offer on his site. Using his artistic talents Hinkle, who is a successful illustrator of many books, took upon himself to create the "Royalty" line of poker chips that the site has to offer.
The chips are 11.5 grams and each chip features one of five different designs, one per denomination, depicting images of classic royalty. There are regal castles to jovial jesters and each chip design is painstakingly illustrated and colored. The chips are available in an aluminum case of 500 with the usual extras of two decks of cards and dice and also include a Certificate of Authenticity signed by Hinkle. As only 200 sets were created, they should be a tremendous attraction and perhaps something that would be unique in the world of poker, an item bought for its artistic value rather than its usage.
"We wanted to offer one of a kind items to our loyal poker shoppers, something they could only find on our site," stated Fallon. With the "Royalty" line, Fallon seems to have found a niche and seems to be intent on starting a line of such merchandise. Fallon calls this his "MasterPieces" collection, with the "Royalty" line being the first in a series and additional new illustrations already in the works. Though the chips are meant for playing, the quality of the illustrations will have many a player closely inspecting and admiring these mini-masterpieces. For more information on the new poker line, or to pick up one of the 200 sets of the "Royalty" line that are available, be sure to take a look at instantpokerchips.com.
Ed Note: You don't need chips when you play at Titan Poker