$200 buy in, $1.1 Million Dollar Prize Pool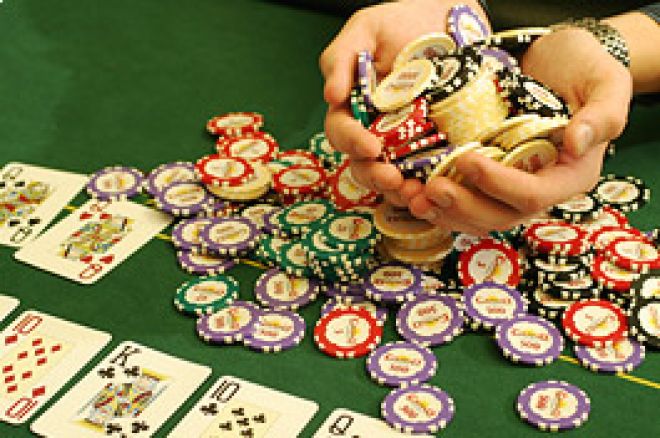 I'm sitting in the flat of Noah 'Exclusive' Boeken in Amsterdam, the night before I go home after 17 days on the road in Europe. Its about nine minutes until the Poker Stars weekly $200 buy in tournament starts, and our jaws are on the floor. Nine minutes out, there are already 4,700 people registered for the tournament. This tourney has been averaging in the 3,800 - 4,200 range recently, but clearly that was going to be well surpassed today.
In case anyone doubts how strong online poker is going right now, when registration finally closed for this event, there were 5,506 entrants. The prize pool for a $200 buy in tournament was 1.1 million dollars. Sure, million dollar online prize pools- while they don't happen every day - are becoming commonplace these days. But not in $200 events. Certainly not in events that aren't promoted for weeks in advance. This was just another 'regular' Sunday Tournament. Ho Hum.
This massive field even put some kinks into the normally smooth software of Poker Stars. Payouts would be manual, and when the tournament went hand for hand, that would be administrated manually also.
Noah and I were amazed at the field, and as the numbers kept going up & up. Both of us kept getting more and more stunned. Noah has won this event before, and on this night, he went with the 'double up early, or get some sleep' philosophy....and let's just say he was well rested the next day. While he was playing, he & I were reminiscing about when this tournament used to have fields in the 200 range. I do remember one I played in with, I think somewhere around 175 players. I remember it because it was the first time I had seen the first prize eclipse $10,000. 'Wow' I thought to myself, 'a $10k first prize for the regular Sunday tourney....Poker really is getting big.'
Big has now been replaced with enormous, and I have to wonder aloud when it will level off. Will we see 10,000 entrants into a $200 event?
Nine hours after it started, the two players left chopped a prize pool where the top two places paid a total of over $270,000 - for a $200 buy in. Congrats to players No10No10Ho!, and lollasen. I've already set aside my afternoon tomorrow. See you there.