Inside the Poker Tour (39)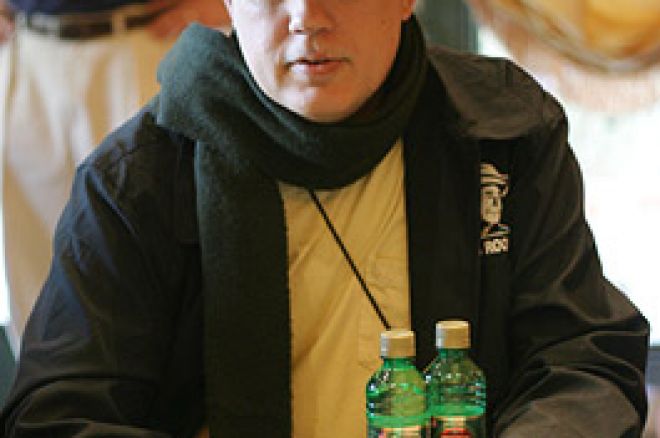 So my journey took me from beautiful Atlantis in the Bahamas halfway to forever in allegedly 37 hours on four plane flights to Melbourne, Australia. I say allegedly because on the second flight from Ft. Lauderdale, Florida to Los Angeles the electrical system began to smoke and I could hear the strain in the voices of the crew as they tried to be polite and unpanicky, while hoping they could get the landing gear down without a major problem.... I was on my way from paradise to summer down under and now I was on my way to an emergency landing in.... New Orleans? Oh my, this town has not recovered functionality since the hurricane tore its levees apart and its soul out. It still has large parts of it under martial law and they had to bring a plane from somewhere in Texas to rescue us as the New Orleans airport itself closed down at 530pm, by the time I got off the plane in Melbourne I had spent 57 hours in airports and on flights in several countries on several continents.
For those that follow Mike Gracz they know that he talks about a large odious woman that he sat next to on the long flight to Australia, the resentment seemed to creep in with more intensity when he spoke of her using half his seat space. Lol!
Those of us that went on this journey crossed the international dateline and lost a day altogether. We also got to see water spiral down the drain in the opposite direction and a lot of strange fruits and some very very strange animals. Australia also has the mother of all deserts amid its many tourist sites.
So now we were down under for the crown jewel of Australian Poker, the Aussie Millions, which was held for 418 entrants in the Crown Casino. The players had the best structure imaginable and 20,000 in chips to begin with. The tournament started amid the fanfare of dancing girls, loud music, and a speech by Lleyton Hewitt, who spoke authoritatively about aggression from the viewpoint of a famous tennis player. After all the Australian Open kicked off the new year's tennis season with the first grand slam event soon thereafter, and next door. It was not uncommon to see tennis players about over the next two weeks as many of the rich and successful ones stayed at the Crown Towers, a six star hotel. For all these years I thought that the rankings stopped at five stars! In all cases it was awesome, no matter how many stars you tack on to it.
Clear the deck of minor events and speed championships, the million dollars (American) guaranteed event was on. At the end of day one Barry Greenstein was at the top with 126,675 in chips closely followed by the 23 year old Nenad Medic. Nenad is of the new school of players, he likes to take a lot of flops, play small ball, and is reluctant to throw anything that might have value into the muck. Phil Ivey had 76, 375, Antonio Esfandiari had 64,700, Michael Gracz had 65,425, Marcel Luske had 60,175, Harry Demetriou had 56,375, Johan Storakers had 47,425, Kathy Liebert had 53,950, Yakov Hirsch had 46,700, Scott Fischman had 46,250, Kenna James had 41,625, Kristy Gazes 41,300, Laura Fink 35,400, and a New Zealander that I played against in the WSOP some years back named Lee Nelson had 35,850 amongst the names that I recognized. Mel Judah, Marsha Waggoner, Perry Friedman, John Juanda, and Karina Jett were amongst those still hanging on and Daniel Negreanu was out.
By the end of day two we had achieved a lot more definition with the top four on the leaderboard now being Gerry Fitt 331,600 (an Australian sports betting person), Shannon Shorr 311,100(a twenty year old from Alabama that was very nearly sick several times on his way to the final table—was he sick because of beer or fear?), Scott Fischman 280,600 (the consummate Las Vegas and online professional), Kenna James 280,100 (married to the Australian poker professional Marsha Waggoner). These were followed by (amongst a cluster of others as well) Phil Ivey 194,700, Asher Derei 219,800, Lee Nelson 201,400, Nenad 148,400, M Gracz 140,500. Jamil Dia 91,800 (last year's champion), H Demetriou, K Liebert, and K Gazes were still in the hunt as well. Barry Greenstein was now out.
At the end of day three Kenna James was on top with 700,500 chips followed by Fitt with 567,500, Robert Neary with 484,500 (another 21 year old player, but with a conservative approach, and one that made it all the way to second in this tournament!), Russell Davies 468,000, and tied for fifth the always there Lee Nelson (do not look in the rear view mirror, folks, but the co-author of KillPhil must understand more than a little about this game as he won the IPF featured tournament in St Maarten in 2004 and a major tournament in London in March of 2005 as well as the speed tournament here one year earlier—in fact in the Southern Hemisphere he has been given the nickname "final table" as he has arrived there in about one event out of three that he has entered in the past few years!—at some point you have to realize that good luck cannot be responsible for such a fantastic run of results!) One irony here is that Lee was never on our featured television table in the Crown Towers until the final table!
Some names that arrived in the money slots below the final table are Tony Bloom, Harry Demetriou, Jamil Dia, Kristy Gazes, Asher Derei, Graeme "Kiwi" Putt, Mike Gracz, Steve Hohn, Billy "the crock" Argyros (at breakfast the day after the event I complained to Billy that I often had trouble understanding him and others, including at a broadcast that he emceed of a final table at a WSOP event that I played in three years ago—well he soon had me laughing quite loudly as he went through a routine of copying accents and mannerisms of stateside commentators...), Kathy Liebert, Antonio Esfandiari, Gerry Fitt, and (yes, what a surprise from a guy that managed to go through 2.5 million in chips with a commanding lead at ten players with an impressive lineup of drinks) Kenna James!
One player that everyone follows like he really is Tiger Woods is Phil Ivey. Phil showed a lot of disdain for making the money and managed to bubble out in the following hand: he raised with Qx offsuit and Jamil called with AK offsuit, the flop came Jack high with two diamonds and Phil fired a decent sized bullet. Jamil thought for several minutes and called. The turn brought the king of diamonds. Phil fired another bullet of size. Jamil called after long thought. The river was the ace of diamonds, so now there are four diamonds on board and Phil has no pair and no flush, with Jamil having top two and no flush. Jamil must have felt like a cat on a hot tin roof and Ivey somehow must have sensed that.... After a long pause (do not read too much into that, folks, as I have seen Phil do this with huge hands as well as bluffs) Phil moved all-in! Long long long long thought by Jamil. How long? Well folks I was putting the time stamp on these hands and in one two hour period Jamil had a 14 minute hand (this one), a 13 minute hand, and numerous other hands that were over 5 minutes that he mucked on—do you still think I am out of line to ask that everyone act within a certain time-frame? I think it will certainly come as it is very unfair to the other players at the table.... I think no player should have more than 2.5 minutes in total for any one hand with two time extensions per event possible. At long last Jamil thought that Kenna called a clock on him and kneejerk called. Whoops, Phil was gone! An interesting and dramatic hand and a very difficult call by Jamil. But is this really okay with the other players? Understand that I am not attacking Jamil in this, I am saying let us get this change done!
Til next time...play good and get lucky!