Legends of Poker: Annie Duke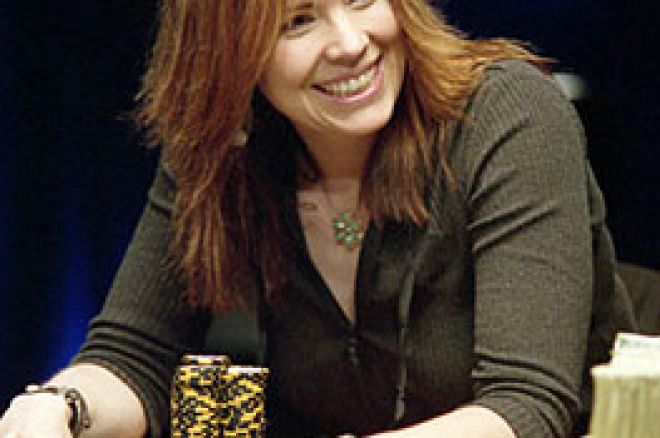 Annie Duke is a media favorite these days. She has appeared on poker tournament broadcasts countless times, and serves as a spokesperson and advisor to Ultimatebet.com where she can be found playing poker on occasion. Her photogenic face has been splashed across the globe on ESPN playing poker as well as while a featured guest on TV shows such as Good Morning America and The David Letterman Show. Is she a star, or a poker player?
According to Annie, she is just the mother of four children who happens to support her family by playing poker. She insists that poker does not come first, even though she has played in several WSOP tournaments while pregnant - but why shouldn't she?
In 2000, by her own admission, she was "tired, cranky, hormonal, and fat, I literally could have delivered my third-born amid the thick secondhand smoke of Benny's Bullpen." On the other hand, Annie says there are always tradeoffs, and "that's when I really learned how to bluff more effectively." She also finished the $10,000 Main Event in 10th place and became the highest-ranking woman ever at the World Series (with regard to money earnings).
Annie was born on Sept. 13, 1965 in Concord, New Hampshire, the second child of writer and linguist Richard Lederer and his wife, Rhonda Ann. Each had teaching credentials and was working at local high schools when the couple's first child, Howard, was born. He would make his own name in the world of poker, and also helped establish Annie as a poker player, but not before they had both spent years learning card games and the competitive drive that has sustained them both.
Annie remembers high school being a tough time, and it wasn't until attending Columbia University that she became comfortable with herself. Always able to get excellent grades (even while spending a good deal of time partying in New York), she majored in English and psychology, and then headed to the University of Pennsylvania to earn a Ph.D.
However, after five years of graduate school, Annie feared entering the "real" world. She froze before speeches that would earn her employment, and subsequently called her friend, Ben Duke, whom she had had met over a game of Scrabble. They had stayed in touch even after Ben moved to Montana, and on her birthday in 1991, she called him and said, "Hey, let's get married." Annie wasn't sure it was a bluff or not, but they were married shortly thereafter, without having been a dating couple.
While Annie fretted over finishing the last of her graduate thesis, she moved to Columbus, Montana to be with her husband. Her trunk of research papers sat unopened in a closet, and she and Ben spent time walking the countryside and reading. Not much had changed by May of 1992, but on a trip to Las Vegas to see her brother, Annie played a little $1-$3 poker at the Fremont Casino. She played long enough to win $300, feeling the comfort of her childhood rush back to her as golden memories. Howard entered her in the $1,000 Ladies tournament at the WSOP the next day, and Annie confronted it by doing what she had so many times in the past few years when faced with uncertainty - she ran to the women's room and threw-up.
Once the tournament started and she was involved in the game all her anxiety and frustrations disappeared. Although she didn't finish in the money, for someone who had just learned the game by reading a list of starting hands provided by her brother, she did well. After returning to Montana, she felt the itch to play more poker, and Annie and Ben took a 45-minute trip to Billings, where the Crystal Lounge offered a couple poker tables in its small, dusty basement.
The following day, Annie called Howard in Las Vegas to excitedly tell him she had won $118 and loved the game. Howard responded by sending his little sister several books on poker and a check for $2400 to be used as a bankroll. After absorbing the books in record time, Annie returned to the Crystal Lounge and set herself down in the higher-limit, $10-$20 game. After each game, Annie would call her brother and ask about certain hands, and the strategy he would have used.
The conversations worked and by the end of the month, Annie had won $2860. At that point Howard suggested that she allow him to stake her in exchange for half her winnings. The agreement worked well for them, and Annie played in Montana until Howard called again about coming down to Las Vegas for the 1994 WSOP.
With Howard still backing her, Annie entered the $1,500 Limit Hold'em Tournament and finished 14th. The following day Howard suggested she enter a satellite for the $2,500 tournament, and as a good sister should do, she followed his advice and won a seat. In the actual tournament, Duke waded through a large field and finished fifth. Her strategy seemed to be perfect for acquiring seats through satellites where she also won a seat for the $10,000 Main Event.
Her strong, aggressive play continued and Duke ended her stay in Vegas by finishing 26th in the final event, and pocketing $57,000 for her months worth of play. Over the next few years Annie made a habit of finishing in the money at the WSOP, and having children. She is now the proud mother of four: Maud, Leo, Lucy, and Nelly; who she considers the most important thing in her life.
Although she lived in Las Vegas for a few years, after her divorce Annie decided her children should be raised in a more "family friendly" atmosphere and moved to Portland, Oregon. Since that time she has accepted additional job offers, written a book (Annie Duke), and taken on Erik Seidel as her tournament backer.
Annie also was chosen from a large group of poker pros to play in the first Tournament of Champions. The 2004 event brought together ten of the greatest, most popular players for a winner-take-all, $2 million dollar prize. Duke surprised many by beating the field of Doyle Brunson, Johnny Chan, T. J. Cloutier, Phil Hellmuth, Phil Ivey, Howard Lederer, Daniel Negreanu, Greg Raymer and Chip Reese, and her huge payday was dimmed only by the fact that she personally knocked her brother out of the tournament.
Duke has consistently beaten cash game players at limits up to $1,000/$2,000 and currently has 28 cashes at the WSOP, more than a host of phenomenal players like John Juanda, Scotty Nguyen, Phil Ivey, Erik Seidel, Daniel Negreanu, and Chip Reese. Her name certainly belongs among the Legends of Poker.
Ed note: Annie runs the show at Ultimate Bet be part of the show.